Pavel Datsyuk will be returning to the ice soon after missing every game thus far in 2015. But what kind of fantasy impact can we expect from the aging, injury-prone center?
At 37, Datsyuk is at an age where most NHL players have either embraced the life of retirement, or are but a shadow of their former selves. Lucky for Red Wings fans that the future Hall of Famer is not like most NHL players.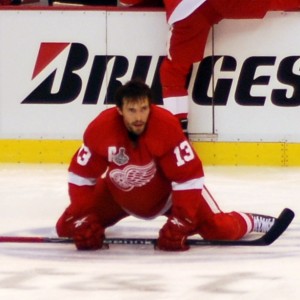 The Numbers Still Hold Strong
During the 2014-15 season Datsyuk finished 27th in the league in points (65), 35th in goals (26), and 38th in assists (39) in only 63 games. That is more points than Anze Kopitar (79 games), Johnny Gaudreau (80 games), and Patrick Kane (61 games). Not bad, and it's a safe bet that his play hasn't slipped much, if at all.
His advanced statistics are indicative of a player that continues to be elite, but fantasy owners don't care about Corsi and possession numbers. Fantasy players are pretty easy to please, as we only look for simple goals, assists, shots, and similarly basic statistics. Datsyuk has given them that and more since entering the league, and will continue for the foreseeable future.
Fantasy Owners Losing Faith?
Surprisingly, when the current fantasy hockey season started, Datsyuk's ownership was low for a player of his caliber. Currently on Yahoo, he has an ownership total of only ninety percent. I personally picked him up from the waiver wire about a week after the season started and placed him on injured reserve.
Likely Datsyuk will come back rested and motivated, but in the event of a slip in play he will still be better than most players. He will get your points, as well as being a plus/minus machine. The Russian will take a lot of shots and score plenty of points on the power play. The only thing that the four-time Lady Byng award winner will not get you is a lot of penalty minutes.
So this is nice for yearly leagues, but should we use a roster spot on Datsyuk in a keeper league? Obviously that question will be answered more definitively after he has had time to get back into the swing of things, but I can confidently say that yes, Datsyuk has a few more years of high-level play in him. One need only to look at Jaromir Jagr to see that it isn't unfathomable for a player in the twilight of his career to have a big impact on the ice, and in your fantasy pool.
If you are fortunate enough to have Datsyuk still available in your league, grab him quickly. If you were savvy enough to get him early, get ready to be rewarded for your patience. While you are at it, throw some playful jabs at the guy in your league that dropped him.
Until next time.
Greg is a Pittsburgh Penguins writer for 'The Hockey Writers'.
He is a Pittsburgh area native who has written for multiple Penguins news and opinion sites. In addition to hockey writing, he is also an experienced YouTube creator.
Greg started with THW in 2015 as a Blue Jackets writer, and spent time as a Fantasy Hockey analyst.