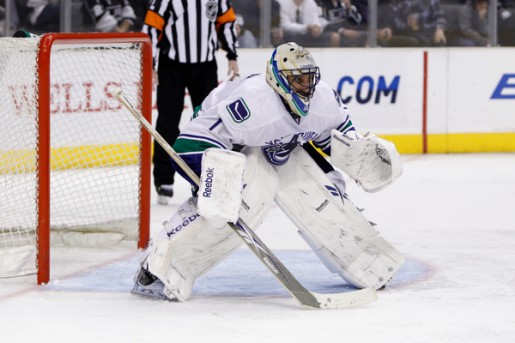 Twas the night before the NHL Trade Deadline and all through the fantasy hockey house, not a creature was stirring except for that inactive louse. No we are not going to start waxing poetic here. However, it is always a tough night for those who are not certain they will be traded, whether it is wanted or not. People may complain about the process but in the end, they are all talking about the things that happened during that "trade deadline". It never ever fails.
On a night like this, it is just time to get to what happened. Here are some of our stories.
---
Fantasy Hockey F U POTN
Jonathan Quick — G — Los Angeles Kings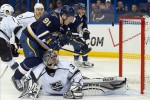 Sometimes an award is given more for what a team does in front of a goalie than what they have actually done or didn't do. If anyone had former King Jason LaBarbera with 39 saves while Quick gave up a couple iffy goals in a 3-1 loss in the pool, would you please raise your hand? The oddity comes from the fact also that Quick had a .903 save percentage on the night which was pretty good. Usually these "clunkers" involve a three goals allowed on 16 shots special. Its not the back surgery that can be used as an excuse anymore. Simply the Kings still revert back to the team that cannot score at times while making crucial mistakes when needed the least. Do we ever see that "Vezina caliber" Quick or more than two or three games in a row in this shortened season? The answer is not so fast!
---
Dishonorable Discharge!
The race for a damn puck?
When a gruesome injury happens in hockey, it is always an awful scene but last night in Carolina was truly an event many feel was avoidable. Joni Pitkanen was in a race for the puck and needless to say, the following happened.
OUCH! There are few other words for it as Pitkanen did wind up breaking the ankle/lower leg and will be out at least a minimum of three months. The impact sounded bad and the sound you could audibly hear from Pitkanen was much worse. If this is not a wake up call for the NHL to do something about icing, I don't know what will be. Now some fantasy owner has to scramble around looking for a defenseman. More importantly, the Carolina Hurricanes have to find a quick replacement all because some big wig felt this "silly race" was still necessary. Maybe finally this is the catalyst for change! The puck is on your side of the ice NHL. Do something!
---
That is it for now. Maybe tomorrow, there will be even more to rant about as far as bad fantasy players, coaches, etc.