The Washington Capitals earned a 5-3 comeback win over the free-falling Carolina Hurricanes Tuesday night, as Nicklas Backstrom recorded four assists and Captain Alex Ovechkin potted two goals and an assist to drive the Capitals to victory. Washington was outshot by Carolina 34-19, but still won handily.
The Hurricanes outshot Washington 10-3 through the first 19 minutes of play, led two goals from forward Jiri Tlusty. But Alex Ovechkin's 19th goal of the season would provide momentum heading into the second frame, as the Capitals only trailed by one goal through the first stanza. Backstrom and Carlson were credited with assists on Washington's first goal of the game.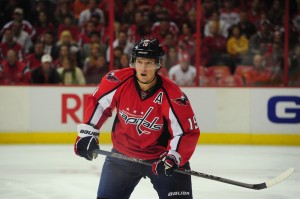 "Big goal by Ovechkin at the end of the first period. Huge goal. We had nothing, "Capitals head coach Adam Oates said after the game.
The Capitals opened the scoring in the second period, taking charge and tallying four goals to close out the scoring for the rest of the contest. Washington defenseman Mike Green tallied a power play goal following a Jeff Skinner delay of game penalty, scoring the first goal by a Capitals blue liner on the power play this season. It was Green's sixth goal on the season, assisted by Backstrom and Ovechkin.
Jiri Tlusty tallied his second goal on the night and 17th on the season just 1:10 later, as he, along with Alex Semin and Eric Staal continue to thrive as Carolina's top scoring line.
Mike Green notched another goal in the second stanza for his second of the game, assisted by none other than Nicklas Backstrom. Ovechkin added another 11:06 into the second period, reaching the 20 goal plateau once again, and in a 48 game shortened season nonetheless.
Joel Ward added a shorthanded goal later in the period, his seventh of the season. He's been a solid role player for Washington this season, following a subpar inaugural season for the Capitals last season.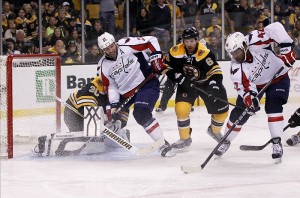 Washington is now 4-1-1 in their last six games, and only trailing the Southeast Division leading by two points for the third seed in the Eastern Conference. They also trail the New York Islanders by three points for the eighth and final playoff spot, with a game in hand.
"We're slowly coming together to put ourselves in this situation," Ward said. "It's just about more confidence, especially coming down the stretch here."
"We can't get that far ahead of ourselves. Just like two weeks ago, we didn't look at the standings either," Oates said. "We just have to play our hockey and just keep improving. It's not going to be good enough to just keep playing like this. We have to keep improving and worry about (the playoffs) later."
The Capitals reached to .500 (17-17-2) on the season with Tuesday night's win, along with an improvement in their road record (9-9-2).
They're 6-3-1 in their last ten contests, and with only 12 games left in the regular season, there are some critical games coming up. Eight of their final 12 contests are at Verizon Center and their road games are against the Montreal Canadiens (two games), Florida Panthers and Ottawa Senators.
Their best chance is for the division, but the team would obviously take a playoff spot no matter how it comes. With the trade deadline upon us, don't expect the Capitals to make any moves. While forward Mike Riberio does not yet have a contract extension, he won't be trade. It's uncertain whether Riberio will remain a Capital, but General George McPhee has decided that a chance to make the playoffs is too good to pass up.
You can follow Matthew on twitter @m_speck and email him at mspeck21@yahoo.com with any questions or comments.