With the NHL All-Star break coming up, fantasy managers are probably thankful for an off-week in which they can tinker with their lineups without having the added pressure of winning certain categories. Seeing as how some teams have played close to 50 games so far this season, time is a factor that is definitely not on the side of a manager that is on the playoff bubble.
Making the right roster moves at this point of the season might mean the difference between sneaking into one's playoff bracket or playing for the consolation prize by the end of the regular season. While some managers might put a premium on quality skaters, it's never a bad idea to lock down one's goaltending as a good netminder can help win categories such as wins, shutouts, GAA, Save Percentage, and a whole lot more if one's league plays with expanded stats for goalies. Despite the fact that most starting netminders are probably off of the market, one could definitely fish around in their league's free agent pool or waiver wire and find a decent goalie to ride for the stretch-run.
Goalies On The Rise?
Devan Dubnyk (Minnesota Wild – G)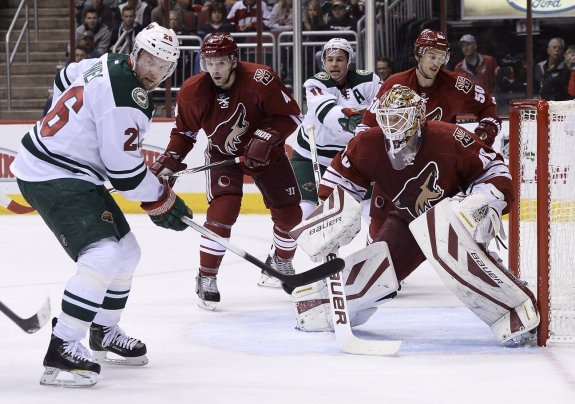 Devan Dubnyk has been solid all season long after finding a new home in Arizona with the Coyotes. Benefitting from the tutelage of the goalie whisperer, Sean Burke, Dubnyk elevated his game this season, but was ultimately used as trade bait as the Coyotes decided to put their faith into Mike Smith rediscovering his form.
So far this season, Dubnyk has compiled an 11-5-2 record with a .924 Save Percentage and a 2.72 GAA. While fantasy managers might still be a bit skeptical on Dubnyk, his stock is only going up in Yahoo! leagues right now as the goalie has seen his ownership rate increase to 37% over the last few days. Given the fact that Dubnyk has seemingly fit in very well in Minnesota (2 GS, 1 GA, 2 Wins), managers shouldn't expect the young netminder's ownership rate to stay the same for much longer. Add in the fact that Darcy Kuemper might be sent on a conditioning stint in the AHL when he's ready to come back and fantasy managers might have a gem to toy with for the remainder of the fantasy hockey season.
Anton Khudobin (Carolina Hurricanes – G)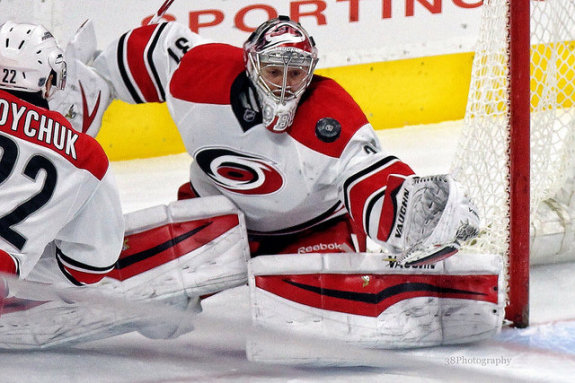 With a miserable start to the '14-'15 season that saw post an 0-8-2 record in his first 10 starts, fantasy managers probably lost confidence in Anton Khudobin. However, Khudobin has given managers reason to believe again as he has settled into a nice groove as of late by winning his last four starts. Not only has Khudobin won his last four starts, but he has won them in healthy fashion as he has not given up more than two goals in each of those games played (vs. Ottawa, Colorado, Boston, & New Jersey).
Owned in 35% of Yahoo! leagues, Khudobin has seen his ownership rate spike up a bit over his recent hot stretch of play, and there's no reason that fantasy managers should keep shying away from adding the goaltender. Cam Ward will likely receive the lion's share of starts for Carolina for the rest of the regular season, but with the goalie encountering some rough patches of play in his two starts, it certainly wouldn't be surprising to see Khudobin steal some starts or share the remainder of the Hurricanes' games with Ward in order to keep the latter goalie healthier.
Joni Ortio (Calgary Flames – G)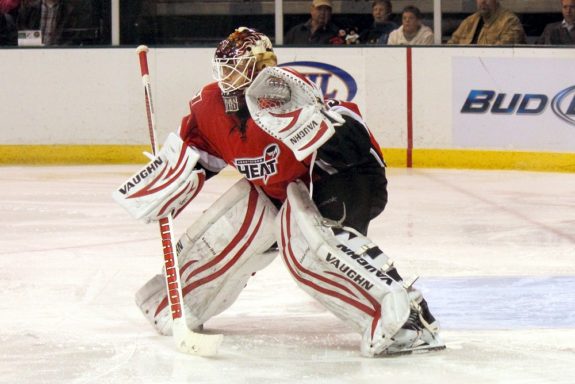 Joni Ortio had a quick cup of coffee with Calgary last season as he started nine games for the Flames and registered a 4-4-0 record with a 2.52 GAA and .891 Save Percentage. Fantasy managers probably weren't expecting the world from Ortio last season – especially since the Flames are currently undergoing a rebuild – but the goalie had a good enough audition to warrant three straight starts for Calgary over the last week and a half.
Ortio has been manning the Flames' crease over the last three games and has rewarded Calgary's faith in him by winning all three of his starts. Even though Ortio's last outing (3 GA on 19 SOG) was probably his worst with the Flames this season, fantasy managers should take note of the goalie's prowess – even if it's in such a limited sample size. Registering wins against Vancouver, San Jose, and Arizona, Ortio hasn't been winning against feeble teams and his 1.33 GAA and .954 Save Percentage can attest to his formidable play in those games. For now, fantasy managers should see how Ortio stacks up in his start against the Los Angeles Kings before the All-Star break as the defending champions will likely be the netminder's biggest test yet.
Rob Zepp (Philadelphia Flyers – G)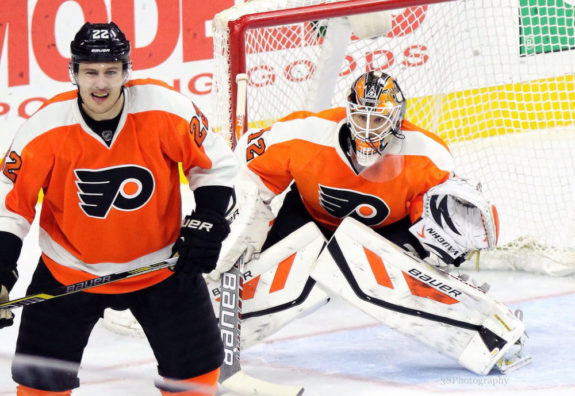 Rob Zepp has come out of nowhere and made Steve Mason's injury somewhat forgettable. With Mason dealing with a knee injury, Zepp has performed quite admirably for the Flyers as he has won three of his four starts and has registered a 2.38 GAA and .904 Save Percentage over those three games.
Being only 6% owned in Yahoo! leagues, there is a good chance that fantasy managers could still snag Zepp while Mason recovers from his injury. While Mason might be close to returning, Zepp has undoubtedly played better than his counterpart (Ray Emery) over his last few starts, so the Flyers might be inclined to give Zepp some more starts while Mason gets healthier. Regardless of what the Flyers decide to do, it's unlikely that Zepp will stay up with the team for the remainder of the season and create a goaltending logjam, so fantasy managers should try to ride out Zepp's winning ways while they still can.
On The Cusp?
Marek Mazanec/Carter Hutton (Nashville Predators – G)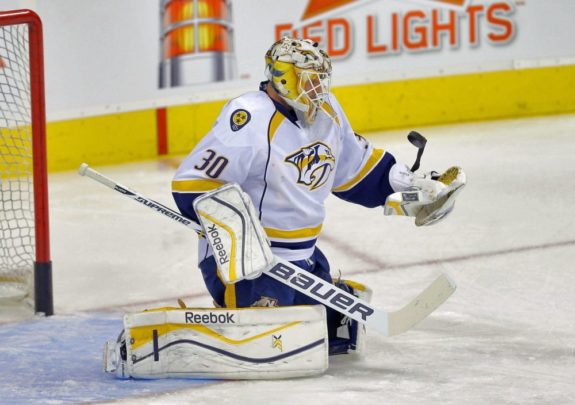 Fantasy managers that had Pekka Rinne as their primary starting goalie are undoubtedly feeling some of the effects of the netminder's injury at this point in time. Playing to the tune of a 1.96 GAA and .931 Save Percentage this season, Rinne was having a Vezina-worthy season before succumbing to a knee injury.
Last season, Carter Hutton and Marek Mazanec combined to play 65 games for the Nashville Predators in place of Rinne, and the duo – depending on how long Rinne will be out for after the All-Star break – has once again been tasked with filling in the shoes of an elite goaltender. Hutton (20-11-4, 2.62 GAA, .910 Save Percentage) clearly performed better than Mazanec (8-10-4, 2.80 GAA, .902 Save Percentage) last season, but fantasy managers should exercise some caution when it comes to picking up either of the two goalies. For now, fantasy managers should see what the diagnosis is for Pekka Rinne when he is re-evaluated after the All-Star break, but if the goalie needs more time to recover, then fantasy managers should definitely look for Hutton to step up to the plate as the Predators continue their playoff push.