Rob Zepp may have a lot more in common with Michael Leighton than some may think. Both goalies carry the label of "journeyman." Both have experienced unexplainable success with the Flyers. The two goaltenders even share the same age (33). But are the similarities enough to dub Zepp the next Michael Leighton?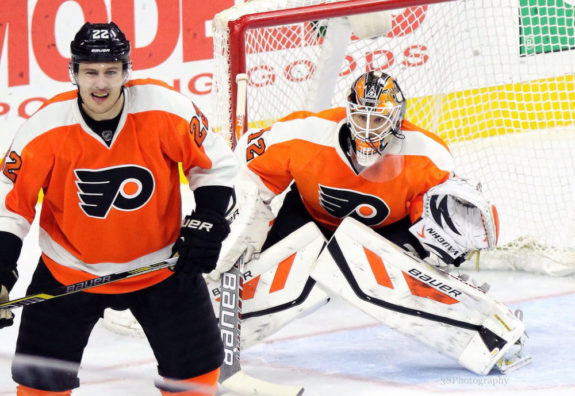 Falling in Love
The path to the NHL for Michael Leighton and Rob Zepp may have been dissimilar, but the two netminders share a kinship of patience and persistence. Neither were "can't miss" prospects, despite both sharing early accolades as OHL All-Stars, as well as beginning their professional careers in 2001.
Zepp, of course, has taken the more scenic route to the NHL, bouncing from the ECHL, to Swiss and German leagues, before landing in the Flyers organization this past offseason. And although it's taken Philly's new comic book hero nearly 15 years after being drafted by the Carolina Hurricanes in 1999 to log his first NHL minutes, the Newmarket, Ontario native is taking his opportunity and running with it.
"Years ago there was a story about Dwayne Roloson in The Hockey News about how he persevered,'" said Zepp. "He was in the minors and getting ready to retire and talking to his wife about, 'What are we going to do next?' He got an opportunity and ran with it for I don't know how many more years.
"And then the other big one is obviously Timmy Thomas, and I was given his story as well. I hung on to it and read it from time to time. Without Timmy coming over (after playing two seasons in Finland) the way he did, I don't know if it would have been possible for a guy like me to do it.
"He paved the way for guys like us. People would say, 'You know what? These guys could step in and play in the NHL if we need them to so they'd be a good guy to have around.' So teams started thinking outside the box."
While Roloson and Thomas are certainly examples of successful late bloomers, Michael Leighton's stint in Philadelphia is also an illustration of how possible it is to go from unknown journeyman, to an NHL "feel good" story.
https://twitter.com/cubishboy/status/554830401240563712
In the 2009-10 season, injuries to Ray Emery and Brian Boucher gave Leighton the opportunity he needed to go 16-7-5 as Peter Laviolette's "hot hand," ultimately resulting in a run to the Stanley Cup Final.
"You have to give him a ton of credit," Flyers goalie coach Jeff Reese said of Leighton back in January of 2010. "This was a kid who was on his way to the minors and maybe never to find his way back to the NHL, and he's taken full advantage of the situation here."
Does that sound familiar? It's almost eerily comparable with Ray Emery involved in both sequence of events, although Emery is healthy this time around. Even after playing a significant role in Philly's 2010 Stanley Cup Final appearance, Leighton's outlook was identical to that of Zepp's.
"I think it was always in the back of my mind," Leighton recalled. "I was wondering if I would have to sign in Russia this summer and start the season there. I still talked to [Paul Holmgren] quite a bit. He mentioned that they wanted to keep me.
"There are two choices. You can either give up, not work hard and retire. Or you can work hard and try and get back."
Similar, yet Not the Same
Despite the handful of similarities between Zepp and Leighton, there are plenty of factors that skew the comparison of the two.
For starters, Leighton seized an opportunity on a Flyers team that was not only packed with more "win now" talent than this year's team, but one that was still without a true established starting goalie. Brian Boucher's shootout win on the last day of the season against the New York Rangers may have placed the Flyers in the playoffs that year, but his 9-18-3 record wasn't a mark to move forward on with confidence.
Philly's other option, Ray Emery, carried middling numbers that season with a .905 save percentage, a 2.64 goals against average, and a 16-11-1 record. That's not even including his hip injury that left him out of action since Feb. 1st of 2010.
In other words, without Michael Leighton's hot streak – which included three separate four-game winning streaks – it's safe to assume the Flyers don't even make the playoffs, let alone a Stanley Cup Final appearance.
Leighton would go onto record four shutouts throughout the playoffs in 2010, blanking Boston once in the Eastern Conference Semifinals, before quieting Montreal three times in the Conference Finals. But despite a $3.1 million contract the following summer, that's where the legend of the sixth-round draft pick died.
A back injury, which limited Leighton to just two games with the Flyers since that magical Stanley Cup run, eventually led to a trade that sent the journeyman netminder to Columbus in exchange for Steve Mason – another component in the contrasts between Leighton and Rob Zepp.
Unlike Leighton's fortuitous circumstances in 2010, Zepp's moment in the spotlight appears to have a two-week shelf life. And while the Flyers lack the Chris Pronger-like defenseman that played in front of Leighton, they finally do have that established goalie that they've been searching for since Ron Hextall's retirement in Steve Mason.
But despite multiple nagging injuries to Mason, along with an 8-12-6 record, the two-time 30-game winner is Philadelphia's uncontested starter. Mason's .920 save percentage this season in front of a makeshift defense exhibits the discrepancy between the circumstances of Leighton in 2010, and Zepp in the present moment.
"We'll see how things go with Mase and when he's ready to play," said Flyers GM Ron Hextall after Mason's most recent injury. "If he's ready to play, he'll play whenever that game may be. Obviously he's our No. 1 guy and we want him back, but if it's after the break, it's after the break."
#Flyers are 2-0-0 when Rob Zepp is in goal.

— Brady Trettenero (@BradyTrett) January 13, 2015
Nevertheless, Zepp enters Wednesday's game in Washington as an undefeated NHL goaltender. The 33-year-old is 2-0-0, knocking off two likely playoff teams in the Winnipeg Jets and the Tampa Bay Lightning.
At that moment, the future held a 7:05 PM start at Wells Fargo Center. Three periods and 21 saves later, his future in Philadelphia got just a little brighter as the Flyers surged to a 7-3 thrashing of Tampa Bay, giving Zepp a perfect 2-0-0 record in the NHL, and adding more proof that it's truly never too late to leave that crucial first impression. — Dan Fremuth, AHL.com
Rob Zepp's journey has been both fun and entertaining. And while he may not be the next Michael Leighton, his small sample size of success is certainly Leighton-esque. After all, when it comes to seizing a single opportunity, the two goalies from the same draft class may have more alike than previously noticed.