Sidney Crosby owners rejoice.
He's back, he sniped a goal in his first game, and the chase is on. He's got some catching up to do in the scoring race, but Crosby is very capable of catching Connor McDavid and the rest of the league leaders.
That list includes Richard Panik, which is telling that the season is still young, but some fantasy managers are already panicking. Heck, some are already selling in keeper leagues.
It's a busy week for the Mailbag — with no fewer than five questions — so let's dig right into it.
Ryan Stewart asked via email: I was offered a trade, and even though everyone I asked told me to do it, I'm still not sure. Your thoughts?
INCOMING = Tyler Seguin and Logan Couture
OUTGOING = Connor McDavid and David Pastrnak
BACKGROUND: Ryan is in a single-season rotisserie league with goals, assists, points, power-play points, shots on goal, hits and plus-minus all counting.
ANSWER: People told you to do it? Personally, I would reject it and run away as fast as I could. McDavid would be an untouchable for me. With Crosby concussed to start the season, McDavid has emerged as the current favourite to lead the league in scoring. Pastrnak got off to a hot start and although he's bound to cool off to some degree, he's still playing on Boston's first line with Patrice Bergeron and Brad Marchand. That makes Pastrnak a valuable fantasy asset, and I would expect his point total to be within five or max 10 of Couture at season's end. Dallas hasn't been lighting it up as much as last season, though I'm sure Seguin will wind up in the top 10 or certainly the top 20 among league leaders. Still, there is no reason to make this move at this time, considering you would be giving up the best player in the deal in McDavid. The difference between Pastrnak and Couture probably won't be as big of a gap as McDavid to Seguin. Others will disagree there, but I'd stick with McDavid.
Stefan Morrone asked on Facebook: I got offered Aaron Ekblad and Max Domi for John Klingberg. Is that fair? What do you think?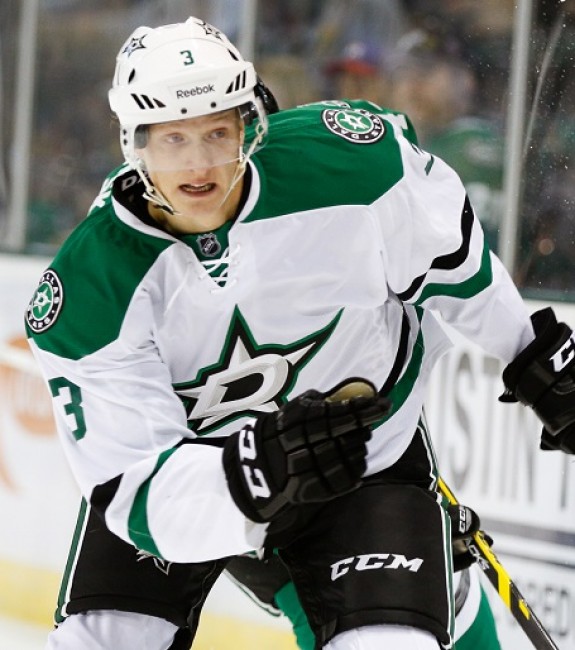 ANSWER: It's fair, but only if Stefan has an open roster spot and can actually take back two players without dropping somebody else. Klingberg is the best fantasy player involved — granted, he's off to a slow start this season — so I would be reluctant to trade him. Ekblad won't be able to replace or replicate Klingberg's offence over 82 games. Domi, another slow-starter, probably doesn't make up that difference unless Stefan is currently short a player. If he needs to drop somebody — anybody, really — to make room for Domi, then this isn't a deal worth making.
If Stefan is entertaining the possibility of moving Klingberg, I would make that intention known to the rest of the league, which would open the door to better offers. If I'm not blown away by an offer but I'm willing to move the targeted player — in this case, Klingberg — then I make a point of letting my peers know he could potentially be available. With a player of Klingberg's calibre, the offers will be pouring in. Still, Stefan would be selling low on Klingberg because of this sluggish start by his standards, so I'd hang tight and let him heat up a bit. Klingberg's stock should rise, and Stefan can always shop him a little later on. That's what I would do — well, that, or just keep him. I'd probably lean toward keeping Klingberg unless the offer was too good to pass up and addressed a roster-specific need.
Ryan Cormier asked via email: I have two of the best goalies out there in Braden Holtby and Ben Bishop, but both Andrei Vasilevskiy and Jacob Markstrom are on the waiver wire right now. Are Markstrom and/or Vasilevskiy the real deal moving forward? Should I try to trade Bishop and add one or both of those goalies for a 1-2-3 with Holtby, and keep those guys for next season? I'm sure I'll take a hit in the stats for this season, but is it a bigger risk/reward?
BACKGROUND: Ryan mentioned that one team with potential interest in Bishop has a handful of young players who could make a fantasy impact this season, such as forwards Pastrnak, Sam Bennett and Travis Konecny, plus defencemen Justin Faulk and Zach Werenski. Ryan wanted to know what I felt would be good trade value for Bishop, especially in an all keeper league.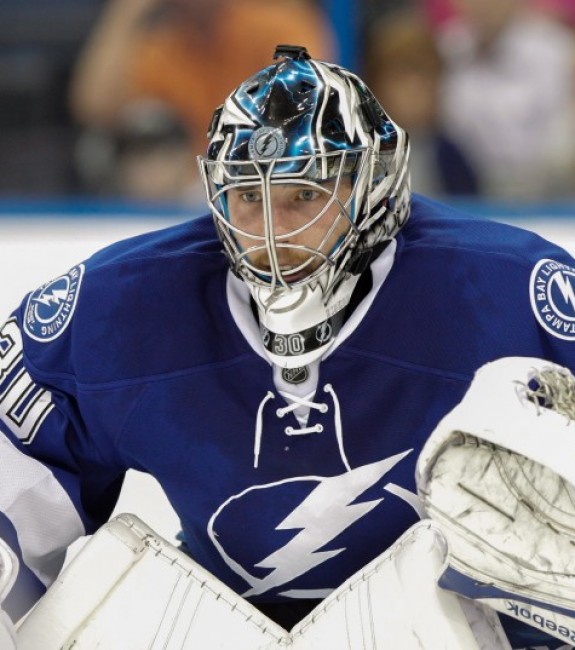 ANSWER: It sounds like Ryan has the same problem on his hands as Steve Yzerman in real life. Make no mistake, it's a good problem to have, and Ryan is in full control of the situation. Bishop would be a hot commodity on the trade market as a proven starter for a winning team. That makes him a top-10, arguably top-five fantasy goalie. Ryan doesn't have to move him by any means. In saying that, Tampa Bay likely won't be able to afford Bishop long-term. This is likely his last season with the Lightning. Bishop is a pending unrestricted free agent — due for a big raise and reportedly asking for $49 million over seven years — so Tampa Bay will likely hand the reins over to the cheaper but still very talented Vasilevskiy. That is the expectation for next season, that Vasilevskiy will be Tampa's starter and the Lightning will continue to be a top team in the Eastern Conference, while Bishop will land on a lesser team with more cap space to meet his contract demands. So, come next season and for the foreseeable future, Vasilevskiy might be more valuable than Bishop in fantasy leagues. Vasilevskiy would be the guy to get, more so than Markstrom, who also has nice upside but backstops a weaker team in Vancouver.
If Ryan is only worried about winning now, as in this season, then sticking with Bishop is the safe bet. But I get the sense that Ryan, as his league's defending champion, is willing to take a chance here. Thinking short-term pain for long-term gain. If the team that needs or wants to upgrade its goaltending would do a 2-for-1 package for Bishop, I'd target one defenceman and one forward. Ryan can't go wrong with any of those players mentioned, but a return of Werenski and Bennett would be ideal in this dynasty-type league where every player is a keeper and there isn't any forced roster turnover from one season to the next. Ryan is already loaded on the blue line with Erik Karlsson, Oliver Ekman-Larsson and Shayne Gostisbehere, so taking back two forwards would be another option. Any two, really, with Pastrnak and Konecny both looking like gamers too.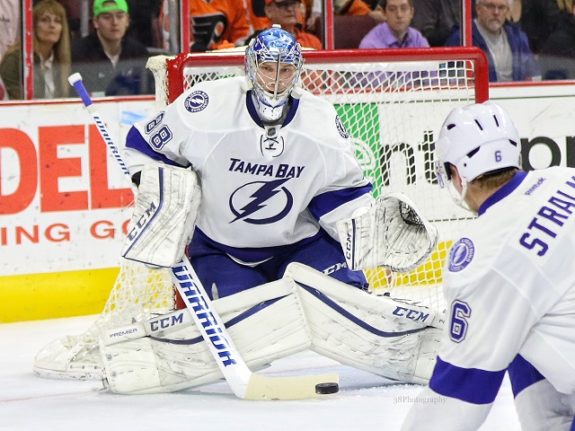 If I were Ryan, and if the rules permitted it, I would add Vasilevskiy before pulling the trigger on any Bishop trade. Ryan needs to be certain he can land Vasilevskiy prior to parting with Bishop or this plan could backfire and blow up in his face. If he plays his chips right, Ryan could end up further ahead in the long run. Even if Ryan ends up on the receiving end of a 2-for-1 and claims Vasilevskiy to make it a 3-for-1, he could make room for the extra bodies by dropping lesser players like Charlie Coyle and Anthony Duclair. I'd make that move.
Sebastian Hedley-Noble asked on Facebook: I have Connor Hellebuyck, but it seems like the Jets haven't decided on their No. 1 goalie yet. Kari Lehtonen and Markstrom/Ryan Miller are available, plus Jimmy Howard. I'm playing head-to-head this week against one of my best friends who loves to talk smack, big rivalry . . . what would you do?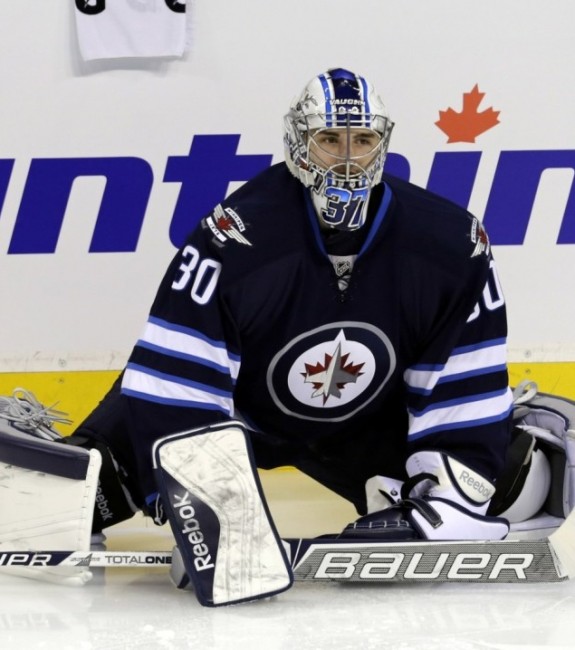 ANSWER: I told Sebastian to hang on to Hellebuyck, but he didn't listen. He swapped him out for Lehtonen. I told Sebastian that I wasn't convinced Lehtonen had secured the No. 1 job in Dallas either, and sure enough, the Stars started Antti Neimi instead for Tuesday's win over Winnipeg, which started Michael Hutchinson instead of Hellebuyck. Now you have to think Dallas sticks with Niemi for Thursday's rematch, while the Jets probably go back to Hellebuyck.
Sebastian is living in the moment and making decisions for the here and now, doing everything possible to win this week's matchup for those bragging rights over his buddy. Sebastian can make more waiver moves, so I'd recommend reclaiming Hellebuyck if he's still available and pretending this little blunder didn't happen. I have a feeling Hellebuyck will have a strong game Thursday in defeating Dallas and winning Winnipeg's No. 1 role. I'm big on Hellebuyck going forward, so get him before he gets hot.
As for the other goalies on Sebastian's waiver wire, I'd steer clear of them. The Canucks got off to a hot start but have now lost three straight. Markstrom should be their No. 1, but they are married to Miller and seem to favour him. Howard has been turning back the clock and standing tall in the early stages, but I can't see him or the Red Wings keeping that up. Petr Mrazek is still going to be the guy there in Detroit. The Jets played Hellebuyck in the Winter Classic, which was telling that they see him as the future. My hunch is they start to ride Hellebuyck and hope he gets into a groove. Grab Hellebuyck — shamelessly go get him back — and give it another week or two before giving up on him again.
Trevor Beaupre asked via email: What do you think about this potential trade? And do you see any pieces I could move around to get the most possible out of the trade?
INCOMING = Anze Kopitar, Bobby Ryan and Marc-Edouard Vlasic
OUTGOING = Vincent Trocheck, Mark Stone and Rasmus Ristolainen
BACKGROUND: Trevor is in a keeper league, this is their second season, and he's trying to win now. Like Ryan in the above question, Trevor's defence is stacked with Karlsson, Klingberg, Victor Hedman and Dougie Hamilton, so he's dubbed Ristolainen expendable, especially since Trevor only plans on keeping three blueliners for next season. Trevor is allowed 10 total keepers and will be committed to forwards such as Connor McDavid, Patrick Kane, John Tavares and Jack Eichel, plus two goaltenders in Bishop and Henrik Lundqvist. Do the math and that's nine right there. So, back to this trade at hand.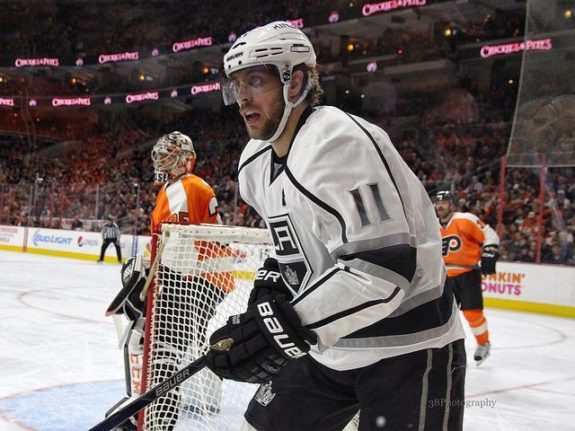 ANSWER: Trevor kind of answered his own question in all honesty. He identified Kopitar as the best player in the deal, and typically getting the best player results in winning the deal. Kopitar would also become Trevor's 10th keeper, an upgrade on Trocheck, Mika Zibanejad and Jaden Schwartz, among others on Trevor's current roster. Yes, Vlasic is a significant downgrade from Ristolainen, but Trevor has the defensive depth to cushion that blow. He could use the offensive boost that Kopitar should bring. Therefore, this move makes a lot of sense.
What doesn't make as much sense is the inclusion of those Ottawa wingers. I don't really see the point in swapping Ryan for Stone, but if that's a dealbreaker for the other GM, then I'd tell Trevor to give him what he wants. I'd try negotiating the simpler 2-for-2 without the Senators, but Ryan and Stone should be comparable this season, so that won't make much difference. Realistically, this trade is Kopitar for Ristolainen, with Trocheck for Vlasic to balance it out.
I do think the deal, as proposed, would be pretty fair, and I wouldn't push for too much more or Trevor might end up with nothing. The other GM might get scared off or frustrated and end up withdrawing his original offer. Trevor could counter, but trying to get a guy like Blake Wheeler in addition to Kopitar — instead of Ryan in return — is getting a bit greedy. It might be best to just accept and be happy to have Kopitar as a keeper.
---
My Fantasy World
Keeper One
This league got off to a drama-filled start, with a wild blockbuster trade prompting a rare mid-season rule change that resulted in a GM quitting over the decision to reverse that deal.
It was a difficult decision, as commissioners, because the deal was done within the existing rules. Normally, we approve every trade without a veto process and we have only rejected one blockbuster in the league's six-year history. So this was unprecedented, especially so early in our seventh season. Friend of the Mailbag, Luc, was the mastermind behind this blockbuster, which bent the rules or, rather, manipulated the system beyond our comfort level.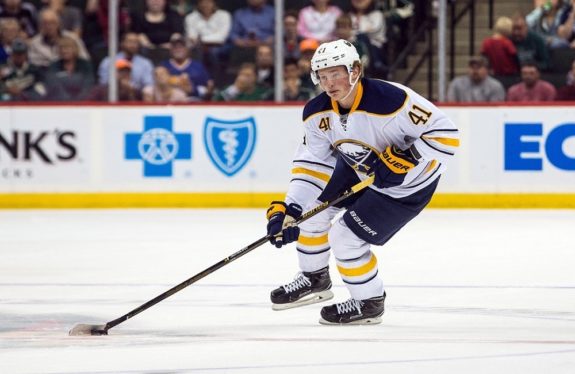 We have designed this league to mimic the actual NHL and what it would be like as a real-life GM. We had rules in place to prevent early selling and to promote parity — at least for the first five weeks of the season. Coming out of the auction, the goal is for all 20 teams to be competitive and capable of winning in any given week. The hope is that GMs will at least try to win while evaluating their teams for the first few weeks. We don't discourage trades in the early stages of the season, but we want to see "hockey deals" for the most part, not "futures" deals with proven stars exchanged for a bunch of prospects and draft picks.
However, Luc came to the conclusion, after only a few days, that his team wasn't going to be a contender and couldn't resist the urge to make a big splash. He accomplished that in the form of a 24-asset blockbuster — 14-for-10, in a league with 20-player active and 30-player total rosters. Here's the trade in all of its glory:
INCOMING = Jack Eichel, Mikko Rantanen, Travis Konecny, Jake Virtanen, Colin White, Jacob Larsson, Derrick Pouliot, Mike Reilly, Scott Wilson, Riley Sheahan, Tom Kuhnhackl, Rene Bourque, Martin Marincin and Ryan Garbutt
OUTGOING = Jonathan Drouin, Jakub Voracek, Corey Perry, David Backes, Henrik Zetterberg, Erik Haula, Johnny Boychuk, Brandon Carlo, Henrik Lundqvist and Louis Domingue
Don't get me wrong, that's a heckuva deal. And it somehow, just barely, kept Luc above the salary-cap floor and the other GM below the salary-cap ceiling. So it was a legal trade. We did the math and approved it.
Not surprisingly, it sent shockwaves throughout the league, with several GMs expressing concern and frustration to the commissioners. Other sellers were suddenly emerging, planning to ditch their top talents for an Eichel-type building block. Other buyers were ready to mortgage their future to keep pace with the recipient of that win-now package. Long story short here, a trading free-for-all was about to erupt — before the end of our first head-to-head period. A handful of teams would have sold off completely, shifting into next-year mode, with the title contenders loading up way ahead of schedule. That parity we are always striving for would have been out the window in Week 1.
So, as commissioners, we decided to step in and calm all the commotion by reversing the trade and tweaking the salary-cap rules to narrow that gap between floor and ceiling. It was a case of extreme circumstances but, at the end of the day, we didn't want to see any more unrealistic trades going down. These new cap constraints are only in effect for five weeks — our regular season spans 20 weeks, with a trade deadline following Period 15 — thus still allowing plenty of time for GMs to buy or sell, and for "futures" deals to occur further into the campaign. Luc didn't like the ruling and opted to leave the league — leaving behind his $100 entry fee for a replacement GM to take over the team free of charge — which was disappointing because of the enthusiasm Luc brings. Unfortunately, his ability to wheel and deal can be a double-edged sword — both his best and worst trait at times. Luc's approach to building a team by blowing it up before the season really got going just didn't jive with our league's core values and, after much debate, we had to do what was best for the league's longevity. Of course, we wished Luc all the best in his other leagues, including my other keeper.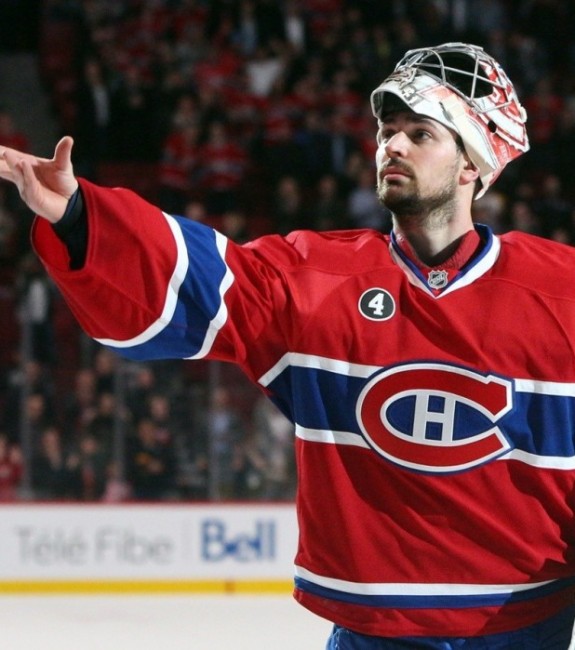 As for my own team, I dropped a 6-3-1 decision in Period 1, falling to our defending league champion and perennial powerhouse. I stole the defence assists category during the final game of the week thanks to Philip Larsen, and I was quite satisfied with that result considering I was without Crosby and also missing Carey Price for Montreal's first three games. Fortunately, I also drafted Al Montoya and he filled in admirably to help my team take the save percentage category and tie in goalie wins. Erik Karlsson and Jonas Brodin won me the defence goals, but my forwards got obliterated in both categories. That defeat certainly could have been worse and I felt fortunate to come away with seven of a possible 20 points.
This week's opponent is off to a hot start, but hopefully I can play catch up and perhaps squeak out a victory or at least keep it close. My defence is hurting right now, with Ryan Murray and Simon Despres injured and Jacob Trouba still in limbo awaiting a trade out of Winnipeg. I'm up against P.K. Subban and Tyson Barrie, so I'll need more from Karlsson and Co. as the week progresses. Hopefully Crosby can spark my forwards as well.
I made a couple very minor waiver claims for this week, adding Tom Pyatt and Phillip Danault for Andy Andreoff and Michael McCarron. Yeah, it's a really deep league and slim pickings in terms of free agents at this point.
As per usual, I'll share all the trades from my keeper leagues in the Mailbag. Here are the latest deals since Oct. 11 — ironically, 11 of them — in chronological order (most recent at the bottom):
INCOMING = Sam Gagner
OUTGOING = Conor Sheary
---
INCOMING = Andrei Markov
OUTGOING = Andrej Sekera
---
INCOMING = Cam Fowler
OUTGOING = T.J. Brodie
---
INCOMING = Anton Khudobin
OUTGOING = Brenden Dillon
---
INCOMING = Matt Martin
OUTGOING = Ryan White
---
INCOMING = Lee Stempniak and Michael Hutchinson
OUTGOING = Calvin Pickard, Roland McKeown and 3rd Round Pick (41-57)
---
INCOMING = Patric Hornqvist and Travis Hamonic
OUTGOING = Jake Muzzin, Conor Sheary and Nikita Gusev
---
INCOMING = Carl Soderberg
OUTGOING = Jordan Schmaltz
---
INCOMING = Henrik Sedin
OUTGOING = Matt Carle, Jeremy Lauzon, Francis Perron and 2nd Round Pick (21-40)
---
INCOMING = Jimmy Howard
OUTGOING = Jacob Larsson and Free-Agent Signing
---
INCOMING = Derek Stepan
OUTGOING = Troy Brouwer and Adam Fox
---
Keeper Two
My rebuilding and injury-plagued roster outperformed my expectations but, as anticipated, I opened with a lopsided loss (343.4-180.9). The team that thumped me is actually one of the teams I helped load up in the off-season in exchange for future assets. Mika Zibanejad, Craig Smith and Adam Larsson were among my former players running up the score, though McDavid, Zach Werenski, Noah Hanifin and Mrazek did most the damage.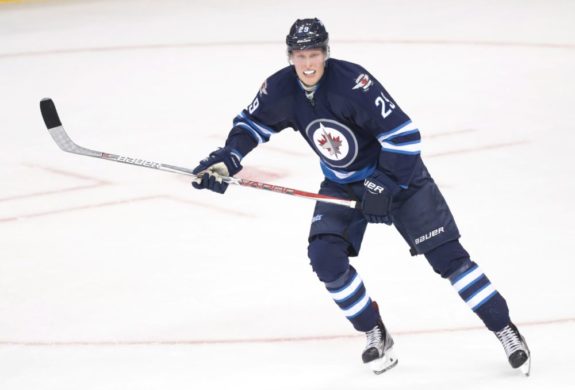 Patrik Laine is proving to be the real deal for my team and worth all the assets I moved for the right to pick him, while my other prized rookie Jesse Puljujarvi hasn't looked as NHL-ready. Artemi Panarin did his part, while Gustav Forsling was a pleasant surprise in making the Blackhawks out of camp and Michael Matheson has been one of my top performers as a rookie. Shockingly, my fantasy points leader from Period 1 was Patrick Wiercioch, who seems to be benefitting from the change of scenery to Colorado.
I have a handful of injuries, so that has allowed me to work several rookies into my active roster. I still have room for three per night even after making the maximum three waiver claims in adding Alexander Burmistrov, Kevin Connauton and Martin Marincin. I also dropped Jakub Kindl, but that hardly warrants mentioning.
Here are 21 trades from this dynasty league dating back to Aug. 26, which include a couple recent blockbusters by our friend Luc:
INCOMING = Matthew Tkachuk, Chris Tierney and Reid Boucher
OUTGOING = Jimmy Vesey, Anthony Beauvillier and Nikita Gusev
---
INCOMING = Jonathan Bernier
OUTGOING = Eddie Lack and Anton Slepyshev
---
INCOMING = Esa Lindell
OUTGOING = Brock Boeser
---
INCOMING = David Krejci
OUTGOING = Jori Lehtera and Tage Thompson
---
INCOMING = Eric Staal
OUTGOING = Alex Burrows and Jake DeBrusk
---
INCOMING = Corey Perry and Dennis Wideman
OUTGOING = Sami Vatanen, Scott Laughton and Jeremy Bracco
---
INCOMING = Matt Dumba
OUTGOING = Shea Theodore
---
INCOMING = Dale Weise
OUTGOING = Nikita Tryamkin
---
INCOMING = Valeri Nichushkin (after signing in KHL)
OUTGOING = Andrew Cogliano
---
INCOMING = Mike Fisher and Andrew MacDonald
OUTGOING = Miikka Salomaki and Matt Puempel
---
INCOMING = Philip Larsen
OUTGOING = 2nd Round Pick (47-56)
---
INCOMING = Zdeno Chara
OUTGOING = Bryan Little (after Little injury)
---
INCOMING = Kris Versteeg
OUTGOING = 3rd Round Pick (65-74)
---
INCOMING = Jordan Eberle and Calvin Pickard
OUTGOING = Robin Lehner, Nail Yakupov and 3rd Round Pick (75-84)
---
INCOMING = John Klingberg (Luc moved him)
OUTGOING = Oscar Klefbom, Samuel Girard, Sean Day and 1st Round Pick (1-8)
---
INCOMING = Brendan Perlini
OUTGOING = Jordan Subban
---
INCOMING = Jakub Zboril
OUTGOING = Jake Bean and 3rd Round Pick (65-74)
---
INCOMING = Pavel Zacha and 3rd Round Pick (57-64)
OUTGOING = Jake Bean and 2nd Round Pick (47-56)
---
INCOMING = Joe Thornton, Henrik Zetterberg, Mike Fisher, Mike Green, Alex Goligoski and 1st Round Pick (19-28) (Luc landed this package)
OUTGOING = Evgeni Malkin, Antoine Vermette, Matt Moulson, Jyrki Jokipakka and David Warsofsky
---
INCOMING = Tyler Bozak and Jason Garrison (contract dumps for Luc in follow-up deal)
OUTGOING = 3rd Round Pick (65-74)
---
INCOMING = Frederik Andersen
OUTGOING = Loui Eriksson
---
Regular Draft
I have Crosby here too, I selected him sixth overall, and I'm hopeful that he'll help my team rise up the standings. This in-person OfficePools rotisserie draft was held the day after Crosby was diagnosed with a concussion, and I got him after McDavid, Jamie Benn, Patrick Kane, John Tavares and Alex Ovechkin in order.
I actually really liked my roster — and still do — but after a strong start that had me sitting fourth, I've plummeted down to 11th out of 12 teams. I have 48 points and the leader has 68, so I have some serious ground to make up already. It's a long season obviously and at least Crosby is on the board, so I'm still optimistic about my chances.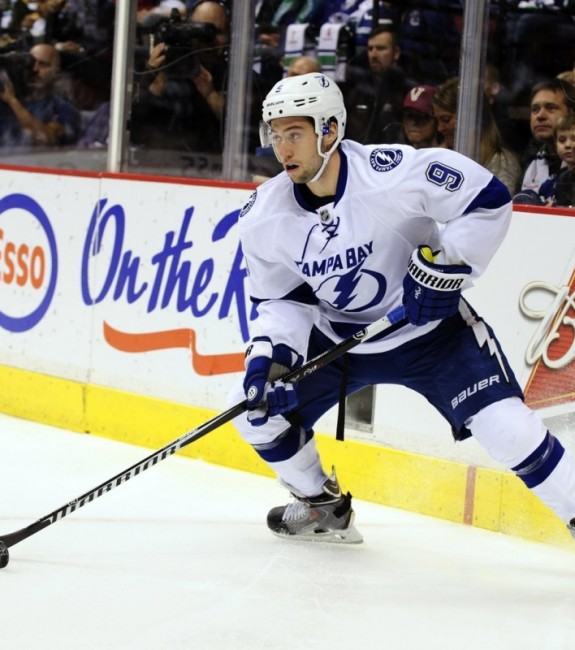 My slow starters include Tyler Johnson — a third-round pick, 42nd overall — with only three points, along with Mike Hoffman (3), Tomas Hertl (3) and Sam Reinhart (2). We had to pick one rookie and I made the mistake of gambling on two. I took Pavel Buchnevich (1, now sidelined with back spasms) in the second-to-last round and then rolled the dice on Oliver Bjorkstrand in the 14th-and-final round, but he's been sent to the minors after three pointless games. I could have taken Chris Kreider instead of Buchnevich, and I passed on Ryan Strome, Justin Faulk and Sami Vatanen to take a flyer on Bjorkstrand. I should have known better, knowing full well that Columbus coach John Tortorella is a fantasy killer. Somebody else grabbed Kreider in the final round, while those other three went undrafted. Unfortunately, there are no in-season transactions here — no waiver claims nor trades — so who you pick is who you get.
I also have Nathan MacKinnon, Jordan Eberle, Loui Eriksson, Pastrnak, Barrie, Hedman and Kevin Shattenkirk rounding out my roster. That group has been satisfactory so far, but here's hoping they pick up the pace too.
For those interested, the first-place team boasts a roster of Patrick Kane, Evgeni Malkin, Joe Thornton, Subban, Jonathan Drouin, Lucic, Brendan Gallagher, Bryan Little, Rick Nash, Alexander Wennberg, Dustin Byfuglien, Sebastian Aho, Thomas Vanek and Seth Jones.
I still think that team is beatable, along with the other frontrunners, but time will tell. Due to injuries and Bjorkstrand's demotion, my roster has only played a combined 71 games, while the league-high is 89 and all but the bottom four have 80-plus under their belt. So getting (and staying) healthy will be half my battle.
---
Box Pool
This is a standard points-only box pool, though we can trade two skaters and one goaltender at the All-Star break. The catch is you need to swap your current player for another player from that same original box.
Prior to Tuesday's games, I was stuck in the middle of the pack — tied for 16th place out of 31 teams. I had 90 points, with the league-leader at 108 and the bottom-feeder at 78.
My 21-player roster features Crosby (again), McDavid, Auston Matthews, Karlsson, Vladimir Tarasenko, Mark Scheifele, Eberle, Wheeler, Filip Forsberg, MacKinnon, Henrik and Daniel Sedin, Shayne Gostisbehere, Evgeny Kuznetsov, Derick Brassard, Jake Allen, Tyler Johnson, Klingberg, Holtby, James Neal and Corey Crawford.
By contrast, the current leader has Patrick Kane instead of Crosby, Tyler Seguin instead of Tarasenko, Artemi Panarin instead of Kuznetsov, Brad Marchand instead of MacKinnon, Logan Couture instead of Eberle, Matt Duchene instead of Daniel Sedin, Wayne Simmonds instead of Brassard, T.J. Oshie instead of Neal, Alexander Radulov instead of Matthews, Roman Josi instead of Klingberg, Mark Giordano instead of Gostisbehere, and Bishop instead of Crawford.
Again, I like the upside of my group here, but potential is nothing if not realized. Onward and hopefully upward.
---
Do you have a question for the Fantasy Hockey Mailbag? You can reach out to me in the comments section below, by email at larry.fisher31@gmail.com, or on Twitter: @LarryFisher_KDC.