What's going on everyone? Welcome to my fifth edition of Fantasy Hockey Studs and Duds! If anyone would like to read my earlier edition from December, it can be found here.
With the All-Star break taking up the past week of the regular season, instead of doing my usual monthly edition, I have decided to choose my fantasy hockey midseason studs and duds. This will be a list of who I believed preformed the best so far for your fantasy squads.
I naturally base my projections off of the Yahoo Fantasy Hockey scoring system. Lets get started.
 Studs:
 Forward: Jakub Voracek, Philadelphia Flyers
It has been a trying season in Philadelphia. The team sits in fifth place in the metropolitan division, and is 12 points out of a playoff spot. There haven't been many bright spots in their season, but if I had to choose one, it would be the leading scorer in the NHL, Jakub Voracek.
Voracek has accumulated 17 goals, 56 points, is somehow a plus 10, and has 47 PIM's. This guy has done it all, and if you took him between the sixth-eighth round, then it has turned into an absolute steal. Voracek is the definition of a sleeper pick.
Then again, its hard not to produce points when playing with fellow All-Star, and team captain Claude Giroux. Giroux has shown in the past that he has the ability to make players around him better, kind of like when Jaromir Jagr played on his wing a few years ago. Voracek is no different. What makes everything better, is Voracek won't be going anywhere. He's in the middle of a four-year contract, and expect when he's up for a new deal, for the numbers to be sky-high.
It's too bad the rest of his teammates, especially the goaltenders, haven't given him the support he needs. Nevertheless, Voracek is turning into a star; continue to play him daily, and you won't be disappointed.
Honorable Mentions: Patrick Kane, Chicago Blackhawks and Tyler Seguin, Dallas Stars
Defensemen: Kevin Shattenkirk, St. Louis Blues
Like Voracek, Kevin Shattenkirk is another prime example of a sleeper who bloomed into a star. Although Shattenkirk was projected to go a few rounds earlier then Voracek, he's turned your fourth-sixth round choice into an absolute stud pick.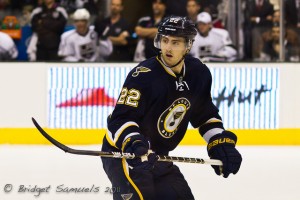 Shattenkirk is only one point behind honorable mention, Mark Giordano, with 39, and is third among defensemen in plus-minus. Shattenkirk is my midseason stud because he's turned from a steady number two-three defensemen, into a solid number one. He won't be supplanting Alex Pietrangelo, but because of Pietrangelo's early season struggles, it's given Shattenkirk the opportunity to step up in his place.
Shattenkirk, like Voracek, is in the middle of a four-year contract, which pays him almost the same amount as Voracek at $17 million. It's almost the perfect time for Shattenkirk to produce these kinds of numbers as by the time his deal end, he will be a prime number one defensemen. With St. Louis looking to continue their push into the playoffs, don't hesitate to roll Shattenkirk out consistently, he's literally been an All-Star.
Honorable Mentions: Shea Weber, Nashville Predators and Mark Giordano, Calgary Flames
Goaltender: Pekka Rinne, Nashville Predators
Although Rinne will out for at least another week or two, he's no doubt been the best goaltender to this point in the season. In 37 starts, Rinne is rocking a .931 Sv%, a 1.96 GAA, and he leads the league in wins with 29.
Rinne hasn't done everything, as he is playing in front of a better team this season, but there's no mistake, he's the backbone of the first-place Central Division Predators. With a combine record of 30-10-5, Nashville has the second best record in the league, sitting three points behind the Ducks.
What makes this special for Rinne is the way he's come back from injury. He was out almost all last season with a hip infection, and we weren't sure if we'd see the same player this year. Regardless of that, Rinne was projected to be taken between the third and fourth rounds. I, like many others, bravely clicked on his name, and have been handsomely rewarded.
Once Rinne returns from injury, it will be business was usual with him seeing almost every start for the rest of the season, give or take a few. Even against opponents like Chicago and St. Louis confronting them, Rinne is ready to prove he can take Nashville to the promised land.
Honorable Mentions: Braden Holtby, Washington Capitals and Carey Price, Montreal Canadians
Duds:
Forward: Thomas Vanek, Minnesota Wild
My first dud choice is someone who the fans have called out for a while now. Thomas Vanek has only scored nine goals in 46 games. For someone who's making $6.5 million per season, while saying Minnesota is the place he wanted to play, that simply isn't good enough.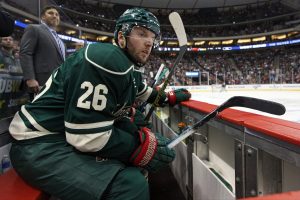 Vanek's 20 assists are nice, but his minus 12 isn't. Vanek hasn't ever been the type of player to give it 100%, and this season is no different. While it hurts to have the goaltending they do, there isn't any excuse for only netting nine goals when you're paid to score goals. General Manger Chuck Fletcher is surely pulling his hair out thinking he has to deal with this for another two years. It's already bad enough considering their cap situation and all the players they have signed.
While I can understand the logic of taking him between the third-fifth rounds, it just wasn't a good life choice, and I hope you feel bad. Kinda.
Not-so-Honorable Mentions: Patrick Sharp, Chicago Blackhawks and Paul Stastny, St. Louis Blues
Defensemen: Dion Phaneuf, Toronto Maple Leafs
I feel like when Dion Phaneuf's name shows up on the draft board, everyone gravitates towards him, picks him, and then realize they made a mistake. Its ok… mistakes happen.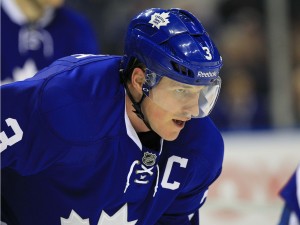 In his last 10 games, Phaneuf has only two assists, and has been a minus player in eight of those games. it also seems like interim head coach Peter Horachek finally had enough with Phaneuf, as he played a season low, 15:22 in their last game against Ottawa. In general though, I kinda feel bad for the guy. He's constantly getting hammered by the media (rightly so), and his play is steadily decreasing. I wonder how he gets any sleep at night. Same goes for everyone that selected him between the eighth and eleventh rounds.
If anything, I would not only stay away from Phaneuf, but all Maple Leaf players. They have only scored five goals in their last six games, while being shutout in three of them. If you want to keep Phaneuf in hopes he picks up his play, then be my guest. Just know that if your team collapses either before the playoffs, or in the playoffs, you only have yourself to blame.
Not-so-Honorable Mentions: Jack Johnson, Columbus Blue Jackets and Oliver Ekman-Larsson, Arizona Coyotes
Goaltender: Kari Lehtonen, Dallas Stars
While Vanek and Phaneuf I can understand, Kari Lehtonen's terrible first half is a mystery to me, and everyone in Dallas.
Lehtonen now sits with a .904 Sv%, and a 2.98 GAA. Last year, Lehtonen's numbers were a .919 Sv%, and 2.41 GAA; not spectacular, but not bad either. The only part of Lehtonen's game that has any fantasy value is his 19-10-7 record.
It's difficult to pinpoint why Lehtonen is struggling so mightily. Reports have stated he's not dealing with an injury, its more that he isn't stopping the shots he usually saves. Pucks are slipping through him, and when a goaltender gets leaky, shooters in this league are so good, they will hit those spots every time.
I don't buy it, but some believe his Game 6 meltdown against the Anaheim Ducks may still be fresh in his mind. Lehtonen hasn't been the same since that game, and more pointedly, since that series began.
From a fantasy perspective, it's a very tough decision. I would stick with him, and see if he can regain at least some of his game. Your other option would be to trade him for at least something of value. I wouldn't suggest it, but even with Lehtonen getting most starts, his Sv% and GAA are too low for him to be of value.
Not-so-Honorable Mentions: Semyon Varlamov, Colorado Avalanche and Steve Mason, Philadelphia Flyers
Agree/Disagree, what do you think of my midseason selections? Leave a comment below to let me know!