First off all Happy Holidays to everyone! Welcome to my fourth edition of Fantasy Hockey Studs and Duds. My last edition from the month of November can be found here for anyone interested.
Santa has come and gone, however, I have yet to give out my gifts and coal to those who have been naughty and nice. The players I have chosen for this list have exemplified how to bounce-back from a poor previous season, while others had high draft stock in which has slowly diminished over time.
As per-usual I base my choices off the Yahoo Fantasy Hockey Scoring System so with that said, let's get started!
Studs:
Forward: Rick Nash, New York Rangers
I may cover New Jersey, but Rick Nash's play can no longer be ignored as he's off to the best start of his career, and looks poised to hit the 50-goal plateau for the first time.
Nash has been a revelation with the New York Rangers this season. After playing in 65 games last season where he only contributed 39 points, he already has 36 points in only 33 games including 23 goals which is also three short of this 26 from last season. This is all coming after he also didn't have the best statistical playoff run with New York last season where in 25 games, he had 10 points, and only netted three goals which all came in the Montreal series. Those kinds of stats simply aren't acceptable for someone of Nash's caliber; so whatever he did during the off-season to improve physically and mentally, it obviously worked.
Confidence is a beautiful thing in hockey, and when a guy like Rick Nash knows he can do whatever he wants out on the ice, then plays like these are common aspects in the life of the power-forward.
Even though we don't know if Nash can continue this pace, there's no reason to believe he won't with talent such as his. Look to acquire Nash if possible, and if you drafted him, kudos to you my good sir!
Honorable Mentions: Patrick Kane, Chicago Blackhawks and Nicklas Backstrom, Washington Capitals
Defensemen: Dustin Byfuglien, Winnipeg Jets
If someone had told me at the start of the season that the Winnipeg Jets would be in 5th place in the Western Conference I would told them to take a hike. However, almost inconceivably, they're there, and in no small part to the great play of big-man Dustin Byfuglien.
Byfuglien has been awesome since moving back to defense full-time because of the amount of injuries on the back-end including, Mark Stuart, Tobias Enstrom, Zach Bogosian, and Jacob Trouba. Byfuglien has averaged over 26 minutes on per-game since, which may sound taxing on a nightly basis, however Byfuglien has been using those increased minutes to consequently increase production. Over the first two months of the season, Byfuglien had nine points playing mainly forward. Since making the change, Byfuglien has 11 points which moving from forward to defense is outstanding.
Byfuglien has been one of the more criticized players in the league since his cup-winning days with the Chicago Blackhawks back in 2010. There have been many issues about his weight, and motivation over the past several seasons. However when big buff is on his game, he's one of the most explosive defensemen in the league, with a slap shot as scary as Zdeno Chara and Shea Weber.
Certainty monitor Byfuglien closely over the next month or two, and if he's on your team try to trade him for high value, as Byfuglien's stock may not be as high when Winnipeg's defense gets healthy.
Honorable Mentions: John Carlson, Washington Capitals and Aaron Ekblad, Florida Panthers
Goaltender: Sergei Bobrovsky, Columbus Blue Jackets
Officer Bob is back and reporting for duty!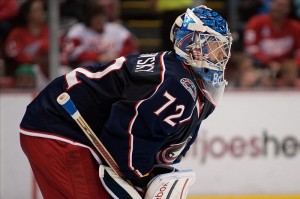 After battling injury and inconsistency throughout the first two months of the season, Bobrovsky is rolling now with a .934 SV% in the month of December. Also included in that is a seven-game win streak which saw five of those contests decided in overtime or shootouts. During the course of the month, Bob has beaten some of the best teams in the league which includes the Blackhawks, Penguins, Red Wings (shutout), and Lightning.
A big part of Bobrovsky's success over the course of the month has been the return of some injured teammates like Brandon Dubinsky, along with Nick Foligno having one of the best seasons of his career. However, when it comes down to it, Bob is back to playing his game, and when Bob's on his game, he's one of the most entertaining goaltenders to watch in the NHL.
If you drafted Officer Bob, then this month has been exactly what the doctor ordered. Even with Columbus not being in the best shape as in terms of the standings, don't hesitate to roll with Bobrovsky out on a nightly basis.
Honorable Mentions: Braden Holtby, Washington Capitals and Henrik Lundqvist, New York Rangers
Duds:
Forward: Sidney Crosby, Pittsburgh Penguins
The shot of Sidney Crosby's face when he had the mumps emphasizes my decision to make him my Dud of the month.
All kidding aside, lets face it here; Sidney Crosby has been terrible in terms of pure fantasy statistics. He only has four points this month, and if we're including last month as well, then he only has three goals in two months of play. For a guy that's known around the globe as the best player in the world, and the guy you most likely picked number one in your fantasy draft, this is absolutely unacceptable.
Now obviously the mumps slowed down Crosby quite a bit as he missed three games in the middle of the month but it's been more than that. Seemingly all season he's looked pass-first instead of taking shots he should in hindsight taken. We also don't have the luxury of knowing if Crosby is dealing with an injury like he played with during last year's playoffs. Whatever the case may be, Sidney Crosby simply hasn't looked like Sidney Crosby.
Thankfully for the Penguins, they have a plethora of weapons with Evgeni 'Geno' Malkin leading the charge which should give Crosby plenty time to get out of whatever funk he's in before April and June roll around. As interesting it may be to test the waters at trading him, you picked him number one, and unless you're getting a humongous haul in return, your better off keeping him and hoping he can get out of his funk.
Not-so-Honorable Mentions: Jordan Eberle, Edmonton Oilers and Chris Kreider, New York Rangers
Defensemen: Justin Schultz, Edmonton Oilers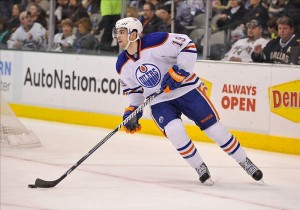 I'm sure we all know of what's happening up in Oil Country, however if you're not aware then allow me to quickly fill you in. Edmonton has lost, an almost unprecedented, 20 of their last 21 games with their only victory coming at home in a 2-1 win over the San Jose Sharks. Basically everyone is getting the blame up there, and the thought process is to totally clean house after the season. At least that's what the fans want.
One player though that's become a whipping boy is Justin Schultz who is entering into the discussion of possibly being traded along with young forward Jordan Eberle.
Schultz is an interesting piece in Edmonton because of how he even got there in the first place. The Anaheim Ducks originally drafted him in the second round; however after playing four years at the University of Wisconsin, he became eligible to become an unrestricted free agent and decided to sign with Edmonton because of the young core they were developing. Can't really blame him on wanting to be on a team like that, however, his decision has turned out in all the wrong ways with the team playing as bad as it is.
Schultz as a whole though just isn't the same as when he originally came into the league. He only has five points this month along with a minus two, which isn't good enough for someone so highly touted coming out of college. If you own Schultz, more specifically in keeper leagues, I can understand keeping him, however at this point if you can't get anything for him on the trade market, I'd honestly just drop him. He's not producing enough to call for fantasy consideration, and I wouldn't even keep anyone on Edmonton unless were talking about Taylor Hall.
Not-so-Honorable Mentions: Anton Stralman, Tampa Bay Lightning and Alexander Edler, Vancouver Canucks
Goaltender: Cory Schneider, New Jersey Devils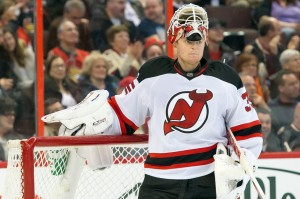 Even with a .917 SV% to go along with a 2.50 GAA, Cory Schneider, who has started the most games in the NHL, has to be my dud of the month simply because of the team playing in front of him.
The Devils currently rank 28th in the NHL in terms of goals per-game at 2.08 which means, just like last season, Cory Schneider isn't getting goal support. Now Schneider has seen his inconsistencies throughout the season, although in most cases, New Jersey hasn't been able to come up with a game-winning goal to give Schneider victories.
Losses can pile up very quickly; Schneider has lost eight games this month while only garnering two victories. Even though we know Schneider's skill-cap, his inconsistency with putting up wins makes him hard to start in fantasy leagues because even if he only allows two goals on 30 shots, he may still get the loss, which lowers his fantasy value drastically.
Too make matters worse, New Jersey has the weirdest coaching setup in the NHL with Scott Stevens and Adam Oates returning, and coaching the defense and offense respectively. If at all possible, try to trade Schneider to try to get some value for him, and if it's a keeper league then hold onto him and hope New Jersey somehow gets either Conner David or Jack Eichel in the upcoming NHL Draft.
Not-so-Honorable Mentions: Ondrej Pavelec, Winnipeg Jets and Darcy Kuemper, Minnesota Wild
Have a Stud/Dud I didn't mention? Leave a comment and let me know!