Welcome everyone to my third edition of Fantasy Hockey Studs and Duds! My last edition for the month of October can be found here.
It's been a great November, and fantasy owners have a lot to be thankful for. However there have also been some disappointments in which owners alike can't wrap their heads around. This will be my take on stood out this month and who preemptively ate a little too much turkey.
As usual I'll be basing my rankings off the Yahoo Fantasy Hockey Scoring System so with that said, let's get started!
Studs:
Forward: Filip Forsberg, Nashville Predators
I would just like to briefly say that I called Forsberg being as good as he is… and basically everything else going on in Nashville which you can read here.
Now aside from me bragging, #PrinceFilip has been absolutely dynamite for Nashville. I was originally going back and forth with Tyler Seguin, and was going to go with the former 2nd overall pick as he leads the league in goals. However, Forsberg wouldn't be denied my top spot, as he clinched the stud of the month with a great individual overtime winner two nights ago against the Edmonton Oilers.
Forsberg began November with a six-game point streak which saw him collect seven goals and five assists. On top of being a clutch producer for Nashville, he also leads the league in plus-minus as a rookie which is remarkable.
The 20-year-old Swede mostly spends his time on a line with Mike Ribeiro and James Neal who have also excelled from playing with Forsberg.
If at all possible, and especially in keeper leagues, get your hands on this guy as look for Prince Filip to continue his torrid pace. He has earned the trust of head coach Peter Laviolette and plays in all situations for division leading Predators.
Honorable Mentions: Tyler Seguin, Dallas Stars and Vladimir Tarasenko, St. Louis Blues
Defensemen: Mark Giordano, Calgary Flames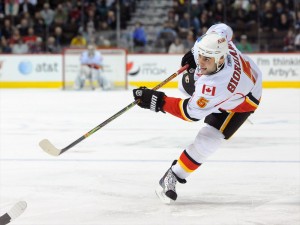 With 23-24 games completed in the early part of the season, the Calgary Flames have more points than the Chicago Blackhawks and the Los Angeles Kings…
I know it's crazy, but that's merely one of the benefits from having one of the best defensemen in the league on your team. Actually made that two, as the play of T.J Brodie has been fantastic as well for the Flames. Put it this way; Giordano and Brodie lead all defensemen in points which at this point in the season; Let's just say that if you told me at the start of the year that they would lead all defensemen then I would have told you to take a hike and other more explicit words to describe your stupidity.
Otherwise, it really is remarkable with how these defensemen have thrived in such a difficult conference. They each have above a +12 rating and are averaging more than 20 minutes a night for a very young Flames team.
Giordano earns my overall stud of the month though because he's the man who leads Calgary on a nightly basis. With 24 points and playing over 23 minutes most nights, at this rate Calgary may be on their way to making a surprising playoff appearance.
Honorable Mentions: T.J Brodie, Calgary Flames and Kevin Shattenkirk, St. Louis Blues
Goalie: Jaroslav Halak, New York Islanders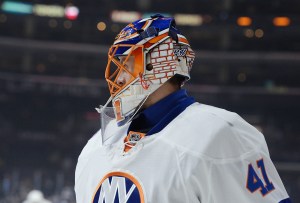 The Islanders have been a revelation among most in the tri-state area and the NHL. They are in a tie for first-place with the Pittsburgh Penguins at 32 points, and have surpassed any and all expectations once thought of the team at the beginning of the season. There are many players in which the Islanders can be thankful for, however Jaroslav Halak takes home the turkey as he's been the real-deal on the island.
Halak began the season on a relatively slow pace with only a .889 SV% but he's turned on the afterburner since then. After a loss to open November, Halak has collected eight straight victory's while rolling with .947 SV% to raise his overall SV% to a respectable .923.
What Halak is giving the Islanders is something they haven't had in what seems like years now. They signed Evgeni Nabokov to help stabilize their goaltending which lasted a few years, but was relatively unsuccessful as he never truly got the Islanders to the next level aside from their short series against the Penguins where they almost defeated them in six-games.
We should all remember as well that Halak was basically run out of St. Louis only to be replaced by Ryan Miller and we all know how that worked out with a six-game beating by the Blackhawks. However, Miller is playing very well with Vancouver which earned him a spot on my list.
Halak has turned into an excellent late-round pick as looks to hit his groove for the rest of the season.
Honorable Mentions: Marc-Andre Fleury, Pittsburgh Penguins and Ryan Miller, Vancouver Canucks
Duds:
Forward: Anze Kopitar, Los Angeles Kings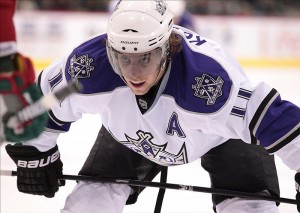 Upon looking through players who are having down seasons, Anze Kopitar stood out tremendously as he only has five goals and 10 points thus-far for the defending champs.
Kopitar had a minor injury a couple of games early into the season and he hasn't quite been the same since. The star center played a season-low 15:53 in the Kings 4-0 win over the Minnesota Wild. Not only that, but Kopitar is an uncharacteristic plus 1 which isn't bad, however, his plus-minus is usually one of the best in the league.
Some of the problems for Kopitar are his line-mates have also been very inconsistent. Dustin Brown almost broke my list as he only has seven points and is a minus player, while Marian Gaborik has been hurt as well and battled inconsistency.
This is a great opportunity for any fantasy owner to buy low on Kopitar as I have no doubt he'll begin to produce like his old self in the near future. There isn't a player out there that goes through a down time once in a while, and I firmly believe that it's not just Kopitar, but the entire team minus Jonathan Quick going through this slump. He'll be back.
Not-so-Honorable Mentions: David Perron, Edmonton Oilers and Patrik Elias, New Jersey Devils
Defensemen: Jack Johnson, Columbus Blue Jackets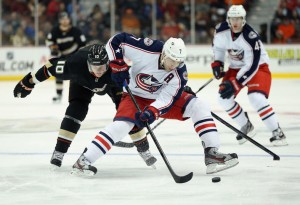 I feel really bad about making Jack Johnson my dud of the month, but with everything that's happened around him and the Columbus Blue Jackets, it's hard not to.
Let's start with the unfortunate news that surfaced a week ago in which Johnson filled for bankruptcy because his parents took advantage of him.
According to multiple reports, Tina Johnson borrowed at least $15 million in her son's name and took out a series of high-interest loans which have in turn put Johnson in severe debt. "I'd say I picked the wrong people who led me down the wrong path," Johnson said. "I've got people in place who are going to fix everything now. It's something I should have done a long time ago."
This has undoubtedly had an effect on his play with Columbus as he may have a goal and eight assists, however Johnson is a minus 16, and consistently making defensive mistakes in his own end. He is one of the leaders on this team, and after Columbus took a big-time step forward last year, the team is only 6-13-2 which reflects the play of Johnson.
I wish Johnson all the best in getting over his financial problems, however in the here and now, he's a dud.
Not-so-Honorable Mentions: Matt Niskanen, Washington Capitals and Seth Jones, Nashville Predators
Goalies: Ben Scrivens/Victor Fasth, Edmonton Oilers
Alright… this is just brutal so let's just start with the video…
That was during the Oliers 7th straight loss which has extended to nine after they were beaten in OT last night thanks Mr. Highlight reel Vladimir Tarasenko.
Sorry about all the painful videos if you're an Oliers fan, but at this rate the Oilers are simply becoming the laughingstock of the NHL. The team is bottom feeding at 6-14-4 and their goaltending has rarely shown up to bail them out of a game. Even when Scrivens or Fasth have shown up, the Oilers still find a way to lose as shown earlier by Filip Forsberg's heroics.
So what should you do with the pair of goalies whose SV%'s are both .900 and below? Well unless the league is extremely deep where you need at least 3-4 goalies, then I wouldn't even own them. Maybe in the future if the Oilers somehow get hot and go on streak, then pick up the goalie who ends up starting those games.
However for now, sit back in your chairs and grab some popcorn because the laughs are gonna keep on coming.
Not-so-Honorable Mentions: Craig Anderson, Ottawa Senators and Semyon Varlamov, Colorado Avalanche.
Have a Stud/Dud I didn't mention? Leave a comment and let me know!
Corey Spina lives in Wayne, New Jersey. He is a senior at Centenary College, and is majoring in Communications/Journalism. Corey is in his second season covering the New Jersey Devils for The Hockey Writers, he completed a sports journalism internship with TAPinto, and he is the Host/Producer of the Sports Buzz on WNTI.org.