The start of the 2014-2015 season is nearly upon us, which mean it's time for me to deliver my five bold predictions for the Nashville Predators this season! Now the some of these may be potential head scratchers, however these are absolutely possible within the realm of this season, and how much Nashville has changed/improved in the offseason.
Without further ado, here's my five bold predictions:
#5 Filip Forsberg Wins the Calder Memorial Trophy
My first bold prediction is that Filip Forsberg, selected 11th overall in the 2012 NHL draft, will win the Calder Memorial Trophy.
After a 13 game trial run at the end of last year where he collected 1 goal and 4 assists, Forsberg is primed to breakout this season while playing on the top line with James Neal and Mike Ribeiro. Forsberg is a very crafty player who not only scores goals, but also dishes out a bunch of assists. Playing with a pure goal scorer like Neal, and a playmaker like Ribeiro right off the hop, is a perfect fit with Forsberg's attributes.
https://www.youtube.com/watch?v=2dxvjca4bsQ
Now granted Forsberg has a ton of competition this season for Rookie of the Year. He will be forced to beat out the likes of Tampa Bay's Jonathan Drouin, Chicago's Teuvo Teravainen, and Florida's first overall pick Aaron Ekblad, along with a few surprises as there always is.
It's going to be close race, however I firmly believe that Forsberg has just a good a chance as anyone to win this year's Calder.
#4 Pekka Rinne Wins 35+ Games
Only once has Pekka Rinne ever won over 35 games in a season when he went 43-18-8 in the 2011-2012 season. That year Rinne was nominated for the Vezina Trophy, and the team made it to the Western Conference Semifinals where they lost in five-games to the surprise Phoenix Coyotes.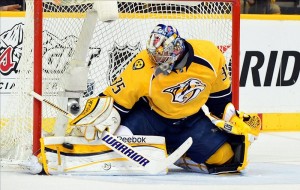 If Nashville is going to have any chance at making the playoffs then is Rinne going to have to stay healthy for the entire season. Not only that, but he's going to have to play at the level he was in 11-12, where he posted a .923 SV%, and a 2.39 GAA with 5 shutouts, in 73 starts which was the most in his career.
If healthy, then there isn't a question that new head coach Peter Laviolette will ride Rinne like Ex-Head Coach Barry Trotz was known for during his reign. It shouldn't be a problem though as Rinne is 31 years old and in the prime of his career. After sitting out most of last season with a hip infection, Rinne should be more than rested enough to carry the difficult work load.
If Rinne gets close to 70 starts again, then not only will Rinne most likely pass 35 wins, but he may also take a crack at passing 40 for the second time in his career.
#3 James Neal Scores 40+ Goals
He did it once, and he can easily do it again. James Neal is a pure goal scorer, and the type of player which the city of Nashville, and its fans, have been waiting to see for a very long time.
https://www.youtube.com/watch?v=PPcIoqfpOo0
Last year was a trying season for Neal as he was constantly under the gun by the league suspension worthy acts. Along with being suspended, Neal also had a number of injuries which kept him out for several stretches at a time, most recently a concussion he suffered before the playoffs.
Neal is definitely capable of repeating back what he did back in rhea 11-12 season where he not only posted 40 goals, but also dished 41 assists. Now Neal was playing with Evgeni Malkin at the time where Malkin potted 50 goals that season so I don't quite expect the assist number add up to what is was that season. However, Neal is going to known as "the guy" on offense for the Preds, he's going to be getting not only first-line minutes, but first power-play time, extra attacker time at the end of the game, maybe even penalty kill time for the offensive minded Peter Laviolette.
Under the lessened lights, and lowered media in Nashville, I fully expect Neal to forget the pressures of the league, and produce big-time for his new team.
#2 Peter Laviolette Wins the Jack Adams Award
After being fired from the Philadelphia Flyers very early into last season, Laviolette took some time to rejuvenate himself. He coached with team USA at the 2014 Sochi Winter Olympics, coached his son, and got himself mentally ready for when Nashville came knocking on his door.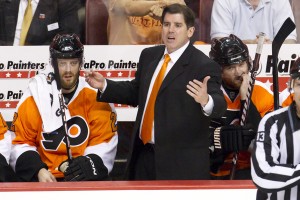 The biggest relief Laviolette has going into his first season with the Preds is a having an elite goalie. Over his time in Philly, Laviolette has had a terrible combination of, Brian Boucher, Ray Emery, Michael Leighton, Sergei Bobrovsky (before he was good), and the famous Ilya Bryzgalov! Having an elite goaltender like Pekka Rinne isn't something Laviolette's had since the early days of Cam Ward where they won a Stanley Cup back in 2006.
Otherwise it's going to be difficult at the start of the season to transition this team from a squad that played a defense-first system for the last 15 years under Barry Trotz, to an offense-first team. Although I feel the players should response whole-heartedly to Laviolette's new regime as a bunch of players on this team are waiting to break out offensively like Craig Smith, Colin Wilson, and Filip Forsberg to name a few.
If Laviolette can guide this team back to the playoffs, and maybe finish ahead of teams like the Avalanche, Blues, and Stars, then Laviolette should definitely be a consideration for the Jack Adams.
 #1 Nashville Makes the Playoffs and Advances past the First Round
My last bold prediction is not only will Nashville make it back to the playoffs after missing out the past two seasons, but I believe they at least advance past the first round.
There isn't a doubt that the central division is probably the best division in hockey, which can be a good or bad thing depending on how you look at it. Now it can obviously be a bad thing because it makes it that much harder to make the playoffs, however if the Preds do end up making it then a majority of events may have occurred.
https://www.youtube.com/watch?v=mDhTUB94kLU
Rinne had an outstanding season, the potential top-line of Neal-Ribeiro-Forsberg, all produced at a great rate. Shea Weber finally had the season necessary to claim the Norris Trophy, Nashville's depth players stepped up in a big way to provide a lot of production. I mean there are so many great possibilities with this team where a ton of players have underachieved but all have a chance to put that behind them for a better cause.
Adversity is a big thing in this league, but it's the teams that overcome adversity that end up doing great things. Nashville has so much potential, and I boldly believe that it will come together this season to bring the Preds back to the playoffs and beyond.