Yes, the Montreal Canadiens did finish with a decent 4-2-1 record this 2014-15 preseason. However if you can't look to training camp for tweaks to make heading into the actual regular season, one has to question the point of it all. You know, if one hasn't already.
(the correct answer is: so the owners can make more money… and maybe something about getting ready for games that actually count, I think I've heard)
Here are three major improvements the Habs must make heading into 2014-15 based on their preseason.
The Power Play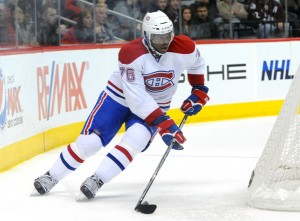 Maybe defenseman Nathan Beaulieu won't help the power play after all.
Whereas it was the penalty kill that truly struggled during their final two preseason games against the Ottawa Senators (allowing five goals in 11 opportunities), the power play should truly be the cause for concern. After all, it can be argued the lack of success when down a man against Ottawa had more to do with the Sens' power play than Montreal's futility.
In their previous five preseason games, the Habs only allowed three goals in 19 opportunities (84.2 percent success rate) and they did just finish last regular season with an 85.1 percent penalty-killing success rate, good for fourth in the league. So, to a certain extent, it's easy to imagine everything being all right in that regard come the season opener October 8 against the Toronto Maple Leafs.
However, after clicking for just five goals in 34 preseason opportunities (14.7 percent), the power play should be placed firmly under the microscope. Montreal's man advantage finished at 19th place and just 17.2 percent last season, meaning the Habs desperately need to figure out how to fix whatever's ailing them or else the man advantage will continue not to be much of one all season long.
Possession
The Habs found success last season despite their style of play flying directly in the face of everything hockey analytics has taught us over much of the last decade. Logically, they're due to regress this coming season.
After finishing with a 46.7 percent five-on-five Corsi for percentage last season (fifth-last in the league), Montreal continued the disturbing trend this preseason. Getting outshot 189-171 in the preseason, including 32-19 against the legitimate Stanley Cup-contender Chicago Blackhawks.
On the other hand, Montreal did escape with a 3-1 victory in that game, as they continue to throw down the trump card that will forever supersede poor possession play: superior goaltending.
Carey Price had a truly incredible season last year. If he has another one him, the Habs as a whole will be a hard team to play against. If he doesn't, they won't be and it will likely be the fault of just the Habs in front of him.

Playing with Late Leads
Admittedly, Montreal did have success when leading after two periods last season, earning a 35-0-3 record under such circumstances and a .921 winning percentage. That was good for third overall.
However, before Habs fans cheer in excitement at how invincible they are, two things:
The Florida Panthers were first overall with a .938 winning percentage and
Montreal's .921 winning percentage doesn't tell the whole story, namely how lucky the Habs were to escape with victories on many of those 35 occasions.
Time and again, the Habs collapsed into a defensive shell, desperately trying to hold onto late leads. They were obviously successful for the most part, but, like with poor possession, they can only play with fire so long before getting burnt. That became obvious in the postseason.
Against the Tampa Bay Lightning in the first round, the Habs led in the third period in all four games. They gave up six goals in those four third periods. Thankfully they also scored six, but a great deal of that offensive success came as the result of non-clutch goaltending from Anders Lindback and Kristers Gudlevskis.
Against Boston, it was more of the same. The Habs led in five separate third periods in that series and got outscored 9-4.
They twice led in Game 1, only to let Boston tie it both times and force a double-overtime thriller. They led by two in Game 2 only to give up four straight and head back to the Bell Centre with a 1-1 series tie instead of being up two games to none. That loss, their first in regulation last season when leading after two, could have meant the series were it not for stellar goaltending on the part of Price.
http://www.youtube.com/watch?v=WjSMtQwskDY
Without Price, against the New York Rangers in the third round, the Habs only led twice in the third period, both times coming out on top. However, both those games featured dramatic comebacks by New York, including in Game 3, when Chris Kreider scored with just 30 seconds left to tie the game 2-2 (Alex Galchenyuk would score in overtime).
In Game 5, the Habs held New York off the scoreboard in the third, but they had been leading 4-1 in the second before giving up three straight goals in less than five minutes. Rene Bourque's hat trick saved Montreal in that game, with the Habs going on to win 7-4.
The bottom line is, after the Habs gave up third-period leads to the Ottawa Senators in their final two preseason games (losing both times), it's clear this tendency of Montreal's to flirt with danger is not going away anytime soon. They got away with it all of last season, but 2014-15 is a new year. Anything can happen.