Welcome everyone to my second edition of Fantasy Hockey Studs and Duds! My first edition during the pre-season can be found here.
It's been a crazy, awesome, exciting, troubling, and emotional start to the 2014-2015 NHL season. There were a lot of tough choices but I feel the players I have chosen represent the rights and wrongs with not only racking up fantasy points, but life in general.
Once again I'm using the Yahoo Fantasy Hockey Scoring System to base my projections off of. So on that note, let's get started!
Studs:
Forward: Corey Perry, Anaheim Ducks
Corey Perry has been an absolute monster in both real life and fantasy through the first month of the season. In nine games, Perry leads the league with nine goals, he has three helpers, 23 PIM, +7 rating, four PPG, two hat tricks, and 34 shots on goal.
https://www.youtube.com/watch?v=jlrvjHXqMf4
Paired on the first line with Ryan Getzlaf, and whoever else Bruce Boudreau decides to throw out with them on that given night, Perry has shown that he has an uncanny ability to score at any point in a game. If at all possible, try to make a trade to acquire Perry or Getzlaf if you have the other on your team, even if you have to overpay, they are worth it.
If you chose Perry with 3rd overall pick instead of going with the likes of Evgeni Malkin, Alex Ovechkin, and Ryan Getzlaf, then you have been handsomely rewarded. Perry doesn't even look close to stopping this torrid pace and if it continues, at season's end the former Hart Trophy Winner in 2011 might be hoisting his second MVP in five years.
Honorable Mentions: Rick Nash, New York Rangers and Jeff Carter, Los Angeles Kings
Defenseman: Brent Burns, San Jose Sharks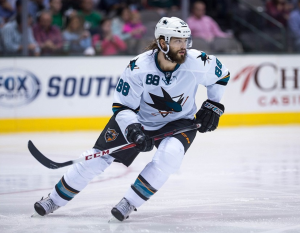 There were a lot of questions at the start of the season not only surrounding the Sharks for obvious reasons, but also around what they were going to do with Brent Burns. Needless to say, the transition from forward in juniors, to defense for the Wild, back to forward with the Sharks, and then back to defense this season hasn't hurt his fantasy production.
It's actually increased…
Through the first month, Burns has collected three goals, seven assists, +2 rating, 14 PIM, 31 SOG, and a heck of a lot of other stats including hits and blocked shots. On top of doing all that, Burns is back to his minute-munching ways as he's played over 20 minutes in all but one game this season while passing the 25 minute-mark three times.
Burns plays in every situation with the Sharks giving him every opportunity to continue producing points. Even though he most likely won't continue this pace, he's quickly turning into one of the most versatile players in the NHL and especially in fantasy position eligibility.
Honorable Mentions: Jonny Boychuk, New York Islanders and Mike Green, Washington Capitals
Goalie: Frederik Andersen, Anaheim Ducks
I was originally going to choose Darcy Kuemper as my stud goalie for the month as before last night he was playing unreal for the Wild. However after allowing five consecutive goals in the third period causing his team to lose 5-4 to the New York Rangers, I couldn't bring myself to select him.
It's alright though, as by Kuemper faltering, it opened the door for Frederik Andersen to take the reins as the N0.1 stud goalie of the month. Just like he stole the starting job from John Gibson after only one game…
Speaking of which, after Gibson got hammered for six goals in the Ducks first game of the season against the Pittsburgh Penguins, it opened the door for Andersen to start against the Detroit Red Wings two nights later. Andersen made 25 saves on 27 shots in a win and hasn't looked back since.
Andersen started the next five after that night in Detroit where after each night the 25-year-old goaltender looked and more poised while continuing to increase his stats on the year. Even after allowing four goals to the San José Sharks on Monday night, Andersen still hold a 6-1 record with a .940 SV% and 1.70 GAA.
We'll see how long this stretch lasts for Andersen as it's always going to be in the back of his mind that John Gibson is waiting in the wings for a shot at stealing the N0.1 job back. However for the time-being, he the N0.1 stud in my book.
Honorable Mentions: Pekka Rinne, Nashville Predators and Jonathan Quick, Los Angeles Kings
Duds:
Forwards: Alexander Semin, Carolina Hurricanes
Darn… remember the days when Semin was sniping 30+ goals alongside Alex Ovechkin and the Washington Capitals… those were the days…
I was originally going to talk about his line-mate Eric Staal again, but when I took a closer look at the stats, and considering Staal's been hurt, Semin is almost too easy a target. Through Carolina's first seven games in which they are still winless, Semin has no goals, two assists, a -6 rating, 12 SOG, and basically zero's across every other notable stat.
Now granted I understand that both Staal's are out with injury (with Eric returning soon) but that still doesn't excuse the fact of just how bad Semin's been. There's always been a big controversy about his work ethic because he's Russian, and makes a lot of money which if he continues this pace of player he might as well confirm those claims. Semin's not a bad player and never has been. However the fact that Carolina is basically in 'tank for McDavid' mode surly won't help his motivation to actually play to the level he's capable of.
Don't drop Semin yet, but if this gets even worse, I wouldn't think twice.
Not-so-Honorable Mentions: Marian Hossa, Chicago Blackhawks and Thomas Vanek, Minnesota Wild
Defensemen: Slava Voynov, Los Angeles Kings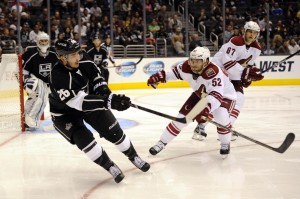 If what Slava Voynov allegedly did holds true then that makes him the dud of all duds on this list.
Voynov was actually off to a good start for the Kings as well. He had two assists through the first six games while playing more than 21 minutes in every game. Voynov was looking like he could potentially turn into a fantasy stud this season with consistency like that, but now it's looking like Voynov could be gone for months.
The NHL did an awesome job with handling the situation as right after they heard the news they suspended him indefinitely. They probably took a couple of tips from the NFL and how they handled everything that happened to them but that's just the way things fall sometimes in sports.
Point is, if you drafted Voynov then you have every right to be pissed off with his stupidity (again – if things turn out as originally reported). I know I was when I drafted Semyon Varlamov last year in my money league and then dropped him because of what happened. Only for him to come back and be nominated for the Vezina Trophy on another fantasy team…
Still sour about that if any of you were wondering… Fantasy sports is a harsh world…
Not-so-Honorable Mentions: Jacob Trouba, Winnipeg Jets and Jay Bouwmeester, St. Louis Blues
Goalie: Steve Mason, Philadelphia Flyers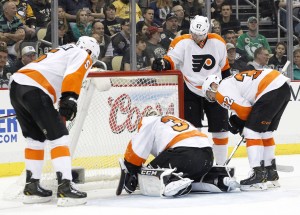 My last headlining dud of the month is naturally Steve Mason as he has been absolutely terrible to start the season. So bad in fact that head coach Craig Berube is now starting Ray Emery over the aforementioned Mason. Mason's stats to start are an abysmal 0-3 record, a .878 SV% and a barely better 3.83 GAA and I emphasize barely . It's honestly just one of those starts where it seems like everything is slipping through him.
Mason treaded familiar waters last season as well as even though Mason ended up with 61 starts on the year, it wasn't exactly smooth as several times, Emery came in for a game or two until Mason got his mojo back.
I feel like this is another one of those situations. Even though Emery is going to be getting more playing time, I don't see the 32-year-old goaltender supplanting Mason for the Flyers No.1 job. However, until Mason regains his form, I fully expect Berube to stick with Emery for the time-being. If you have Mason on your squad then don't hesitate to pick up Emery and stash Mason on your bench for when he does find his game again.
Not-so-Honorable Mentions: Mike Smith, Arizona Coyotes and Tukka Rask, Boston Bruins
Like/Dislike? Leave a Comment Below!