Hockey is a game of narratives, where intriguing stories and forced drama fuel the media machine of the NHL. It could be controversial or predictable; it could be a feel good story or a tough-luck tale. We feed off of the injury-prone, the lazy superstars, the overrated and overpaid, the locker-room cancers and the dreaded sophomore slumps. We love to root for the local kid who took the hard road to get to the pros and we love to hate the talented enigma who can't play defense. Sometimes, the narratives are such a stretch they are almost laughable. But we eat them up and we crave more.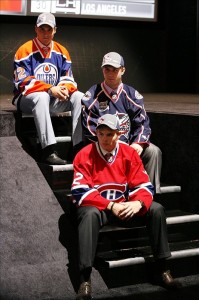 One of the most common narratives floating around the league is the assertion that Russian-born players don't really want to be in North America, and they will bolt for their homeland when they get the chance. Unfortunately, players like Ilya Kovalchuk, Alexander Radulov and Alexander Burmistrov have done little to quell that notion. And, teams tend to get scared off when drafting Russian players out of a fear that they won't stick around. Players like Pavel Datsyuk, Evgeni Malkin and Alex Ovechkin, arguably the best Russians in the NHL, seem to not only be committed to their NHL teams, but are superstars in this league. But, we don't like to focus on them, because that would spoil the narrative.
Draft Bust?
When Nail Yakupov was drafted first overall in 2012, there was some hesitation to applaud the pick. There were rumors that some in the Oilers organization would have rather chosen Ryan Murray. There were some who wondered if Nail's apparent attitude would hamper his on-ice success. He was confident, there was no doubt about that. But his confidence was quickly snuffed out, as the rigors of playing in the NHL took their tole on the youngster. The game seemed to be getting away from him. He was looking like a perimeter player, he exited the zone rather than attend to his defensive responsibility. In his rookie season, he scored 17 goals and 31 points in 48 games, which are strong numbers for an 18-year old. But in his sophomore year, those totals dipped, to 11 goals and 24 points in 63 games. He was being benched, he saw less ice-team, and he drew the ire of some in the media.
The biggest issue for Yakupov? His plus/minus rating. It's a stat that many people hate because it could be very misleading, but when you want to push a narrative, it can become very useful. Yakupov had a team worst minus-33 rating last season. For a guy who isn't normally on the ice against the oppositions best players, that number is glaring. Yakupov has acknowledged his defensive shortcomings, but even this season he tends to give the same response, that he's a forward and not a defensive player. Wrong answer, Nail. No one is going to like that. But Dallas Eakins has come to his players defense (no pun intended), citing that Nail is showing more willingness to defend rather than just exit the zone at the first opportunity. Yakupov is a work in progress. But, calling him lazy, saying he will probably want to go back to Russian, saying he was a draft bust, that might be unfair. If he's a draft bust, it's because he was rushed into the NHL, and not insulated on what is a dreadful hockey team.
How Does Yakupov Compare to his Peers?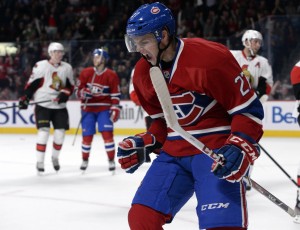 Let's take a look at Alex Galchenyuk, a player of Belarusian decent, but born in America, and thus does not fit the bill of a Russian player. He was drafted third overall the same year as Yakupov. In 113 career NHL games before this season started, he has 22 goals and 58 points. Yakupov by comparison has 28 goals and 55 points in 111 games. Essentially the exact same numbers. But Galchenyuk is hailed as the next great superstar. Last night's broadcast between the Oilers and Canadiens showcased his skill and work ethic. He was lauded for lifting the team to new heights. He is going to end up in the pantheon of great Montreal players. And Yakupov? He's still being questioned about his defence, despite scoring a big goal in the game.
We need some perspective here, however. Galchenyuk wasn't drafted first overall. His plus/minus isn't as bad. But, the Montreal Canadiens are a good team. Leaps and bounds better than the Oilers. He came into the team with little fanfare. There weren't heaps of expectations placed upon him. Yes, being drafted first overall comes with extra scrutiny. But it seems as though teammate Ryan Nugent-Hopkins has endured much less criticism, despite the constant injury trouble, and his own tendency to flee the defensive zone. Taylor Hall is a budding superstar, but his defense has left much to be desired ever since he broke into the NHL. But they simply aren't hounded the way Yakupov is.
Time to End the Narrative
We don't want to live in a world where the country on a person's birth certificate makes a difference in how we view them. But whether we like it or not, there is a stigma attached to Russian players, especially the ones who appear to be underachieving. Sometimes it's fair, because Yakupov has to work just as hard as everyone else. But sometimes it's not. Maybe Nail was set up to fail. Brought into a mess of a franchise, given little support and expected to turn everything around. Really, what did we think was going to happen? There was not much he could do right under these circumstances. What if Yakupov's name was Nick Smith. What if he was born in rural Ontario. Is this an accusation that the media is xenophobic? No, this is a reality check that we dig for narratives to make our stories more plausible, and we silently applaud when players live up to those narratives because it proves us right.
Nail Yakupov is a good player. He is stuck on a horrible team, and he has to learn how to play defense, something that wasn't as crucial when he was lighting the goal lamp as much as he was in junior. He may not end up as good as other first overall picks. But he isn't Sidney Crosby, Patrick Kane or Steven Stamkos. I don't think anyone really thought he was going to be. Maybe we should give him the benefit of the doubt. If he ends up being a star it will spoil the narrative. But then we can write a narrative about that.