Welcome to the third installment of the Fantasy Hockey Panel with Monica McAlister, Fred Poulin, Peter Harling, and myself, Anatoliy Metter. Considering that every category won or lost will be crucial to owners vying for a playoff spot, the panel will discuss if owners should sit/start or add/drop certain valuable players. Also, with defensemen at a premium in most fantasy leagues, we'll take a look at some options at the D position.
Here's a look at some options that owners have: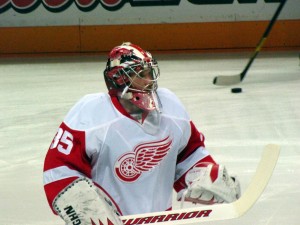 1.) Should owners sit/start Andy McDonald & Jimmy Howard (expected back in net by Sunday) as they return from injury?
Monica McAlister: When it comes to Andy McDonald it is best to sit and wait. You cannot rush a player back from a concussion (or concussion-like symptoms). Andreas Lilja missed over an entire calender year after getting a concussion when he was with the Red Wings; we all know about the roller-coaster ride that Sidney Crosby has been on; and others this season including Chris Pronger and now admitted Patrick Eaves (been out for three months now).
Jimmy Howard is the starting goaltender for Detroit; and broken finger and all is expected to be back in Sunday when the San Jose Sharks come to Hockeytown. Howard has been working with the equipment managers trying out different ideas on how to best play with a broken finger. An injury is an injury; but no injury is the same. A broken finger is not a concussion; and should not be treated as such.  The Red Wings have developed a pad to stick inside of the blocker for Howard that will keep his finger immobile and cut down on the reverberation fromblocking shots.  If it is tested in practice and Howard feels good enough to play why not? Players wear cages to protect broken jaws and/or noses.
Fred Poulin: I would avoid McDonald for the time being as the Blues are now a defensive-minded team under Ken Hitchcock that doesn't favor players like him. Moreover, he will need a few games to find his grove again.
As for Howard, start him as soon as you hear he's ready to play especially at home where the Red Wings have won 21 consecutive games. Howard is the NHL-leader in wins with 32 while posting a 2.03 GAA and a .924 save %. Start him!
Peter Harling: Yes and no.
I would absolutely start Howard immediately as he has been money in the bank all season long. Despite the time he has recently missed, he is  still within reach of breaking Martin Brodeur's record of single season wins for a goalie of 48. Howard is already at 32 wins this season.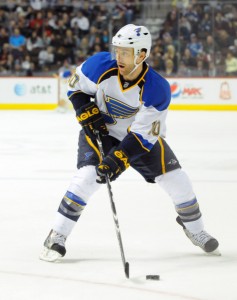 I would sit Andy McDonald for now. He has been out a long time with his concussion and has been unable to work out. It may take him a while to be in top game shape. Another consideration is St. Louis is not a prolific goal scoring team and the offense they do produce is done so by committee. I would not expect McDonald to have a fantasy impact immediately.
Anatoliy Metter: I'd take a wait and see approach with Andy McDonald for now and hope that he doesn't experience a recurrence of symptoms if he is hit hard in the next few games. McDonald has been a steady producer (1 Goal, 1 Assist, 7 SOG) for the Blues in his 3 games back, but concussions and post-concussion symptoms have been tricky to forecast, just ask Guillaume Latendresse.
As for Jimmy Howard, he is expected to return to the Red Wings on Sunday and should be re-inserted into fantasy lineups. Joey MacDonald has done more than a serviceable job for the Wings, but Howard is feeling better and better each day and you should expect to see him in goal sooner rather than later. For those still on the cautious side, it wouldn't hurt to sit Howard for one game if you can afford to, just in case he needs to shake off some rust upon his return.
2.) Which dual-position forward will have the biggest fantasy impact for the rest of the season?
Monica McAlister: It is crunch time and that means it is time for Johan Franzen to flip his switch. The mule is a stubborn animal and so is Franzen; he does the same thing every year when this time rolls around – turns it on.  Franzen is second for Detroit in points and trails only Pavel Datsyuk. The 32 year-old Swede went pointless on Valentine's Day; however had two points the game before against the Philadelphia Flyers. In 76 games played last season he put the puck in the net 28 times; this season so far he has played in 58 games and is already at 22 goals.
Fred Poulin: I won't go with obvious players like Ilya Kovalchuk and Evgeni Malkin that are owned by 100% of Yahoo owners. Instead, I would pick up Dainius Zubrus on waivers (8% owned on Yahoo) and ride the wave. Zubrus has 3 goals and 5 assists for 8 points in his last 8 games. He's also +8 in the process with 10 hits playing alongside Alexei Ponikarovsky and Steve Bernier. Zubrus is also playing on the Devils' 2nd power play unit.
Peter Harling: Centre and right winger Claude Giroux of the Philadelphia Flyers. Giroux was the best player in the NHL before his concussion. With 12 points in his last 11 games he is starting to get back on track. If Giroux and the team can stay healthy down the stretch, he could be very dangerous.
Anatoliy Metter: Even though there are many dual-position forwards that will be useful in the coming weeks, I give my vote to Johan Franzen of the Detroit Red Wings. Franzen has 5 points (3 Goals, 2 Assists) in 7 games since the All-Star game and has registered 19 shots on goal in that span. Chances are that Franzen will be owned by someone else in your league, but if you are one of the lucky ones that has retained ownership of the LW/RW, feel free to insert the forward from here on out.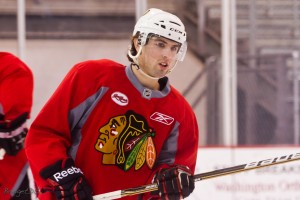 3.) Who is an available/serviceable defenseman that could contribute to your lineup?
Monica McAlister: The Ottawa Senators defenseman Filip Kuba is owned by only 9% of Yahoo! Sports fantasy leagues, yet has notched 21 points this season from the blueline and has accumulated a plus/minus of 16. In fact while looking up his stats I myself snagged from for free agency and put him in my line up over Carolina Hurricanes IR Joni Pitkanen whom is owned by 24% of leagues.
Fred Poulin: I have to go with Stephane Robidas on this one as the Dallas Stars defenseman has found his offensive groove back when Jamie Benn and Mike Ribeiro returned to the line-up. In his last 8 games, Robidas has 2 goals and 2 assists for 4 points with a +4 plus/minus rating. Robidas also has 24 hits, 10 blocked shots and 9 shots on goal in that span, all stats that can help you gain ground on your opponents in multi-category leagues.
Peter Harling: Nick Leddy of the Chicago Blackhawks is only 23% yahoo fantasy owned. Leddy plays big minutes in offensive situations on the potent Hawks team. With 26 points in 57 games thus far you can count on Leddy to produce some offense from the back end.
Anatoliy Metter: Have to pick Dan Girardi for this question. It ultimately came down to Girardi and McDonagh, but Girardi took it because he delivers a bit of everything. While Girardi might not deliver points in droves for fantasy owners, he is a steady contributor and could help in areas such as hits, shots on goal, +/-, and the occasional point delivered.
4.) Which widely owned player is deserving of a benching and/or drop from your fantasy lineups?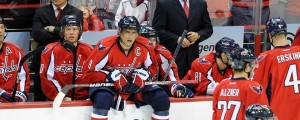 Monica McAlister: It is hard to ignore what is going on in Washington; and no I am not talking about politics… The Capitals have had a season of ups and downs and unfortunately for a team that was full of promise of young stars just a year ago has fallen into despair. Captain Alex Ovechkin has taken much of the heat and it is probably rightly placed as the once 50 goal scorer has fallen to 44 points so far this season and that is with 200 shots on goal.  Though he is still bring in points it might be wise to take a look at a trade. Whatever it is that is irking the Capitals and their captain it is not looking good for the rest of the season as the trade deadline looms in front of them and pressure mounts.

Fred Poulin: Evander Kane owned in 65% of Yahoo leagues. The young power forward is currently in a slump, notching only one goal and no helper in his past ten games. He's also -6 in the process for the sinking Jets. As the team falls out of contention and ships out veteran players for prospects and picks, the Jets will continue sinking in the rankings and, as a result, Kane's production will suffer. There are better options out there.
Peter Harling: This is a risky pick but with a 95% own rate to be ranked at 572nd, if Sidney Crosby is not on your bench he should be. While you can not drop him of course if you own him, all you can do is bench him, and hope. If your pool carries over into the playoffs, or if you are in a keeper league you simply ride this out, but with Sid on the bench.
Anatoliy Metter: Two weeks ago we discussed the impact of Nathan Horton's injury on the Boston Bruins and Rich Peverley. Two weeks later, I believe that Nathan Horton should be dropped and/or benched in most fantasy leagues. Those in deeper leagues might want to refrain from such an action, but the under-producing forward suffered a setback from his concussion-recovery and had to call off his rehab process.
As we've seen with multiple players this season, a "setback" from a concussion-recovery could mean many things. Seeing as how Horton hasn't helped himself with mediocre play this season, it's safe to say that there are better fantasy options out there for the last weeks.