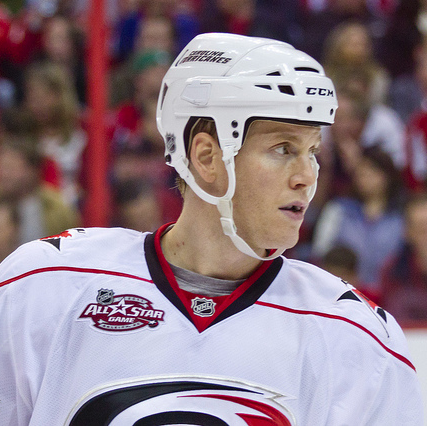 The first substantial moves of the 2012 trade season finally occurred on Thursday.  Philadelphia picked up hulking defenseman Nicklas Grossman from the Dallas Stars in exchange for a second and third-round pick.  In the Western Conference, the San Jose Sharks sacrificed a second and seventh-round pick to acquire veteran center Dominic Moore.
Moore would have been an interesting addition to the Pittsburgh Penguins with his versatility, grittiness and speed, but the package of picks surrendered by the Sharks was probably out of GM Ray Shero's price range.
In Part I of our trade deadline preview, we discussed the needs of the Penguins and why a player like Moore would have been on the Penguins wish list — at the right price.
In Part II we discussed whether Shero would entertain trading a high-priced defenseman like Paul Martin or even prospects like Eric Tangradi and Dustin Jeffrey.
So who will the Penguins target?  In the final part of our preview, it's time to name names.
____________________________
Lubomir Visnovsky (5-10, 197 — Cap Hit: $5.6 mill, one year left)

After speculating in Part II that the Penguins "can't win a Stanley Cup this season without Martin or a comparable replacement", a common question I received from frustrated fans was: 'Fine, who is that comparable replacement?'
Visnovsky is a supremely talented offensive defenseman with the Anaheim Ducks that hasn't been able to get his game on track this season.  He led all NHL defensemen in scoring last year and boasts a rocket shot that is the key to Anaheim's powerplay.
Pittsburgh's powerplay currently ranks sixth in the NHL (19.6%), the highest it's been in years, thanks to the addition of forwards Steve Sullivan and James Neal.  Sullivan has assumed the role of former Penguin powerplay stud Sergei Gonchar, manning the point and carrying the puck up ice on the breakout.  It's impossible to predict how long the fragile 37-year-old Sullivan will hold up though.  Having four forwards on the top powerplay unit (some would argue Kris Letang is a fifth forward) has also made the Penguins susceptible to shorthanded chances against.
Visnovsky would become the powerplay weapon Shero and his staff probably thought Paul Martin could be.  Visnovsky's contract, which expires in 2012-13, would also allow for a seamless transition to cheaper youngsters Simon Despres and Joe Morrow as we discussed in Part II.
From Anaheim's perspective, defenseman Cam Fowler has already shown he's ready to lead the Ducks powerplay into the next generation. Paul Martin certainly isn't playing his best hockey for the Penguins right now, but he's still capable of playing big minutes against top competition on a nightly basis.  A deal like this would also involve other pieces that could help the Ducks retool their roster.
What's the downside to Visnovsky?  He's struggled with injuries his entire career and the bug got him again in the first half of this season (broken finger).  Visnovsky is reportedly back to full health, but still isn't putting up the huge numbers of last year because of the Ducks new defensive focus under coach Bruce Boudreau.  With great speed and offensive instincts, Visnovsky has the potential to really thrive in an up-tempo system like Pittsburgh's.
Aside from the injury risk, I do have concerns about adding a defenseman that will be relied upon to play big minutes down the stretch after witnessing the struggles of Jordan Leopold (2010 deadline acquisition) and Matt Niskanen (2011) as they adjusted to the Penguins style of play.
If I had to pick a possible Paul Martin trade, this would be it, but it seems more likely to happen in the offseason.
____________________________
Bryan Allen (6-5, 226 — Cap Hit: $2.9 million, UFA)

Allen is the short-term rental on defense I've had my eye on since December.  Despite his size, he's a decent skater and won't allow opposing forwards to setup shop in front of Marc-Andre Fleury.
Much of the attention leading up to the trade deadline focused on the potential availability of Tim Gleason in Carolina.  Gleason recently signed a four-year, $16 million extension to stay with the Hurricanes and probably ruined the plans of the Philadelphia Flyers in the process.
I think Allen is the better defenseman.
He missed almost the entire '08-09 season with a serious knee injury in Florida and looked noticeably slower upon his return.  The Panthers shipped him to Carolina at last year's trade deadline and he finally got back to up to speed and showed the ability to shutdown the top lines on opposing teams this season.  Allen also excels on the penalty kill and would allow the Penguins to control Kris Letang's minutes as we discussed in Part I.
What's the downside to Allen?  His gritty play predictably leads to penalties and he's seemed vulnerable to the colossal turnover when under pressure in his own zone.  Fortunately, he would only need to be a #5 defenseman on the Penguins with easier matchups than he's currently facing with the Hurricanes.
The biggest question is what it would cost to acquire Allen.  Carolina was obviously not able to work out an extension with Allen's camp and the Penguins probably wouldn't look to retain him beyond this season.  Other teams around the league are also more desperate for defensive help than the Penguins and could be willing to overpay.
If I had only one move to make and price to acquire was not a factor, Allen is the guy I get.  He's the type of depth pickup that will win someone a Stanley Cup.
____________________________
David Jones (6-2, 210 — Cap Hit: $2.5 million, UFA)

There aren't a lot of forward rentals that catch my eye as good fits for the Penguins this season. Edmonton soon-to-be-UFA Ales Hemsky has great creativity and upside, but he's had a ton of injury problems lately and plays too much of a perimeter game for Dan Bylsma's liking.
I had a conversation last week with Brian Metzer of FromThePoint.com and Kukla's Korner and he was the first to bring the potential availability of David Jones to my attention.  Metzer indicated that rumbles he had heard out of Denver made a trade of Jones seem very possible and had this to say about the possibility in his column on Wednesday:
Adding Jones would give Dan Bylsma another forward who is capable of scoring 20-plus goals and it also gives him a winger that he could potentially slot in with Sidney Crosby when and if the Penguins' captain makes his long awaited return to the line-up.

Jones hasn't had a very good season to this point, but he is heating up as of late and has notched 6-points in his last four games. That success has come on a line with other skilled players in Milan Hejduk and Paul Stastny and one would have to assume that he would mesh with the likes of Sidney Crosby just fine.
Jones had one of the quietest 27-goal seasons in recent memory last year and has also shown the ability to play either wing.  Metzer makes a good point that Jones has meshed with talented players and could slot in nicely on a scoring line with the Penguins.
The future value of Jones is intriguing to me as well.  He'll be an unrestricted free agent this summer and Ray Shero says he hopes to have maximum cap flexibility heading into the unknowns of next season's new CBA.  But in Part I we also discussed the challenges that Shero could face with re-signing RFA James Neal at season's end.  As a budding 27-year-old goal scorer, Jones could be the perfect backup plan to use as leverage against Neal.
____________________________
Paul Gaustad (6-4, 229; Cap Hit: $2.3 million, UFA)

If the price for Jones is too high, or Shero prioritizes adding toughness to his checking line, Gaustad could be an intriguing possibility.
The open wallet of new owner Terry Pegula wasn't enough to keep the Buffalo Sabres from underachieving across the board this season and Gaustad certainly hasn't been immune to the struggles.
Matthew Coller from WGR500 in Buffalo says Gaustad could be the tough, versatile forward that the Penguins covet:
Gaustad had a very very low percentage of offensive zone starts this year, which could be somewhat explain why his scoring has been almost non-existent. I really don't see where his game has changed or fallen off though, it's more the players around him and chemistry.

His faceoffs have dropped a little, but they are still on par with some of the league's better faceoff players. He's been valuable on the penalty kill, I believe he's leading the Sabres for SH TOI and has been really good in short-handed faceoffs. He's also been used now and then in important times such as the end of games or even on a power play to try to win a faceoff. I think he would be a valuable player on a team like Pittsburgh where he wouldn't have to take on such difficult minutes like he has in Buffalo due to injuries and Lindy Ruff's line-shuffling obsession.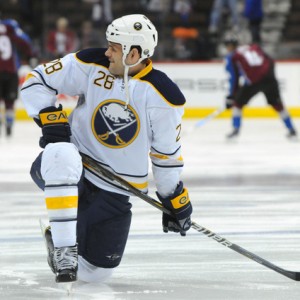 Gaustad has played up and down the lineup, both wings, and center.  He's by far the Sabres best faceoff man this season, winning 56.2% of his draws.
Gaustad's size and defensive reliability would also fill the void left by fourth-liner Mike Rupp's departure in the offseason. Arron Asham's (concussion) return to the Penguins lineup seems imminent but he's battled a lot of injuries during his two season in Pittsburgh.  Gaustad would give the Penguins another element of toughness up front to compete with the Flyers, Rangers and Bruins.
Reports indicate that Gaustad is likely on the trading block, but Coller also indicated that Sabres GM Darcy Regier might have a tough time letting such a versatile player go.  If Shero and the Penguins can't acquire Bryan Allen, Gaustad would become my top priority.
Click here to read THW's full trade deadline preview of the Pittsburgh Penguins.
___________________________________________