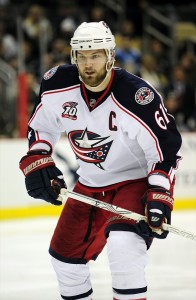 The NHL's trade deadline is less than two weeks away (February 27, 3PM EST) and the hockey world is buzzing with Rick Nash rumors. Multiple outlets have reported over the past week of the Columbus Blue Jacket's franchise player's availability and the cost to acquire his services. At 27-years-old, Rick Nash is one of the purest goal scorers you'll find in the NHL. Listed at 6′ 4" 218 lbs., Nash is the premiere power forward teams crave, especially when contending for a championship.
Yesterday, a list of five teams Rick Nash would accept a trade to — he has a full No-Movement Clause — was released to the media. The Boston Bruins, San Jose Sharks, Los Angeles Kings, Toronto Maple Leafs, and New York Rangers were the teams listed. The one glaring team missing was the Washington Capitals: and that's not necessarily a bad thing.
Sitting ninth in the Eastern Conference, three points out of a playoff spot, and four points away from the Florida Panthers for the Southeast Division lead, the Capitals need more than just another elite scorer to compliment Alex Semin and Alex Ovechkin. Rick Nash's elite offensive prowess would help fill the void left by the absence of Nicklas Backstrom. However, Washington is too rich in offensive and too poor on the intangibles that matter, one of which including heart. If your goalie coach is calling out the team's start player for soaking up his "rock-star status" a little too much, then there's a problem that runs deeper than just winning hockey games.
Examining the cost for Nash if the Capitals were one of the teams he would approve a trade to, it's one that may prove too rich. For starters, the Capitals can only add roughly $6 million in payroll at the deadline and, if the goal is to add offense, would you consider moving Alex Semin's expiring $6.7 cap-hit in a deal for Rick Nash? Would Columbus even want Semin, with his sagging performance and even worse attitude?
Any conversations of a deal would include Capitals' number one prospect Yevgeni Kuznetsov. The 26th overall pick in the 2010 NHL Entry Draft, Kuznetsov would mesh well with countrymen Nail Yakubov – the projected number one overall pick at this summer's draft – should Columbus receive the number one selection. John Carlson would also be a coveted piece for Columbus, as they look to completely retool their roster.
The reasons the Capitals are incompatible trade partners with the Blue Jackets for Nash are 1) the lack of a stud goaltending prospect and 2) and lack of a young, superstar player to bring fans to Columbus games. The Blue Jackets have no goalie for the future as Steve Mason has proved to be a one-year wonder. I doubt George McPhee would part with Michael Neuvirth in a deal for Rick Nash and Braden Holtby is simply not a good enough prospect to make a deal happen. Also, a package featuring Kuznetsov and Carlson isn't "sexy" and would signal to Blue Jackets' fans that it'll be a while before they're competitive again.
With the club fighting for its playoff lives at the moment, the Capitals will be active at the deadline. They're too close to being sellers and will exhaust every option to improve itself. In regards to Rick Nash, it's a good thing he didn't list the Capitals as one of the teams he would approve a trade to; he's not the solution to their problems.