After evaluating the marketplace, the next task for a General Manager to tackle is deciding what assets he is willing to part with.
All trades require both parties to sacrifice assets, but this can sometimes be difficult to do as a GM looking to strengthen his team and not necessarily get weaker in certain areas.
Today we'll look at the variables influencing the future of Paul Martin, prospects Eric Tangradi and Dustin Jeffrey, and the possibility Shero could use his stockpile of draft picks to satisfy needs.
Paul Martin (Cap Hit: $5 million, three years left)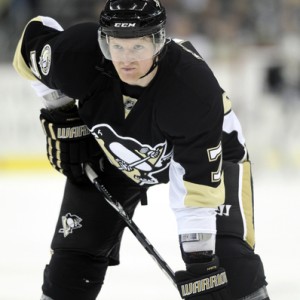 The most popular name being thrown into trade discussions as of late is Penguins defenseman Paul Martin.  In recent years, fans have demanded the trades of underperforming defensemen Alex Goligoski and Ryan Whitney (which eventually happened), and Martin's future is in question as well.
The highest-paid defenseman on the Penguins has struggled to adapt to coach Dan Bylsma's style of play since arriving with Zbynek Michalek via free agency last fall.  Both players have experienced stretches of very solid play (Michalek in particular), but the intelligent and patient Martin has suddenly become prone to turnovers.
The emergence of Matt Niskanen and 2009 first-round pick Simon Despres has some arguing Martin should be expendable at this year's deadline.
Niskanen recently moved up onto a second-pair with Michalek, while Martin dropped down to the third pairing with Deryk Engelland.  Niskanen's spot on the roster was even a question mark at the beginning of the season, but his play the last few months has been a pleasant and welcome surprise.
On the other hand, Despres' success has been somewhat misleading.  His minutes have been very sheltered by Bylsma (easy matchups, always starts shifts in the offensive zone) and you have to be careful with how you expose a 20-year-old defenseman to the NHL.  Unless the Penguins were in a situation where they were forced to rely on Despres to shoulder a heavy load, it makes more sense to be patient with the promising young star.
Shero's plan for retaining Sidney Crosby, Evgeni Malkin, and Jordan Staal over the long haul is finally coming into focus though.  Crosby and Staal are due new contracts (and likely raises) by the summer of 2013.  Shero has been stockpiling defensive depth through the draft in anticipation of the potential salary cap crunch.
Over the next 18 months, we'll probably see the Penguins transition their defensive core from high-priced players like Martin to cheaper prospects like Despres and Joe Morrow.  Tough decisions will need to be made, but Shero has demonstrated the willingness to wait for the right deal to surface.
The bottom line is the Penguins probably can't win a Stanley Cup this season without Martin or a comparable replacement.  Pittsburgh's defensive unit is completely healthy for one of the first times all season, but the playoffs remain a battle of attrition.
After covering the Stanley Cup Final out in Vancouver last year, I firmly believe the Canucks would have won the Cup had they not lost Dan Hamhuis to a leg injury.  His absence was crushing to a team that had to use more than a dozen defensemen during their run.
Unless Shero can replace Martin and also upgrade significantly at forward in the process, Martin won't become tradeable until the offseason.
Eric Tangradi (Cap Hit: $708,333;  RFA this summer)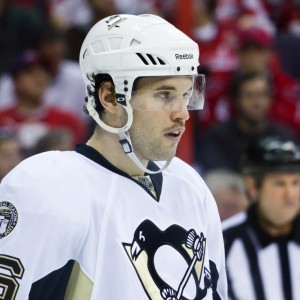 Another name constantly rumored to be a trade chip is 22-year-old Eric Tangradi.  After coming over from Anaheim in the Ryan Whitney-Chris Kunitz swap a few years ago, Tangradi was expected to become an NHL contributor by now and make Pittsburgh the clear winner in the deal.
That hasn't happened yet.  Tangradi has appeared in 28 games over three seasons in the Penguins organization, scoring just one goal and two assists.
At 6-foot-4 and 221 pounds with decent hands, Tangradi projects as the ideal power forward at the NHL level.  His struggles to crack the Penguins lineup can be traced to three things: skating, intensity, and defensive zone play.
Tangradi has worked at all three aspects of his game and has made improvement, but his skating still needs to get better.  When he showed up at prospect camp last summer, Tangradi said he had added 10-12 pounds of muscle in the offseason and felt he was in the best shape of his life.  The added strength certainly shows, but I worry it's slowed his foot speed a bit and that can be difficult to overcome in Bylsma's up-tempo system.
The Penguins and Tangradi need to evaluate his situation and perhaps decide if moving him to another organization is best for both parties.  His mix of size and soft hands has made him successful at the AHL level and he has the potential to blossom in another system.
Dustin Jeffrey (Cap Hit: $575,000; one year left)
Jeffrey seems to be fully-recovered from ACL surgery last spring and has been found a spot as a third-line center in the Penguins lineup for the time being.  For as long as Sidney Crosby's status is in doubt, Jeffrey will probably stick at the NHL level, but his upside might be higher in another organization as well.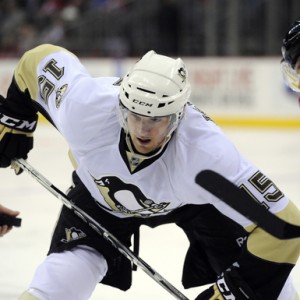 Pittsburgh's coaching staff and front office love Jeffrey's versatility and he's shown offensive flair at times over the past two seasons.  His emergence even made center Mark Letestu expendable earlier this season.  The question is where he fits when Crosby, Malkin, and Staal are all healthy at the same time — if that ever occurs.
The Penguins have tried moving Jeffrey to wing but he hasn't shown the ability to win puck battles along the boards.  He also doesn't have the natural grit and intensity often asked of a checking line player in today's NHL.  Jeffrey's skillset gives him the potential to be a solid second-line center on a lesser team, an opportunity he'll never get in Pittsburgh.
Shero won't be looking to give Jeffrey away — especially with their minimal offensive skill in the minors — but his potential value to another team might put him in play during trade talks.
Draft Picks
The most common currency used by Cup contenders at the trade deadline is draft picks.  This summer's 2012 draft class is expected to be strong and full of talented defensemen.  The Penguins deepest position is defense, but don't expect Shero to be throwing a handful of high picks at other teams, especially with Pittsburgh hosting the event in June.
Shero's earliest selection in the 2008 draft was the fourth round. (His 1st went to Atlanta for Marian Hossa; 2nd to Toronto for Hal Gill; 3rd to NY Rangers via Phoenix for Georges Laraques).   Shero said he regretted the strategy after seeing his scouts sit around on the draft floor in '08 twiddling their thumbs.
Scouting is a unique profession in that success or failure at the job comes down to what happens on draft day.  Without draft picks, scouts don't have that opportunity to perform.
The sense I get is first-round picks are nearly untouchable for Shero at this point.  An organization needs first-rounders added to the prospect pool each year in order to sustain success over the long-term.  The odds of drafting a future NHLer after the first round drop off dramatically though.  (Read THW's 'Panning for Gold' series for more Draft analysis).
It's also interesting to note that Pittsburgh picked up an additional fourth-round pick in the trade that sent Mark Letestu to Columbus earlier this year.  With the Blue Jackets in the basement of the NHL, that attractive extra pick could be in play for the Penguins.
* In Part III on Friday, we'll look at specific players the Penguins might be targeting based on their needs and other factors identified in Part I.
Click here to read THW's full trade deadline preview of the Pittsburgh Penguins.
___________________________________________