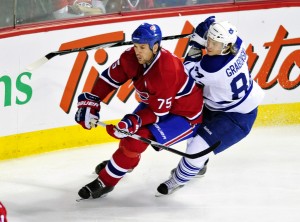 The Montreal Canadiens have acquired forward Blake Geoffrion, forward Robert Slaney, and 2nd round pick in 2012 from the Nashville Predators for Hal Gill and a conditional 5th round pick in 2013.
The 5th round pick in 2013 is conditional upon Blake Geoffrion playing 41 games or more with Montreal next season.
The 36 year-old veteran Gill, who is slated to become an unrestricted free agent at season's end, has one goal and seven assists for eight points to go with a -7 plus/minus rating. Gill, who has won the Stanley Cup with the Pittsburgh Penguins in 2009, is mostly known for his penalty killing abilities. The Habs are currently ranked first in the NHL on the penalty kill with a very good 88.9% efficiency. Gill is expected to rejoin the Predators in Detroit tonight.
The Predators, who are currently ranked 16th in the NHL on the man-disadvantage with a 81.7% efficiency, will certainly benefit from Hal Gill's defensive acumen on their penalty gill. Gill will also provide leadership and experience on a blue line that is pretty young and inexperienced.
In 14 seasons, Gill has 36 goals and 143 assists in 1,047 regular-season games with the Bruins, Maple Leafs, Penguins and Canadiens, and also has 105 games of playoff experience.
Prospects Geoffrion and Slaney have been playing with the Predators' American Hockey League team, the Milwaukee Admirals.
In 22 NHL games this year, Geoffrion has no goal and three assists. In 20 AHL games, the 6-1′, 190-lb left wing has two goals and seven assists for nine points. A 2006 second-round pick of the Predators, Geoffrion is the grandson of Hockey Hall of Famer and former Canadiens player Bernie "Boom Boom" Geoffrion, and the great-grandson of Hockey Hall of Famer Howie Morenz.
Slaney, a 6-2, 203-lb left wing, has split the season between the AHL and the ECHL Cincinnati Cyclones. He had one assist in nine AHL games, and eight goals and five assists for 13 points in 23 ECHL games.
Tomorrow morning, Geoffrion will most report to the Canadiens' AHL farm team, the Hamilton Bulldogs while Slaney should report to the Wheeling Nailers of the ECHL.
This move means the Habs GM Pierre Gauthier has decided the organization have become sellers before the trade deadline, a move that makes a lot of sense since Montreal is currently ranked 13th in the Eastern Conference eight points back of the Toronto Maple Leafs and the eight spot.
Now that Gill is gone, look for Travis Moen, Andrei Kostitsyn and Chris Campoli to change address in the next ten days.
Follow me on Twitter for more updates on the Canadiens and hockey in general.
A long-time Joe Sakic fan, Fred, 35, is a freelance sports writer and translator. Fred earned a Bachelor of Translation in 2002 at Laval University in Quebec City. He also writes on the Montreal Canadiens for HabsAddict.com and he is an associate editor and a baseball columnist on Dobberbaseball.com. He is also fluent in English, French and Spanish.