Over the next several weeks, fantasy managers will likely be scrambling to make some last-second additions to their lineup. Hoping that these players – whoever they may be – will be difference-makers, managers will be tasked with picking out the most low-risk player with the highest potential for production.
While some rosters might be set at this point in time, the likelihood of fantasy managers being perfectly content with their lineups doesn't happen all too often, especially if one plays in a deep league. Looking at defensemen, THW identifies some depth defensemen under 25% owned in Yahoo! leagues that could potentially impact one's fantasy roster in a positive way – and chances are, these defenders are still available in your league.
Depth Defenders
Kevin Klein (New York Rangers – D)/Marc Staal (New York Rangers – D)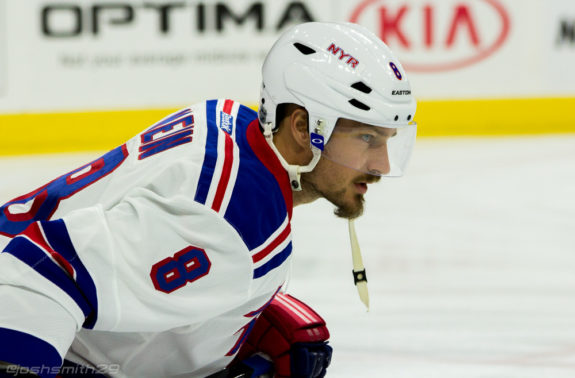 Several weeks ago, THW entertained the thought of fantasy managers adding Kevin Klein to their rosters, and it should be a reality now. With points in five straight games (1G, 6A) and eight points in his last seven games, Klein has definitely surged up the rankings – and one only needs to look at the fact that his ownership rate in Yahoo! leagues went up 5% (from 11% to 16%) in the span of one day. Klein is currently playing on New York's second defensive pairing and has been seeing roughly 18 to 23 minutes of play per night over his last dozen games. Fantasy managers that have the luxury of adding Klein in their league should definitely do so as he has proven to be a steady option all season long.
On the other hand, Klein's defensive partner, Marc Staal, hasn't been playing too shabby either. Staal, who is also more or less seeing the same amount of ice-time that Klein is getting, has amassed five points (2G, 3A) in his last eight games for New York. Staal is certainly an add for deeper fantasy leagues – and he is only 4% owned in Yahoo! leagues – but he is a contributor that could show up in more than one category and could be useful as he is playing a healthy dose of minutes on the Rangers' middle defensive unit.
Oscar Klefbom (Edmonton Oilers – D)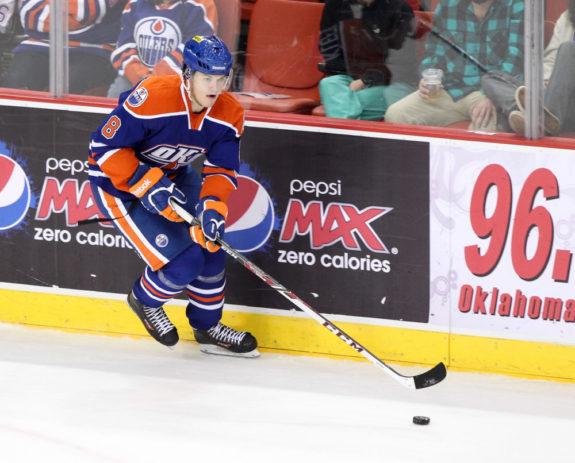 He's only 2% owned in Yahoo! leagues, but there's enough reason to be excited about Oscar Klefbom's potential – even if fantasy managers don't take a chance on him this year. Having played in only 36 games so far this season, Klefbom has recorded six (2G, 4A) of his eight points this season in his last ten games.
Since the Oilers believed that Klefbom had enough potential to be drafted 19th overall during the 2011 NHL Entry Draft, managers shouldn't be surprised to see the young defenseman patrolling Edmonton's blue-line and receiving anywhere between 19 and 26 minutes of ice-time per night. Sure, Klefbom is playing on the Oilers' second defensive pairing, but with a Jeff Petry trade seemingly imminent, Klefbom would likely be the main beneficiary if such a scenario did transpire. Fantasy managers might want to exercise a bit of a wait-and-see approach with Klefbom as he is still 21 years old and probably will be prone to making mistakes as he continues to develop in the NHL, but those in need of some depth help at defense shouldn't shy away from considering the youngster.
Jeff Petry (Edmonton Oilers – D)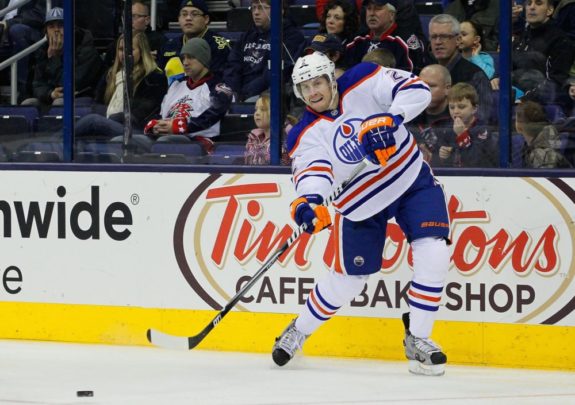 With many teams eyeing Jeff Petry in advance of this year's trade deadline, the defenseman has been increasing his trade value with some decent performances as of late. Tallying assists in three straight games and putting up helpers in four out of his last five games played, Petry might be a hot commodity for fantasy managers in the coming days and weeks – especially if he is traded to a contender.
Currently playing on Edmonton's top defensive pairing, Petry only has 15 points (4G, 11A) this season, but he is no stranger to laying out the body and shooting the puck on net. Owned in only 2% of Yahoo! leagues, Petry's +/- rating might look like a nightmare to potential owners, but if they can deal with it then Petry could be a good addition for the stretch-run. In the meantime, managers should let the situation surrounding Petry's potential departure play out, but should also keep a close eye on the defender to see if he keeps his current point streak going – in which case he could be a roster addition well before any possible deal is made.
Brayden McNabb (Los Angeles Kings – D)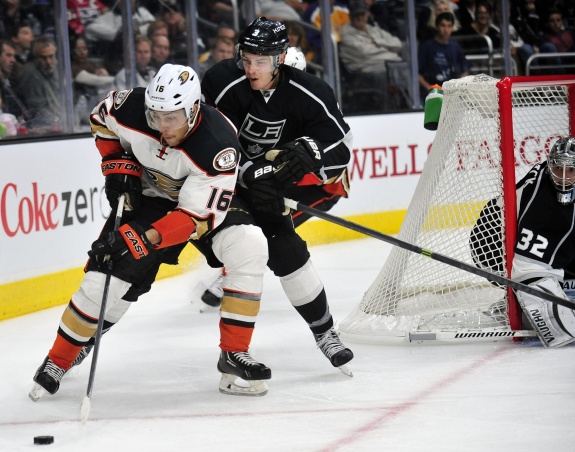 Much like Petry and Klefbom, McNabb is only owned in 2% of Yahoo! leagues, but he is not playing the same amount of time that Petry and Klefbom have grown accustomed to seeing. Filling in for Alec Martinez – who is out with concussion-like symptoms – McNabb has more than held his own in limited ice-time on the King's third defensive pairing.
Recording four assists in his last four games played, McNabb might not be a mainstay on the Kings' defensive units, but he has done what has been asked of him and will be in Los Angeles' lineup until Martinez returns. Fantasy managers should be in no rush to add McNabb, but should definitely keep an eye on the defenseman's production over the next couple of days – especially if Martinez's symptoms do not subside as quickly as the Kings would want.
David Savard (Columbus Blue Jackets – D)
Enjoying first defensive pairing minutes alongside Jack Johnson, David Savard has made himself more appealing to fantasy managers lately. With four points (1G, 3A) in his last five games, Savard has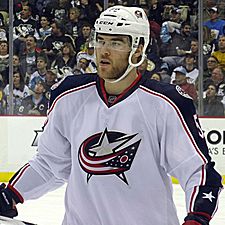 definitely played himself back into some fantasy circles.
Add in the fact that Savard has been logging at least 20 minutes per night since January 21st, and managers definitely have a reason to consider giving the defenseman a roster spot. Owned in only 6% of Yahoo! leagues, there's a high possibility that Savard is still available in most leagues, but if he keeps up his production, then his ownership percentage might see a small spike. Fantasy managers should keep Savard on their watch-lists for now, but should be ready to add him if he keeps up his point production as he appears in other statistical categories such as hits on a nightly basis.
Michael Del Zotto (Philadelphia Flyers – D)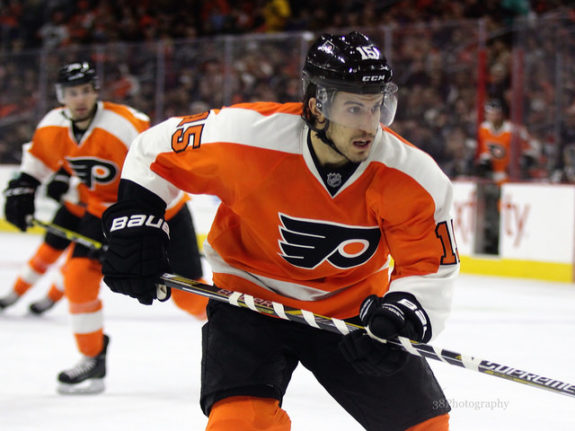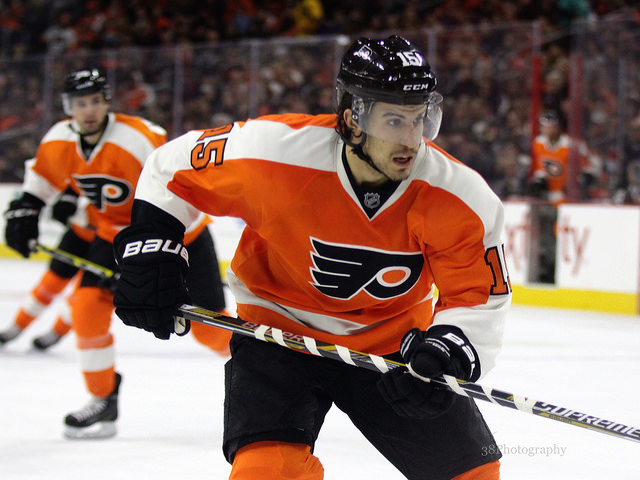 Michael Del Zotto sure has enjoyed his time with the Philadelphia Flyers this season, and that fact has been highlighted by the defender's ability to show up on the scoresheet on a consistent-enough basis. While Del Zotto has four points (1G, 3A) in his last five games, he has also been putting up a steady amount of shots on goal and hits, so managers could rely on the rearguard for a little bit more than just points.
At 21% owned in Yahoo! leagues, Del Zotto might be the most-owned defenseman on this list, but that still means that he's available in almost 80% of Yahoo! pools. Despite the fact that Del Zotto sees time on the Flyers' third defensive pairing, he has been playing anywhere between 21 and 25 minutes per night – so managers need not worry about the defenseman's ice-time. At this point in the season, fantasy managers that really need offensive production – as well as production in some other categories – from their defensemen should strongly consider adding Del Zotto to the fold.
Morgan Rielly (Toronto Maple Leafs – D)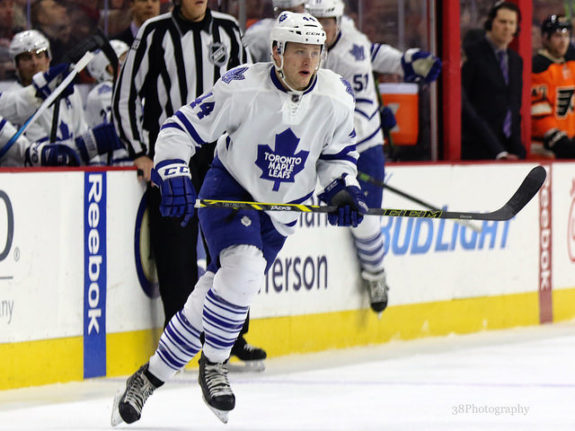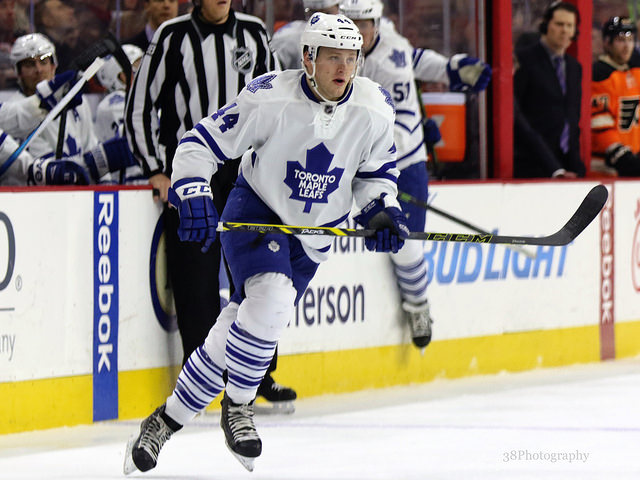 The Toronto Maple Leafs might be having a lackluster season, but Morgan Rielly has definitely been a bright spot for the team as of late. Playing on the Leafs' first defensive pairing, Rielly has scored five points (3G, 2A) in his last seven games played.
Logging anywhere between 21 and 25 minutes per night, Rielly has rewarded head coach Peter Horachek's faith in him with some offensive production. While Rielly won't really show up in other statistical categories such as hits, he is more than capable of tallying some goals and helpers, so fantasy managers should keep the young defender in mind. Available in 91% of Yahoo! leagues, Rielly will likely be a hotter commodity in fantasy circles in the years to come, but those in deeper leagues should absolutely consider adding the d-man.