Simply coming up with a title for this piece cost me about an hour. It may have taken longer to give this rant a name than it did to record my stream of consciousnesses on the subject. At The Hockey Writers, titles usually range from thought provoking questions to slightly snarky one-liners. Both styles are equally effective at enticing a reader in its own way.
After much deliberation I settled with "Rewarded for Penalty Minutes?" which truthfully I am not in love with. Nonetheless, the title does its job and elicits the following question: Why are players rewarded for penalty minutes?  By keeping the title short and sweet, I have given myself full reign to lose my mind in a nostalgic yet equally blood curdling rant, no?
Penalty Minute Blues: The Beginning
My problem with penalties began as a young mite player in Small Town, Massachusetts. I was lucky enough to play alongside one of my very good friends for a number of years. His passion for the game was unquestioned. However, he often expressed this fervor in the form of overzealous minor penalties. A slash here, a rough there, you name it.
By age 9, I was fit for Boston's juggernaut penalty kill. I had potted more shorties by the 7th grade than the next youth hockey player had penalty kill opportunities. While this reflective moment seems tender, let me assure you it is not. Few things frustrate a man more than watching his team's momentum evaporate with the raising arm of a linesman.
Imagine my hot headed adolescent (and current) friend never matured into the calm young man he is today. Imagine if he also made the NHL. You bet that he would be one of the most underrated fantasy hockey options around. Why? For whatever reason, penalty minutes, out of all stats, are one of the 10 that most standard Yahoo! leagues recognize, and one of the 6 stat categories for skaters.
According to Webster's dictionary, a penalty is "a punishment imposed for breaking a law, rule, or contract." If penalties are supposed to be punishments, why are fantasy hockey teams being rewarded for them?
Fantasy Production > Player Safety?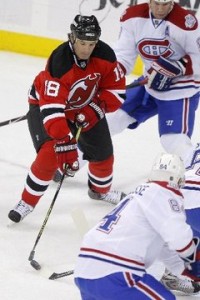 If you would, go through your available players list and sort them by penalty minutes. Surprising huh? Bet you didn't expect to see 5 or more 'enforcers' that are considered top 200 players by virtue of penalty minutes. Derek Dorsett is the New York Rangers energy guy who is not afraid to drop the gloves. He has 3 points this season to go along with 82 penalty minutes, making him the 154th ranked player in standard Yahoo! leagues.
This is NOT a piece focused on fighting's hotly debated place in the NHL. It is however a lament that Derek Dorsett is a better fantasy option than Pascal Dupuis, Ryan Nugent-Hopkins, and Eric Staal. While many may argue that a well timed fight can energize a team to victory, no one can argue that a well timed minor penalty was the key to success.
While most penalties are ticky-tack trips or hooks, a concerning amount are very threatening and violent plays. The last thing I'd want is for a dangerous boarding penalty to propel a goon further past a Lady Byng candidate in the rankings. Brendan Shanahan has worked tirelessly to clean up the NHL, so the last thing Yahoo! should do is reward players for playing dirty.
How to Replace Penalty Minutes
There are many ways to remove penalty minutes from the fantasy forefront. The best way to do so would involve a stat that is not particularly defenseman or forward heavy. Adding a stat like blocked shots is possible, but D-men block considerably more shots than forwards. Blocked shots could further upset the balance of understood player value.
If you are looking for a stat that is already regularly counted and available for all skaters, let's consider hits. Every NHL player has an equal opportunity to throw their weight around. Hits and physicality in general are also well accepted as having a positive team impact.
One caveat with counting hits is inconsistency. There is no set definition of what exactly counts as a hit. Also, a very real bias exists in the scoring of hits. Home teams always seem to magically out hit their visitors. Some chalk it up to different playing styles on the road vs at home, but the statistics are very dubious. The LA Kings are known for their physical play and the statistics suggest it. 444 hits in the Staples Center already! When they play on the road, they hit less than Detroit. Call it a conspiracy, but at least respect a general level of variance.
My personal favorite way to solve this conundrum would be to throw penalty killers a bone. Wait don't go! Killing penalties is an art form. It might not be as flashy as this:
https://twitter.com/SensReporter/status/403329759813181440
But it is just as crucial to winning and losing games as any other stat that fantasy hockey considers relevant. The stat could be counted as time-on-ice while killing a penalty. If the opposing team scores, the players currently on the ice would lose any PK ice time for that particular penalty. This could work people! If power play points are so highly touted, it high time that the gritty players who quelch the mighty man advantage receive some accolades.
Whatever the case may be, it is time to do away with penalty minutes. Start by creating a custom league that doesn't count them, and spam Yahoo! Fantasy Sports on twitter until they listen. Ok don't actually do that.
Kevin Roche is a lead writer for fantasy hockey with THW. He is a passionate hockey fan and pond hockey enthusiast who attends Clemson University in South Carolina. Kevin will graduate with an engineering degree in 2014, but he will continue to do what he loves after graduation: write about hockey.