Paul Stastny, the story of his NHL career has been one that has two sides. Stastny has never played for any team other than the Colorado Avalanche and has seen success and had some serious struggles. The early successes that he had ended up with the Avalanche rewarding him with a contract that is currently the source of division within the fan base. That contract was a five year, $33 million extension that made Stastny worth $6.6 million of salary cap space, which he earned with his play in the first couple seasons of his career. These seasons saw Stastny post 70 points two times.
Since signing that contract, Stastny has broken the 70 point plateau exactly one time, never actually scoring more than 59 points in a season. His worst season came a year ago, during the lockout-shortened season, where he managed only 9 goals and 24 points in the 40 games that he played. Simply put, these numbers weren't good enough to help the team win, and since Stastny was making such a huge amount of money, he was constantly thrown under the bus by fans and media alike. It seemed that, even though the Avalanche have been near the bottom of the league in salaries paid out each of the past three seasons, somehow Stastny and his $6.6 million every season did nothing but weigh the team down.
Here's the interesting part about Stastny. Despite the fact that he has struggled over the past three seasons, Stastny has only once finished outside of the top three in scoring on the Colorado Avalanche throughout his career. The one season that he did miss it, he missed close to half of the season with an injury but still had tallied 36 points in 45 games. So yes, there is no doubt that Paul Stastny has struggled to put up numbers that would warrant a $6.6 million a year contract; but, at the same time, he has always been one of the top players on his team in scoring, which is exactly what you would want out of a player making $6.6 million a year. So, the dilemma that now arises with Paul Stastny is this. Now that he is playing well again, and is in the last year of his contract, what do the Avalanche do with him?
Sign Stastny to an Extension
Paul Stastny had a bit of a slow start to the season but has really picked things up lately. 21 games into the season, Stastny has 8 goals and 9 assists, this is second on the team in points just three points behind team scoring leader, Matt Duchene. His 8 goals are also third on the team, just behind Duchene and Ryan O'Reilly, so it seems that Paul Stastny's bounce back season is off to a very good start. If this play continues from Stastny, then it should make the Avalanche very confident in trying to sign him to another long extension, something that Patrick Roy and Joe Sakic have already shown they are willing to do.
This option, while the simplest and most straight forward option out there, is still a difficult one to make. Not too difficult in the sense that you obviously want to keep a guy who is producing and helping your team win; rather the difficulty comes in how y0u pay him. Do you pay him like the guy who hasn't cracked 60 points in three seasons, or do you pay him like the guy who has been near the top of your team's scoring chart every single year that he has been in the league. If the Avalanche can find a happy marriage between those two sides, they should come up with a good contract.
The other complication with this comes with how many years you sign him to. Stastny is just coming off of a five-year extension, so it wouldn't be a surprise if he wanted another long commitment from the team, especially with the team committing so many years to Matt Duchene and Gabriel Landeskog. But, if you aren't really certain about the dollar amount the team is going to give him, it's impossible to be certain about the years. Perhaps the Avalanche give him a two-year extension at $5 million, or so, to try and allow him to reset his value baseline for the long-term. Or perhaps the Avalanche roll the dice and go another five years close to the $6 million mark. You can make arguments for both numbers, which is why I don't think we're going to see the Avalanche sign Stastny to an extension in the middle of the season. Rather, they will wait until the end of the year to see how everything plays out so they will have a better understanding of what his value will be.
Trade Paul Stastny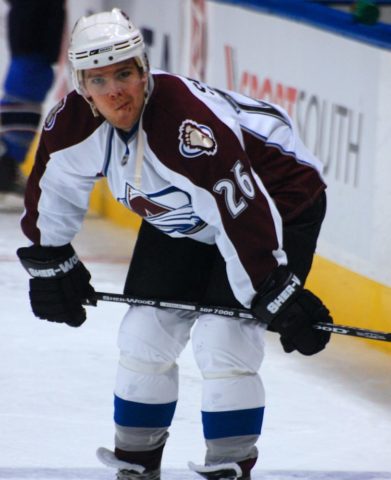 This is a concept that I know Avalanche fans have heard, or shouted at the tops of their lungs, once or twice in the past few seasons. Fans certainly know that every time there has been a trade rumor surrounding the Avalanche, it was almost certainly Paul Stastny's name being tossed around. This option depends on a lot, as well. Most importantly, this option will depend on where the Avalanche are in the standings by the time the trading deadline shows up. If the Avalanche are well-positioned for a playoff run, I wouldn't count on Stastny being moved. If Stastny is moved while the Avalanche are in a position to make the playoffs, then it's going to be a huge deal. The type of deal that brings a huge piece for a Stanley Cup to your team type of trade.
If the Avalanche are not well-positioned for a playoff run, and are clearly out of the running, it could be more of a possibility. Stastny is an incredibly solid top-six forward. He's good on face-offs, is a great passer, has a laser of a shot, plays well in his own zone and can log quality minutes on both the power play and penalty kill. A team that is primed to make a run at the Stanley Cup would certainly be interested in this type of player. The most challenging part in this would be making certain that you get a good price for Stastny, which the Avalanche obviously haven't over the past few seasons since he is still in the burgundy and blue. The Avalanche would have to get a good roster player (or two), an up-and-coming prospect with high potential, and probably a draft pick or two to even start considering letting Stastny go.
Let Him Walk
The final, and worst of all the options is to just let Paul Stastny ride off into the sunset of unrestricted free agency. No doubt, there would be certain people within the Avalanche fan base, who would be fine with this. Stastny "didn't live up to" his contract, and the Avalanche would be crazy to give him another opportunity to laugh all the way to the bank, so to speak. This is a minority opinion, but it is still out there. This is such a terrible option because the Avalanche, or any other organization for that matter, would hate to lose an asset like Stastny for absolutely nothing. This new front office of the Avalanche is a lot smarter than to let something like that happen, something that could not be said about the previous regime. If it gets to this point, then it is pretty clear that either the Avalanche or Stastny, or possibly both, are being too obstinate in their contract negotiations. And after the Ryan O'Reilly debacle, from a season ago, one would have to hope the new regime in the Avalanche front office would never let that happen again.
So What Will Happen?
This obviously depends on a lot of things. Stastny's performance, where the Avalanche are in the standings, what types of offers are sent Colorado's way, etc. In the end, I think the Avalanche will lock up Stastny again. Based off of his performance the last three seasons, I don't see them giving Stastny the same type of money that Matt Duchene will be getting, at $6 million a year. Though I don't think things will be too far off from Landeskog's extension, at least from a salary perspective. Landeskog's cap hit comes to a little over $5.5 million a year, and that might be the magic number for Stastny. At the end of the season, before the draft, I believe Paul Stastny will ink a contract at four years, worth roughly $5.5 million a season.
I'm a Denver native who has been a fan of the Avalanche since they came to town and a fan of the game before that. I started writing my own blog a couple years ago before moving to Bleacher Report and becoming a Featured Columnist there. You can also find me the Burgundy Brigade Podcast