He could turn out to be the biggest steal of your fantasy draft. He could also turn out to be the biggest bust. Here are eight risky players you could draft that could potentially be worth it.
Rich Peverley, Dallas Stars
Unless you were a Boston Bruins fan, it is unlikely you knew that Peverley put up 42 points in 57 games during the 2011-2012 campaign. The 30-year old forward is definitely flying under the radar heading into next season after posting a dismissal 18 points in 47 games with the Bruins last season. It isn't hard to see why is numbers were so low though. With all the scoring talent in Boston, Peverley had to be slotted on the third line where he only saw 15:15 of ice time per game. That is why the trade to Dallas makes sense as Peverley should slot in as the second line center and see solid power-play time. During that 2011-2012 season, Peverley averaged 3:11 of power-play time per game. That dropped to only 1:51 last season. Keep an eye on this guy next season.
Drew Stafford, Buffalo Sabres
Known for usually putting up 50 points, Stafford only managed 18 during the 46 games he played in last season. Things can't really get worse for this 27-year-old forward. The talent is clearly there as we saw in the 2010-2011 season when he had 31 goals and 52 points in 62 games. That is actually outstanding considering he missed 20 games yet still managed to hit the 30 goal mark. He could be a great late round draft choice, especially if he can land a gig on the team's first or second line. His power-play time has dipped since that outstanding year but Buffalo hasn't really added anybody that would take time away from him. This is the year to show that he can be a difference maker yet again.
Jakob Silfverberg, Anaheim Ducks
Bobby Ryan is gone and the player he was traded for could easily take his spot on the top line. If Silfverberg can land a gig alongside Cory Perry and Ryan Getzlaf, he may be able to surpass 50 points. He is still very young and it may take some more time before he becomes an elite fantasy star, but the potential is there for him to make an impact next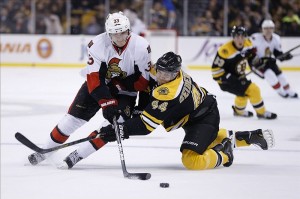 season. The real question revolves around Teammu Selanne though. If Selanne plays another year, Silverberg won't likely get to play on the team's top power-play. Playing on a power-play with Getzlaf, Perry, Cam Fowler, and Francois Beauchemin is a dream come true. Nevertheless, Silfverberg will build off his 19 point season with the Senators last year.
Devin Setoguchi, Winnipeg Jets
31 goals in his sophomore season with the San Jose Sharks and never that again. Setoguchi is a puzzling player as some nights you see a very skilled player and then on other nights, you forget he is even playing. His two seasons in Minnesota didn't go as planned and Setoguchi hit rock bottom last season when he only played 14:26 of ice time per game, the lowest of his career. Now with the Winnipeg Jets, here is a chance for the 26-year-old to turn his whole career around. This is the time to prove that his 8th overall selection in the 2005 draft was for a reason. He is projected to play on the Jets second line and that is a perfect spot for him. There is a good chance Evander Kane will be alongside him. Are you willing to take this gamble?
Zack Kassian, Vancouver Canucks
"That dude that was traded for Cody Hodgson". I doubt that is what Kassian wants to be remembered for when his NHL career is over. He will want be remembered as one of the best power-forwards in the NHL. He has the skill and strength to do it but he needs to find some consistency. This could be his breakout year with Torts in as new coach and the team desperately needing a cup before its too late. If Kassian can land a spot on the top line with the twins, fantasy owners will profit. Kassian was a solid pick up last season during that stretch where he played with the twins. The problem was he faded back into being a third/ fourth line grinder. A new coach and some more motivation is all Kassian needs to get up to that next level.
Tyler Myers, Buffalo Sabres
The gamble doesn't revolve around if you take Myers; the gamble is about when you take him. Myers is too big of a household name too not get drafted in a standard hockey pool so you've got to make the call. A great rookie season but downhill from there. He hit rock bottom with eight points last season in 39 games. Power-play time almost went down a minute from his rookie season. Normally, a rookie's power-play time keeps progressing with experience. There is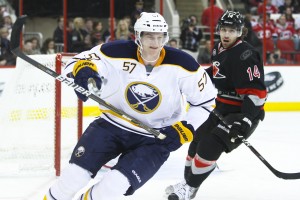 something wrong here. You were probably told for these past few seasons that he would rebound, but he keeps disappointing. What has changed this time around? Nothing. Buffalo hasn't gotten any better so you are really going out on a limb if you draft him. There is hope though as Ennis and Hodgson are rising and Christian Ehrhoff is capable of forming a solid power-play unit with Myers. One of these years, Myers will return to form and you better have him on your fantasy team when that time arrives.
Mikael Backlund, Calgary Flames
Here is another curious case. A flashy, superstar at times and then barely noticeable at others. One thing is certain, there isn't anywhere for Backlund to hide in Calgary. Jarome Iginla is gone and there aren't very many stars around to carry the team. It's over to the young guns and its Backlund's time to shine. Backlund averaged 0.5 points per game last season in 32 games while seeing 1:24 of power-play time. That will go up next season as he could even play on the top unit. He has the potential to be the team's number one center but he really has to start playing like it. There is no denying the skill. Lots of risk taking Backlund but this should be the year he turns things around.
Martin Erat, Washington Capitals
Mikael Grabovski signs with the Capitals and all of the sudden they have a fairly dangerous second line. Erat will likely play alongside Grabovski as well as Brooks Laich or Troy Brouwer. Erat has never actually appeared in a full 82 game season though as injuries always seem to sideline him. His 19 points last season during 45 games split between the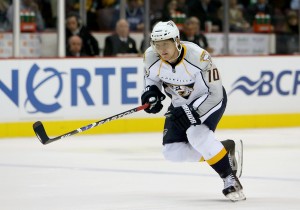 Nashville Predators and the Capitals, are also quite concerning. If Erat can put together 58 points during 71 games in the 2011-2012 season with the Predators though, surely he can top that with an offensive first Capitals team. Health is always a concern but he will get good ice time in Washington and can put put last season behind him.