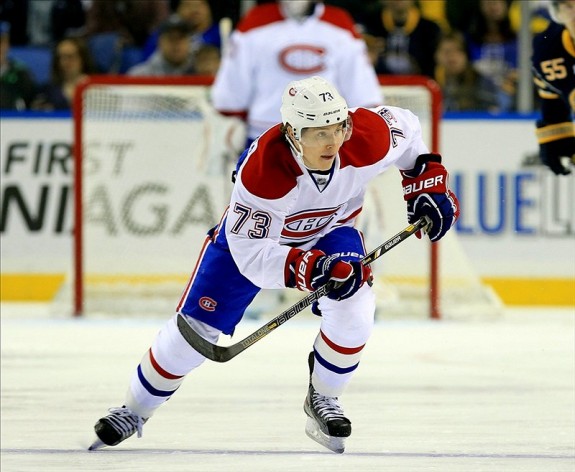 With nearly half the season gone by, it's time to take a look at the impact some of the rookies have made this season. Here we will measure the top 12 rookies from a fantasy perspective. There are definitely a whole bunch of early season candidates for the Calder trophy, however when evaluating Fantasy impact we take as many stat categories into consideration as we can. These 12 first year players are not only the best point producers out there, but also the leaders in Hits, +-, Blocks Shots, Shots on Goal, & Special teams stats. Below you will find the top 3 with some details on their success and the full list provided further down below.
[Reminder – Daily Hockey Fantasy for only 1$ at our partner DraftKings.com]
1 – Brendan Gallagher (Montreal Canadiens)
The "Little ball of hate" has been making a name for himself in the NHL. Standing at 5'9, Gallagher is considered small by NHL standards, however he plays the game of 6'3, 220 pound Power Forward. Constantly crashing the net, shooting the puck and never shying away from the physical game. While there are those out there who doubt he can sustain his high energy through a full season, Gallagher admits he has always had to play with an edge in order to remain successful given his smallish stature.  He currently sits at the top of the Fantasy list with 13 pts in only 18 games played, along with a +12 rating, 29 hits and 46 Shots on goal. If the diminutive forward keeps this pace up, he will almost certainly be a candidate for the Calder trophy.
2 – Brenden Dillon (Dallas Stars)
Not getting much exposure here in Canada, rookie d-man Brenden Dillon has been a pleasant surprise in Dallas this season.  From New Westminster, B.C., Dillon went undrafted after playing 4 years in the WHL before being signed as a UFA by the Stars. He currently leads all rookie defensemen in terms of Fantasy rating in large part due to his Hits, Blocks, & Shots on goal. He also has 6 points and a solid +4 rating to go along with that in 22 games this season. With all the high profile rookie defensemen out there such as, Dougie Hamilton, Justin Schultz and Simon Despres, it's definitely a surprise to see Dillon topping the list. It will be interesting to see if he can keep up his solid all around play this season.
3 – Cory Conacher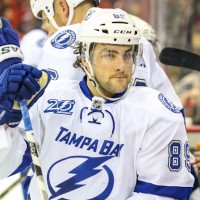 The leading scorer of all rookies this season has been a mainstay in the top 6 for Tampa Bay through the first half of the season. Whether he's been playing on a line with St.Louis & Stamkos, or with Lecavalier & Purcell, Conacher has enjoyed much success. He went through a small dry spell midway through the season but seems to have picked up his play once again. With 18 points in 22 games, Conacher is playing at nearly a point per game pace and has been an excellent compliment to Tampa's dynamic offense. While he doesn't offer much in terms of hits or blocks, the 5-8 forwards makes up for it with his consistent point totals and moderate power play production. He's looking like a lock for a Calder trophy nomination.
Here is the Full Top 12 List
Note : Only players with a minimum of 10 NHL Games Played are eligible for this list.
* – Stat categories considered are as follows : Goals, Assists, Points, +-, Shots, Hits, Blocks, PPP, SHP.
Santino is a long time Montreal Canadiens fan, and Hockey enthusiast. He currently works as a Fantasy Hockey Writer for THW. Follow him on twitter @SantinoFasulo