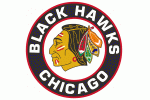 It is very easy to take a look at the Chicago BlackHawks hot start to the abbreviated 2013 season and say 'they are a good hockey team that has been getting the breaks'. But have they? A closer look into the Hawks hot start reveals a number of impressive stats that go well beyond luck or getting some fortunate bounces. Let's delve into the numbers now and see what shakes out in trying to determine how a team can get this hot and stay playing consistent winning hockey.
In spite of a schedule glitch that put the team on the road for ten of their first twelve games, the Hawks came out of the gate flying, even without the benefit of a full training camp. Questions abound prior to that first puck drop, such as 'How will Patrick Kane rebound from two sub par offensive seasons?', 'Will Marian Hossa be fully recovered from that brutal hit taken in the playoffs last year at the hands of Raffi Torres?', 'Can Corey Crawford ever be considered a true starting goaltender'. All those questions have been answered over the previous twenty two games.
The Hawks +29 goal differential is by far the best in the league, leading Montreal, Boston and Anaheim by 14. They have a 17 point lead in the division and have captured 41 of a possible 44 points. They have set a new NHL record for consecutive games capturing a point to start a season and are currently 2nd all time in games without a loss spanning two seasons. They have not lost in regulation since March 25,2012 when they were spanked by Nashville 6-1, a span of 28 games. Now that we have shown the easy numbers why, let's break it down further into specifics.
TEAM STATS (NHL rank in parenthesis)
Goals per game                       3.05 (4)
Goals against per game           1.73 (1)
Save percentage                      .937 (2)
Shots per game                       30.7 (6)
Shots agst per game                27.2 (6)
Power Play                               17.6 (15)
Penalty Kill                               89.7 (3)
What can those stats tell an outside observer as to why the BlackHawks are the best team in hockey right now at 19-0-3. Well, it's all about 5 vs 5 play and with a power play that is middle of the pack and struggling, considering the skill set on the ice, it's easy to concur that at even strength and rolling 4 lines, the BlackHawks are simply getting it done. And where would any team be without defense? As you can see above, first in least goals allowed, second in save percentage and third on the penalty kill. If you keep the puck out of your own net and simplify the forecheck, things are always easier on the offense if the Hawks find themselves trailing.
Speaking of the offense, seven players are already double digits in points with one defensemen and two more on the fringe. 2 more points for up and coming defensemen Nick Leddy and one for Brent Seabrook and the team will have an incredible 3 defensemen among nine in double digit points. No other team right now can match the depth that the team is currently possessing. You always have your superstars and the Hawks are no exception with Patrick Kane, Marian Hossa and captain Jonathan Toews combining for 29 of the teams 70 goals scored (41%) but the consistency and effort level of the 3rd and 4th lines is what separates this team from the rest of the NHL pack. When your top defenseman Duncan Keith is playing a pedestrian (by today's NHL standards) 24 minutes a game you know that you can comfortably roll out a number of players to play quality minutes and not miss a beat.
PLAYER SPOTLIGHT
I picked out two players who I feel are really carrying the Hawks right now and while the names might be obvious, the past seasons were not giving the faithful a warm and fuzzy feeling entering the season.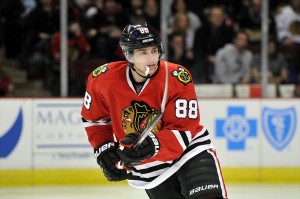 Patrick Kane – A first round pick in 2007 out of Buffalo, NY the 5'11 forward burst onto the NHL scene with 21 goals and 51 assists as a rookie. He plateaued in the 2009-2010 season and set career highs with 30 goals and 58 assists. Since then, the next two seasons carried Kane down to 73 and 66 points respectively and outside of scoring the famous game winning goal that only two people saw go in during the 2010 Stanley Cup Final against the Philadelphia Flyers, saw his career graph trending down on the offensive side. Kane rededicated himself this offseason, cutting down on his infamous partying ways and hitting the gym hard to regain the form that made him such a dynamic player coming out of the draft. All he has done is literally carry the Hawks on his back early this season, steaming out to 11 goals and 15 assists over the first 22 games, with 9 points coming on the power play. He has scored a number of big goals, and his supreme talent was on display Sunday against the Detroit Red Wings. With a little over two minutes to go, he squeezed a right wing howitzer over the arm of Jimmy Howard to tie the game and then dazzled the Joe Louis Arena crowd in the shootout with his slow motion walk move. This kid can dangle with the best of them and if he stays focused, could be in line for a Hart Trophy should this run continue.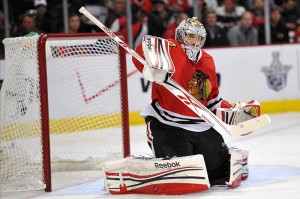 Corey Crawford – When the rumors became rampant that Roberto Luongo was available in Vancouver, some Hawks fans might have been dreaming of finally solidifying the crease while damaging one of their most hated rivals in the process. Always a famous sore spot for beat writers and fans alike, the Hawks were always thought to be a 'goaltender away' especially after allowing Antii Neimi to walk to San Jose after winning the 2010 Stanley Cup. Crawford spent the first three seasons as nothing more than a 3rd string, starting only 8 games over that period. But then he burst onto the scene following Neimi's departure and started 57 games in 2010-2011 posting a line of 33 wins, a 2.30 goals against average and .917 save percentage. Expected to take that next step, he disappointed the club in the following season. He still won 30 games but saw his peripherals dip to 2.72 and .903 – both numbers not clearly good enough in today's NHL. This season, Corey has transformed himself into an early frontrunner for the Vezina trophy, awarded each season to the league's best goaltender. With 10 wins in 13 starts, a 1.41 goals against and .945 save percentage, he has been nothing other than spectacular in the crease and a huge contributor the the Hawks early season success.
Now, of course, I know about Jonathan Toews, super captain, and the triumphant return of Marian Hossa plus unexpected contributions from players like Viktor Stalberg, Dave Bolland, Andrew Shaw, Brian Bickell and Patrick Sharp. That is what makes the Hawks such a dangerous team as mentioned previously. I could have expanded the list to five and still left off quality contributors.
Are the Hawks going to lose a game this season? Of course they are. I mean, I am not going to sit here and preach delusions of grandeur that this is another Joe DiMaggio type streak that will turn the sports world on its head. Maybe it has already though. Maybe, just maybe, the Hawks have granted the attention of the sports world enough to even earn more than 15 seconds on ESPN.
http://youtu.be/a7tDtKOgwks
.