Maybe you made a poor draft choice, your #1 guy is sidelined with an injury, or you're just thinking about adding 1 more goalie to your fantasy roster. Whatever the case may be, you need to know who your best option is. Goaltending is undeniably one of the most important positions in fantasy hockey. In most leagues you'll be placing at least 4 categories on the shoulders of just 2 or 3 players. This makes your selection ever so important to the success of your team. To help you with that ever so difficult decision, I'll rundown the 5 best goalies likely still available in your league (owned in less than 60% of all Yahoo! leagues).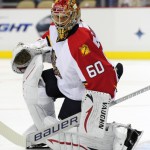 José Théodore (56% owned)

One of the biggest surprises of this young season is the quick start of the Florida Panthers, who are 5-3-0 through their first 8 games. With a newly retooled and refurbished team, they appear to be a dangerous and on a mission. Backstopping the surging Florida team has Théodore off to a quick start as well, with 3 wins including 1 shutout. Though dealing with a day-to-day injury, it's nothing that will keep the French-Canadian out of the lineup long, and despite the good play of young partner Jacob Markstrom, the starting job is undeniably Théodore's for the time being. Being a team that gives up more shots than it takes, it's important that  Théodore performs well consistently, and that pressure is something the 35 year old has handled well in the past, most recently with the Wild (a team notorious for their lack of offense).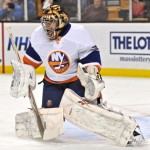 Al Montoya (45% owned)
The Islanders have struggled with reliable goaltending for several seasons now, but they seem to have found the answer in the form of Al Montoya. Playing in 21 games last season Montoya posted a .921 save percentage for an Islanders team that finished a lowly 14th in the East. This year he's picked up right where he left off, with 2 wins in 4 starts and a .930 save percentage over that span. Better yet, the Islanders seem to have formed some chemistry during the offseason and have a 3-1-0 home record so far this year. With Rick DiPietro injured once again, Montoya's only real competition for the starting job seems to be former Shark Evgeni Nabakov, and though he's played well, Montoya has played better to this point.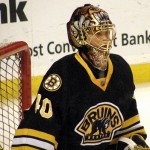 Tuukka Rask (43% owned)
2 seasons ago the league was buzzing about the remarkable play between the pipes from a rookie Tuukka Rask. The Following season Rask seemed all but forgotten as Tim Thomas stole the show, putting up record numbers and leading their Bruins team to a Stanley Cup Championship. This season Rask is looking to redeem himself (though his numbers weren't especially bad during the previous campaign) and reaffirm his position as the future of Boston goaltending. He may be off to a bit of a slow start, but so is the team he's playing for, and as they heat up, so will he. The Bruins coaching staff is looking to give Tuukka more playing time this season, so whether he steals the starting spot or not he's likely to see plenty of action.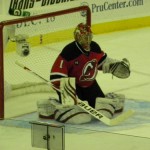 Johan Hedberg (42% owned)
Playing behind Martin Brodeur means few starts for anyone, right? Wrong. The aging all time great has suffered an injury for the 2nd season in a row, once again giving Hedberg the opportunity to see plenty of action. Last season Hedberg played in 34 games thanks to Brodeur's injury, and this season he's already played in 5 of the Devil's 6 games. Even more impressive is his 3-1-1 record with .923 save percentage. Though Brodeur's injury likely wont sideline him for long this time around, Hedberg will still see plenty of starts as the Devil's try to keep his playing time down. If your league is deep, Hedberg is a great option to add some extra padding to your stats, and if you're carrying Marty already, there's no reason not to replace him with Hedberg, at least until he's recovered from injury.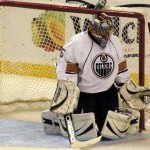 Nikolai Khabibulin (31% owned)
The Oilers are off to an impressive 7-2-2 start behind young stars Taylor Hall and Ryan Nugent-Hopkins, but Edmonton's budding forwards are the only ones turning heads around the league. Coming off of a very rough season for him and his teammates, Khabibulin is still fighting to be the definitive starter for the Oilers, challenged by rising prodigy Devan Dubnyk. So far both have played exceptionally well for the team, but it's hard to ignore the outrageous numbers Khabibulin has stacked up so far. In his 4 games, Khabibulin has achieved a league leading 0.72 goals against average and a 2nd place .969 save percentage. Whether or not the goalie battle in Edmonton is resolved soon, and no matter which side he comes out on, Nikolai Khabibulin appears to be a stellar option every time he starts.