It's no big surprise that the Philadelphia Flyers are right up against the salary cap, since that has normally been the case since General Manager Paul Holmgren took over for Bobby Clarke six years ago.  Holmgren has shown he likes to spend money to make the team as competitive as possible and after the money spending frenzy this past offseason, the orange and black are scheduled to remain under the cap by the slimmest of margins – about $158,000 to be precise – this season.  This could present problems for the Flyers, if the team suffers any significant injuries and is forced to acquire a replacement.
The Flyers will at some point need to shed some salary and the first potential target could be Jody Shelley.  When Holmgren signed Shelley before the start of last season, his contract average of $1.1 million per year seemed a bit steep for a journeyman fourth-line left winger but Holmgren signed him to a three-year deal – which runs through next season – to add some size, strength and even just a hint of goon, to the roster.  And at times Shelley has proven he has all three of those characteristics, especially the third one.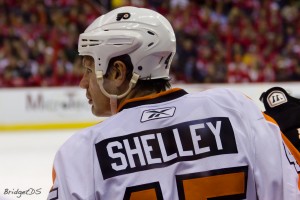 Shelley was given a 10 game suspension (five preseason games, five regular season games) on September 20 for boarding and injuring Darryl Boyce, a member of the Toronto Maple Leafs system.  Last night was Shelley's first game since the incident – ironically against the Maple Leafs – as coach Peter Laviolette decided to sit struggling forward Andreas Nodl.
This came as a bit of a shock to many who follow the organization, as the team could have used Nodl's penalty killing abilities but instead was left with a guy who does nothing more than mix it up and take undisciplined penalties.  However that was not the case last night.  Shelley came out with plenty of energy and made the most of his just over five minutes of ice time.  He was even a part of one of the prime scoring chances of the night, when he attempted a wrap around that nearly snuck by goaltender Maple Leafs goaltender Jonas Gustavsson early in the second period.   It was a little redemption, considering he still managed to take a rather unnecessary goaltender interference penalty early on, before many of the hometown onlookers could even get to their seats.
It is tough to get a good idea of what he will be capable of this season, as it is only his first game but he appears to be working hard to improve and become more than just a physical presence.  Hopefully he continues to spend time in front of the net, screening the opposing netminder and cuts down on those bonehead penalties.  But it could only be a matter of time before his career in Philadelphia comes to an end because he might be the last of a dying breed by a team who has gone from big-bodied bullies, to small-finesse shooters.