Follow Lukas on Twitter @LukasHardonk for more Leafs coverage.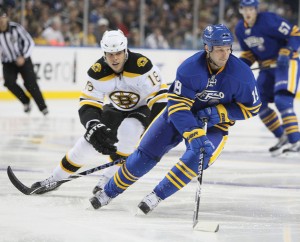 Last season's infamous all-star Phil Kessel scored once again on Monday night when the Toronto Maple Leafs played the Philadelphia Flyers, giving him nine on the season and at least one goal in six of eight games this season.
One reason why Kessel has gotten off to a blazing start is newly acquired centre Matthew Lombardi. Lombardi, 29, was first said to not have enough of what Kessel needed in order to score 40 goals this season. However, despite scoring just three points in his first eight games, Lombardi has proven most of those critics wrong.
Judging by the times that they have played on the same line, which hasn't been any more than "here and there", Lombardi and Kessel have looked very strong together. Both have tremendous speed that they use to blow by defenders and get right to the net.
Still, though, there are those who don't believe in Lombardi's ability to help Kessel reach the 40-goal plateau, or to be a part of a lethal first line. Those people can certainly make a good case based on Lombardi's past statistics; his best season came in 2009-2010, when he scored 19 goals and 53 points, which certainly isn't top-line material.
That's where Tim Connolly enters the conversation. Connolly is a proven top-six centre who is very creative when it comes to making plays and setting up some of the game's top snipers.
One of those snipers, Thomas Vanek, scored 40 goals during the 2008-2009 season with the Buffalo Sabres. Coincidentally, Connolly, a teammate and line mate of his, almost scored a point-per-game during the same season, albeit an abbreviated one for Connolly.
That's just one fact that shows Connolly is a top-six play maker.
While we could sit here and go on and on about why Connolly makes sense for the Maple Leafs, is it sensible to put him in the lineup at this current time? There is doubt that it will happen, because what team would sit a player with 395 points in 627 regular season games who makes $4.75 million per season?
Let's ignore his career numbers and current salary for a moment, though.
The Maple Leafs are currently 5-2-1 with 11 points, which puts them near the top of the Eastern Conference. While it is certainly too soon to tell if this Leafs squad is for real, it is easy to argue that there is no sense in changing around the lineup when your team is on an early-season tear.
The Leafs' current top-six is made up of Kessel, Lombardi, Joffrey Lupul, Clarke MacArthur, Mikhail Grabovski and Nikolai Kulemin. When Connolly does return, Lombardi is likely going to be the first one to drop to the third line in order to create room.
That would create a line of Lupul-Connolly-Kessel, which still has the potential to tear it up. However, you would then be removing the Lombardi/Kessel factor from the first line, as mentioned above.
The next one to fall would probably be either Matt Frattin or Nazem Kadri. Frattin (eight games, one assist, minus-1) hasn't worked out as well as many thought he would, while Kadri (three games, one assists, two shots) still hasn't shown that he has the ability to compete with the NHL's best blue-liners.
The end result of that would be a third line made up of Lombardi, Tyler Bozak and Colby Armstrong, once the latter two return from injury. That again creates an intriguing combination, but also one that could turn out to be a disaster.
You still have to wonder if Bozak will be able to cut it in the bottom six. He has shown signs of being a much better defensive player, but he still has loads of potential on offence.
Connolly will definitely be inserted into the lineup in the near future, possibly as early as Thursday evening against the New York Rangers, but is it worth it? Is it worth the possibility of messing with some chemistry?
Some would tell you yes, because chemistry is overrated, while others would say no, leave the forward combinations lone. It is surely a hot subject to touch on, and it is one that will continue for weeks.
Twitter: @LukasHardonk | Email: lukas.hardonk@gmail.com | Lukas' archive
For every Leafs article on THW, follow @THW_MapleLeafs on Twitter.