Thursday night, the cheers of the Garden faithful will be music to the New York Rangers' ears. After weeks on the road, the team will finally open up the newly renovated Madison Square Garden.After a road trip through Central and Western Canada, which saw the team take three out of four games (their first 3 wins) the Toronto Maple Leafs will attempt to spoil the Rangers' homecoming.
"We're looking forward to (going) home," Rangers head coach John Tortorella told reporters after the team's 2-1 win over the Winnipeg Jets.
After back-to-back dominant starts by Rangers net-minder Henrik Lundqvist, the Rangers began the trip by winning the first two games. Lundqvist stopped all 40 shots he faced in a 4-0 win over the reigning winners of the Clarence Campbell Bowl, the Vancouver Canucks.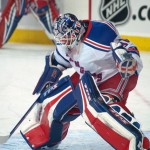 "It was intense," Lundqvist explained. "I felt like I tracked the puck really well. A lot of shots with screens and deflections."
After two stops in Alberta, which saw the Rangers split the games against the Calgary Flames and Edmonton Oilers, they faced off against the Winnipeg Jets, for the first time in over a decade. Winnipeg has struggled early in the season, and the Rangers were looking to end the road trip on a winning note.
Rangers defenseman Jeff Woywitka, an Alberta native, was very excited to see hockey back in Winnipeg."Having hockey there and back in Canada, it's always a good atmosphere," said Woywitka. "It's so exciting, just remembering what the Jets used to be like."
After another sloppy win, but a win nonetheless, the Rangers boarded the plane in possession of a Winning record, with the teams 2-1 win over the Jets. The team was backed by a spectacular performance by back-up goalie Martin Biron.
"It makes a difference going home with three wins after that seven game beginning," said Biron, who stopped 27 of 28 shots for his first win of the season.
After the game, John Tortorella certainly seemed ready to pack his bags, and hop on the flight home.
"In this league, you grab your points and you get the hell out of there," he said after the teams win in Winnipeg.
Now the bright lights of Broadway will fill Madison Square Garden, as the Rangers lace up their skates for the first time in their newly renovated home. Ranger fans will also get to see their big off-season acquisition wearing his home blue sweater for the first time at Madison Square Garden.
The team is eager to begin this new chapter, and Rangers winger Brandon Prust made those thoughts public by tweeting as the team landed.
"Back in nyc! Finally.. Can't wait for thursday!! #homesweethome"The date is set, the house will be packed, the lights will be on. Now it is time for the Rangers to put on a good show for their hometown fans.