– Your Weekly Fantasy Hockey Breakdown
Each Monday, we'll take a look at the past week in fantasy hockey. Specifically, we'll dive into which players are heating up, which players are cooling down, players to target on the waiver wire, and an update on fantasy-relevant injuries. From week to week, a lot can change in a player's fantasy outlook due to line combinations, injuries, or just a simple tweak in their game and we will have you covered.
Trending Up
Max Pacioretty – MTL (LW)
After managing a mere three points through his first 10 games, Pacioretty has finally begun to find his stride, more than doubling that point total over the last week. Through his last four games, he's notched five points (two goals, three assists), with three of those points coming with the man advantage, plus a shorthanded marker.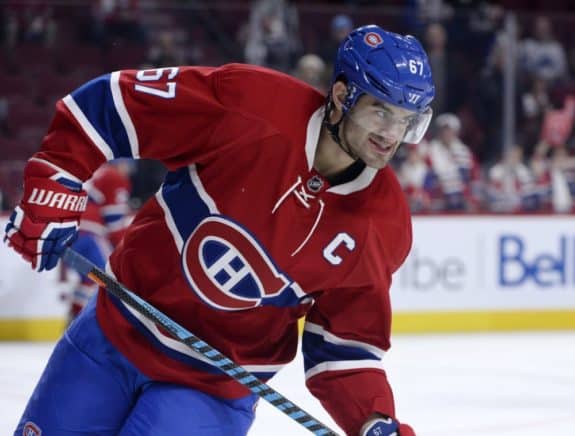 This is the production fantasy owners were hoping for when they drafted him, so continue to keep him in your lineup, as he's appeared to have broken out of his early-season slump.
Blake Wheeler – WPG (RW)
Although Wheeler's start to the season was productive, his play over the last week was off the charts. Over his last four games, the veteran has a staggering nine points (four goals, five assists). Even prior to this explosive run, Wheeler was already having a nice season with eight points in nine games. As long as he has his role on the top line and first power play unit, he should continue to rack up the points for this fantasy owners.
Mark Scheifele – WPG (C)
Yes, another Winnipeg Jets player. The Jets have been firing on all cylinders of late, and Scheifele has followed suit. The youngster has tallied seven points (four goals, three assists) over his last four games, which included a hat trick against the Dallas Stars. Much like Wheeler, Scheifele was also enjoying an already productive start to the season with eight points in nine games. His significant role centering the top line and power play unit should allow him to continue lighting up the scoresheet. Start him with confidence.
Related: Stop Blaming Max Pacioretty 
Trending Down
Nicklas Backstrom – WSH (C)
It may be hard to believe, but Backstrom has not recorded a single point in his last five games. Given his roaring start to the season, 12 points in eight games, this sudden block in production is even more frustrating to owners.
There's no doubting he will return to elite form sooner than later, but, for now, his owners may be left checking the scoresheet with a little less optimism than they're accustomed to with Backstrom.
Brandon Saad – CHI (LW/RW)
Expectations were high for Saad in his first season back in Chicago after spending two seasons with the Columbus Blue Jackets, and he did not disappoint as he came flying out of the gates with nine points through his first nine games. Along with the entire Blackhawks offense, he has since gone stale, failing to tally a single point in his last five games. Although he remains a fixture on the second line and first power play unit, owners should temper expectations until the Blackhawks offense gets rolling again.
Dougie Hamilton – CGY (D)
It was a pleasant surprise when Hamilton kicked off the season with six points in eight games and was appearing to be quite a draft bargain. But he has since come back down to earth in a big way, going pointless over his last five games. Although he's failed to tally a point, he's continued to fire shots on goal at a plentiful rate during his drought, which is certainly a sign production on the scoresheet again will soon follow. But for now, it may be wise to keep him on your bench until he gets back on track.
Related: Capitals Express Frustration with Penalties, Inconsistency
Waiver Wire Targets
Brock Boeser – VAN (RW – 32% owned)
The Boeser show in Vancouver is the real deal, and so is his fantasy value. The rookie has now tallied 13 points (five goals, eight assists) in 10 games this season, and is currently tied for second in rookie scoring. He's being given every opportunity to succeed, playing on the first line and second power play unit. Although this pace won't continue, he's certainly a lock to provide consistent production going forward. Grab him off the waiver wire while he's still there.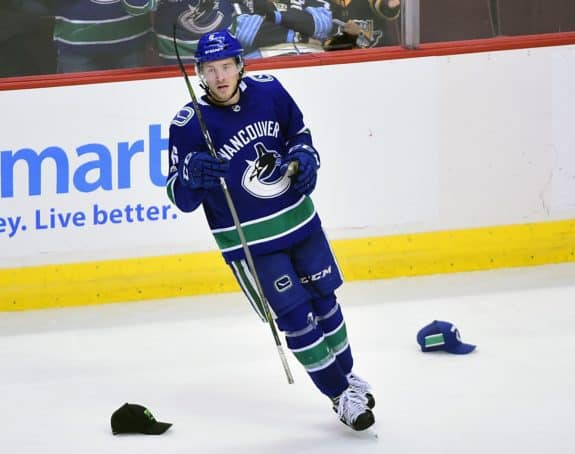 Mikko Rantanen – COL (RW – 36% owned)
Rantanen was listed here last week, and again this week because his ownership level is still too low for his production. This past week, he added another two goals to his already impressive campaign, which brings his season total to 12 points (five goals, seven assists) through 14 games. He remains on the top line and power play unit on a Colorado Avalanche team that has turned it around in a big way from last season. The Avalanche are a team that will have no problem finding the net this season, and Rantanen will be a big part of it. Pick him up so you can reap the benefits.
Brendan Gallagher – MTL (RW – 30% owned)
After a disappointing 2016-17 campaign, Gallagher appears to be on track for a nice bounce-back season. Through 15 games, he's tallied 11 points (six goals, five assists), which is a far cry from his 29 points for all of last season. Given his current placement on the third line and second power play unit, it remains to be seen whether he can maintain this pace for the entire season. But his production so far make him a wise speculative add, if you have room on your roster.
Alex Killorn – TBL (LW – 34% owned)
After being listed here last week, Killorn's ownership actually dropped. For a player that plays the top power play unit with Nikita Kucherov, Steven Stamkos, and Victor Hedman, he should be owned in more leagues. Since last week, he's added another two assists, bringing his yearly total to 11 points in 15 games. As long as he retains his role on the power play, he will continue to produce. Take advantage while he's still available.
Pavel Buchnevich – NYR (LW/RW – 24% owned)
If there's one player making a case for breakout player of the year, it's Buchnevich. He's taking advantage of playing significant minutes, both five-on-five and with the man advantage. The second-year winger is now up to 10 points (five goals, five assists) through 15 games on the season and is not looking like he'll slow down anytime soon. He's playing big minutes on both the top line and top power play, and the points are following. His ownership percentage is quickly rising, so add him now if he's still available.
Injury Updates
Cam Atkinson – CBJ (Lower Body)
Atkinson hasn't played since leaving the game Oct. 28 against the St. Louis Blues but is still listed as day-to-day. Although he was just placed on I.R. yesterday, he's eligible to return Tuesday versus the Nashville Predators.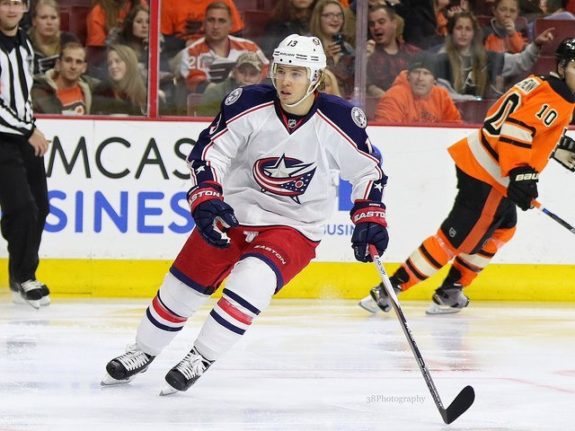 Nino Niederreiter – MIN (Ankle)
Niederreiter returned to action Oct. 31 versus the Winnipeg Jets.
Cam Fowler – ANA (Knee)
Fowler suffered a knee injury Oct. 20 that's expected to sideline him for 3-7 weeks.
Jaromir Jagr – CGY (Lower Body)
Jagr was initially expected to return to the Flames lineup this past Thursday against the Pittsburgh Penguins but suffered a setback. He also didn't suit up Sunday against the New Jersey Devils. The Calgary Flames are now targeting Tuesday for his return to action.
Roberto Luongo – FLA (Hand)
Luongo returned to action Saturday against the New York Rangers.
Jeff Carter – LAK (Ankle)
After being cut by a skate in the LA Kings game on Oct. 18, Carter is expected to miss 6-8 weeks.
Bobby Ryan – OTT (Finger)
Ryan suffered a broken index finger in the Senators' Oct. 21 game and is expected to miss approximately one month.
Justin Schultz – PIT (Concussion)
Schultz suffered a concussion Oct. 24 and has been upgraded to day-t0-day. Despite initial hopes of him returning last week, he remains sidelined.
Andre Burakovsky – WAS (Thumb)
Burakovsky is expected to miss 6-8 weeks after suffering a broken thumb in the Washington Capitals game on Oct. 21.
Ryan Getzlaf – ANA (Upper Body)
Getzlaf was placed on I.R. Tuesday after suffering an upper-body injury Oct. 29. No timetable has been set for his return, but it's not anticipated to be a lengthy absence.
David Backes – BOS (Surgery)
As of Nov. 1, Backes will miss at least the next eight weeks after undergoing diverticulitis surgery.
Rasmus Ristolainen – BUF (Upper Body)
Ristolainen was listed as day-t0-day on Nov. 4 after suffering an upper-body injury.
Gustav Nyquist – DET (Lower Body)
Nyquist left Sunday's game against the Edmonton Oilers and did not return. He's listed as day-to-day until an update is provided.
Kyle Palmieri – NJD (Foot)
Palmieri was injured during practice Oct. 22, but has resumed skating and has been upgraded to day-to-day.
Related: David Backes Requires Surgery, Out 8 Weeks
I've been writing for over three years and have work published by the Calgary Herald, National Lacrosse League, Hard Knocks Fighting and The Weal at SAIT. Although I've covered many different topics as a journalist, sports writing remains my main passion and strength.