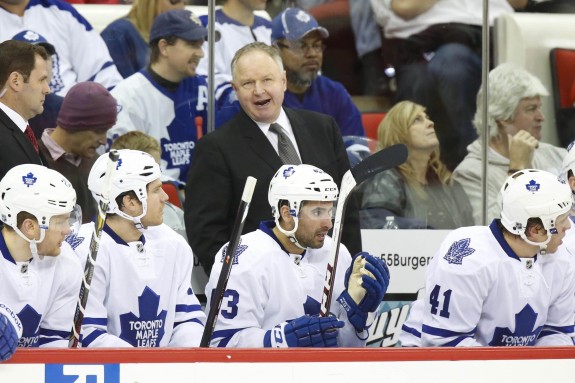 Everyone knows the Maple Leafs have been on a skid this month. A bad one. At the wrong time. Tuesday's loss to the St. Louis Blues marked Toronto's sixth regulation loss in a row. On March 15th of this year, the Buds were sitting comfortably at second in the Atlantic Division (with the third most points in the East) with 80 points. Less than two weeks later, on March 27th, and they are still at 80 points, and now in 10th.
For many fans, it's been one of those "here we go again" moments. In the 2011-12 season, Toronto was 6th in the East on February 6th with a 28-19-6 record. But they went 1-9-1 in their next 11 games and quickly fell to 11th in the conference. The free-fall led to the firing of then coach Ron Wilson, who was replaced by Randy Carlyle.
But it's Carlyle's team who has now dropped six in a row, and rightly so, his name has been on the hot seat:
https://twitter.com/mc79hockey/status/448619243982950400
And some fans really want a piece of him (yes ex-boxing champ Riddick Bowe is a huge Leaf fan):
If the @MapleLeafs lose tomorrow im going to knock out Randy Carlyle. One punch between the eyes #TMLtalk #Leafs #LeafsNation #BoweLeafsBowe

— Riddick Bowe (@riddickbowe) March 27, 2014
Though I don't necessarily feel the need or urge to punch Mr. Carlyle in the face, I do feel he should take the brunt of the blame for this most ill-timed drop in the standings (though if he stresses "compete level" one more time I just might feel the same way as Riddick Bowe). Is all of this mess his fault? No, not entirely. But his old-style, hard-nosed, in-your-face approach is what led to the signings of players such as Jay McClement, David Clarkson and Dave Bolland. And right now, that is not how the Toronto Maple Leafs should be playing. This is a team with speed. This is a team that loves to attack off the rush. This is a team that on paper is not very strong defensively. Yet defensive play is something stressed by this coaching staff, and low-and-behold, Toronto allows the most shots on goal per game in the league. Randy Carlyle yells at his players to stop giving the puck away in hopes that they might get the message but if things have gotten this bad as the season has progressed, isn't there something wrong with the system itself?
https://twitter.com/codyroyle/status/448610628262178817
Somewhere along the line Dave Nonis must realize that the players aren't on board with the system. It's not Carlyle's fault that it's not working. He was brought in to teach his system and he's tried. He has tried and he has failed. And when the Leafs miss the playoffs (or even if they make it for that matter) it might finally be a good time to admit that letting the offensive juggernauts roam free might not be such a bad idea. It's time to let the Jake Gardiner's and Morgan Rielly's make some mistakes. It's time to let Kadri be creative in the offensive zone. As Rory Boylen, web editor of The Hockey News suggested back in January, it's time to "make way for a new voice that embraces the youth and runs with all their potential and all their mistakes." So while Toronto Star beat writer Damien Cox says the Maple Leafs shouldn't fire Carlyle as "an automatic reflex to a disappointing season," I am saying they should fire him for much more than that: in order to implement a system that better suits the players.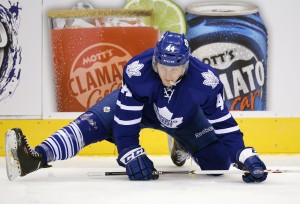 Yes there are lots of little things too. Such as mishandling his goaltenders to the point where Reimer's confidence is shot and he now wants nothing to do with the blue and white. There's also playing Colton Orr 3 minutes a night instead of rookies like Ashton or D'Amigo who are ready and capable of playing close to 10. His defensive scratches and pairings this season have been so off I don't even know where to begin. And there's also the start of games where Toronto has seemingly gotten behind the eight-ball in the first period of every single contest in March.
But, looking at the bigger picture, I think it's finally time to stop attempting to be a strong defensive team when the Leafs have no true first pairing defensemen. Let's embrace the speed game, and up the tempo, starting from the back end. Toronto should play chance for chance with its opponents and instead of focusing on limiting turnovers, focus on forcing them from the other team. On paper this team can score lots of goals; Kessel, van Reimsdyk, Kadri, Lupul, Raymond. And Clarkson and Bolland offer good character, but let's not kid ourselves in trying to build the team around them. On paper this team can't defend. On paper they can score, so let's score. It's not like the defense can get any worse anyways.
So let's change the culture, and unfortunately for Carlyle, it starts by letting him go. And if Nonis himself can't see that, then maybe he needs to go too.