On the first day of the World Junior Championships saw all seven of the Philadelphia Flyers prospects in action.
In the early game, David Kase (C/RW) of the Czech Republic lost to Radel Fazleev (C/LW) and Ivan Provorov (D) of Russia by a score of 2-1 in a shootout. Then, Oskar Lindblom (LW) played on Sweden's top line as they beat Switzerland, 8-3. In the final game of the day, both Travis Sanheim (D) and Travis Konecny (RW) of Canada lost to the United States by a score of 4-2.
Fazleev Shines
In the first game of the day, all three Flyers prospects played well. David Kase was fast, shifty, and showed his high skill level. He had a few scoring chances but, like the rest of his team, had trouble finishing on his opportunities. He made a nice move in the shootout, but was stopped (in other words, he will fit right in on the Flyers).
Ivan Provorov, the Flyers 7th overall pick at the 2015 NHL Draft, was both smooth and smart during the game. He took control of the pace of play, made smart reads in both the defensive zone and neutral zone (including a crucial play in overtime in which he broke up a Czech Republic rush), and quarterbacked the first Russian power play unit.
Unfortunately for Provorov, Russia is carrying eight defensemen on their roster. Therefore, Provorov's shifts seemed few and far between. On the power play, and in the offensive zone in general, he seemed to be far more passive than in both the defensive and neutral zones. On the power play, he stayed cemented to the blueline, and even drifted so far back that at one point he let a simple pass get out of the zone.
Overall, it was a solid performance by Provorov, but if he is expected to be the game-changing defenseman that we all know he can be, he will need to be given more ice time as the tournament continues.
One of the surprises of the early game was the solid play of Radel Fazleev. He went 6 for 11 on faceoffs (54.55%) and set up the Russians game tying goal. Fazleev, got the puck along the boards and made a nice move towards the net. He had Artur Lauta crashing the net, so he passed it to him and Lauta had an easy goal in front.
Throughout the game Fazleev was aggressive on the forecheck and a nuisance for the Czech players. As has been said before, Fazleev may not have an incredibly high offensive ceiling in the NHL, but his all around game really is impressive.
Linblom Scores While Sandstrom Sits
In the second game of the day, left wing prospect Oskar Lindblom had a great game. As usual, he was a beast along the boards and he won his fair share of puck battles. He scored Sweden's second goal of their 8-3 rout over Switzerland. Lindblom skated on Sweden's top line (although, it is hard to call a line with William Nylander the "second line," so it may be safer to say that Lindblom skated in the "top six") with Red Wings prospect Axel Holmstrom and LA Kings prospect Adrian Kempe.
Here is a look at Lindblom's goal from today:
SWE leads SUI 2-0. #RedWings Axel Holmstrom (no. 25) showing off that net-front snarl he has, picks up an assist. pic.twitter.com/5uLDZWxE3c

— Kyle (@KyleWIIM) December 26, 2015
Along with this goal, Lindblom had numerous chances and even hit the post.
Flyers goaltending prospect Felix Sandstrom did not play. He is still battling a stomach bug, but he could play in a few games later in the tournament.
Travis' Play Sparingly
In the final game of the day, two of the Flyers top prospects, Travis Konecny and Travis Sanheim suited up for Canada. Neither player was especially noticeable, except for a play at the end of the first period in which Konecny drew a game misconduct from US forward Alex DeBrincat.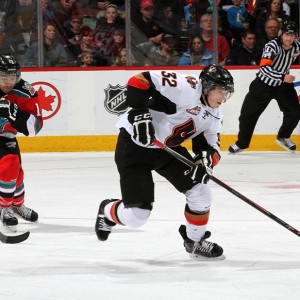 For some reason, Travis Sanheim does not seem to have the trust of the Canadian coach, Dave Lowry. Although Sanheim did have a bad turnover in his own end in the third period, he did not play a terrible game. In the final minutes of the game, as Canada was trying to tie it up, Sanheim had an extended shift in the offensive zone. During that time he kept the puck in the zone beautifully (twice) and showed some of his offensive skills. It was tough to watch Sanheim used so sparingly while his team could have used his skills.
Konecny is a great player, but like much of team Canada, he could not get anything going today. The only players that seemed to be able to create offense for Canada down the stretch were Mitchell Marner and Dylan Strome. By the third period, Konecny was rarely seeing the ice and was clearly out of a rhythm. However, it will be difficult to keep a skilled player like him down for too long.
Ultimately, it was a good day for Flyers prospects. Sure, it would have been nice to see Sanheim, Konecny, and Provorov play more, but each player had moments that reminded the fanbase of the bright future that is to come.