After fantasy drafts took place a few weeks ago, many fantasy owners sat at their computers fixated on their completed rosters. Some salivated at the idea of what their team was built for. Others bit their fingernails hoping they captured the greatest fantasy sleeper of 2015-16.
Now, three weeks into the regular season and the grins have changed to outright smiles and the panic has grown in owners that find themselves dealing with injuries and underperforming talent.
While it's easy to tell these owners not to worry and tell those atop their pools to not get ahead of themselves, it's a given in fantasy sports that we make changes week by week. Here in week three, some key roster players have fallen to the injury bug and owners are looking to fill the gaps in their lineups.
With that being said, here's a look at five players missing in action and how fantasy owners can find a temporary fix for their injury problems.
Logan Couture
Owners of Logan Couture received some bad news last week as it was announced that the Sharks would be without his services for four to six weeks. As he's set to undergo surgery on his fractured right fibula, fantasy owners will be looking to replace Couture's offence at the left wing position.
With the length of his absence in the lineup, owners should look for someone who can be more than just a temporary fix. Two qualified replacements for Couture owners are Islanders' forward Anders Lee and Sharks' winger Matt Nieto.
At 25, Lee shown a lot of potential playing on the Islanders first two lines. He finished 2014-15 with 41 points (25g-16a) in 76 regular season games and is off to a hot start this season with four points (2g-2a) in just five games. Playing alongside John Tavares and Ryan Strome certainly doesn't hurt his offence, and he could be a useful asset in a dynasty or keeper league.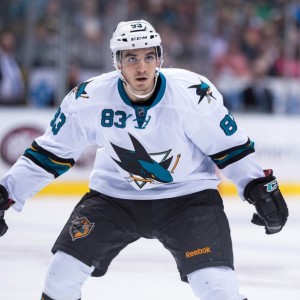 If Lee is off the market and you're still looking to fill that hole left by Couture, fellow Shark Nieto could be a solid pick up. Nieto's been a strong third line presence lined up with Chris Tierney and Tommy Wingels, and will likely push the offensive flow for the Sharks bottom six.
Jordan Eberle
Owners of Jordan Eberle were once again left shrugging their shoulders early this season as the Oilers forward suffered a shoulder injury prior to the start of the regular season. According to the Edmonton Journal, Eberle isn't expected back until mid November – leaving fantasy owners with questions at the right wing position.
But there are some replacements that can fill the void until the Oilers and fantasy owners see the return of Eberle. Take Ales Hemsky for example. With Dallas' offence being so potent this season, Hemsky's seen a slight offensive revival early on.
In three games he has three assists and sits at plus-two (in case your league uses plus-minus rating). He's averaged about 13 minutes the past five games and seems to have an extra jump in his step for the first time since his days in Edmonton.
Now if Hemsky isn't available, Michael Frolik and Erik Condra might be of interest. Neither are offensive studs, but both will likely see significant ice time for their respective clubs. Condra has the ability to play in both ends and isn't going to see his plus-minus take a major hit. Frolik on the other hand has shown glimpse of offensive ability and is a threat to put up some shorthanded points for the Calgary Flames.
T.J. Brodie and Kevin Shattenkirk
Two significant losses on defence are Calgary's T.J. Brodie and Kevin Shattenkirk. Brodie's started skating, but remains sidelined after a broken bone in his hand that has kept him out to start the season. Shattenkirk is likely to miss the next couple games thanks to a lower body injury.
While both could return in the next week or two, now's not the time to leave a hole defensively in your fantasy lineup. That being said, there are a few interesting bandaid fixes for the time being.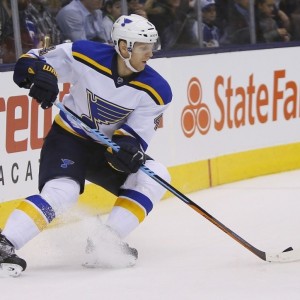 St. Louis' Carl Gunnarsson is one of those temporary fill-ins. Not known for his offence, Gunnarsson's started off the season with four points (1g-3a) in six games for the Blues. Especially with the injury to Shattenkirk, Gunnarsson will likely see an increase in ice-time and should factor in to the Blues' offence.
Another blueliner that might be worth targeting is Sharks' defenceman Justin Braun. Braun may fly under the radar in some pools, but he's a consistent contributor that can fill in while dealing with injuries on the back end of your fantasy team. He has two assists and is a plus-six in five games this season for the Sharks.
Robin Lehner
Finally, it came as a blow to the Sabres and fantasy owners when young goaltender Robin Lehner went down with a high ankle sprain – likely to miss another five to nine weeks. While it hurt the rebuilding Sabres, owners that had Lehner pegged to start a significant number of games are scrambling to fill the void.
While goaltenders might be one of the hardest postions to fill with the number of duos working around the league, there are a couple that might be worth looking into while Lehner remains sidelined.
Winnipeg's Michael Hutchinson is an interesting player worth targeting as he could see more time than many fantasy owners expect. Ondrej Pavelec is expected to get a majority of the starts, but the Jets have never shied away from yanking the number one job from him if things suddenly go south. That's where Hutchinson could become a valuable asset – not to mention his worth in a long-term keeper league.
Scott Darling is another back-up that could play more than some might think. With Crawford's tendency to miss some time every season thanks to injury, Darling could backstop the offensively charged Blackhawks to a few wins this season.
While it's still early in the NHL season, fantasy owners are always looking to pick up the hottest asset on the waiver wire. That being said, don't panic just yet folks as there's still 24 weeks to go in the regular season and with injuries and sleepers, so much can change with your fantasy lineup.
For more, follow Andrew on Twitter at @AndrewGForbes or his THW column at @Tape2TapeTHW.