Over this past offseason, the Pittsburgh Penguins sent a few pieces to the Toronto Maple Leafs to acquire the goal scoring wing Phil Kessel. Through six seasons in Toronto, Kessel scored 181 goals in 446 games played, or .4 goals-per-game. And in four of those six seasons, Kessel topped 30 goals four times.
Coming to Pittsburgh, it was expected that Kessel's production would skyrocket playing with a true number one center. However, in five games played, Kessel has one goal and one assist and Crosby has zero points. A lot of people might think that Kessel isn't the shooting the puck enough, but he's shot 18 times in five games, or 3.6 shots-per-game. While it is down from his 3.73 shots-per-game while he was with Toronto, it's not a significant difference.
Why Isn't Kessel Scoring?
Probably the biggest reason why Kessel isn't scoring is his low shooting percentage. He's currently converting at a rate of 5.6%, the lowest mark of his career. Goals will start coming from Kessel sooner rather than later. He is simply too talented of a player to continue the low conversion rate. For some context, in those six years in Toronto, Kessel was converting on roughly 11% of shots he took.
It's a numbers game for Kessel and right now he is simply getting unlucky. His advanced stats are just as good this season. Through five games Kessel has a corsi-for percentage of 53.9 and a +1.7 corsi-for relative, both marks are the fifth highest on the Penguins.
So besides just waiting around for Kessel to start converting on more chances, is there anything the Penguins can do to jump start his production? Combining the Penguins top two power play lines was a huge step in the right direction. When you have players like Evgeni Malkin and Patric Hornqvist, they should not be on the bench when the top power play is on the ice.
However, what might be a welcomed change would actually be swapping the top two right wings. Play Hornqvist with Crosby and Kessel with Malkin. This has been something people have suggested for quite some time, but no actions has been taken. But in the last few games, Malkin has been determined to fix the Penguins problems on his back. There are streaks when Malkin looks like the best player in the world and during the Penguins 2-1 win of Toronto, he looked it once again.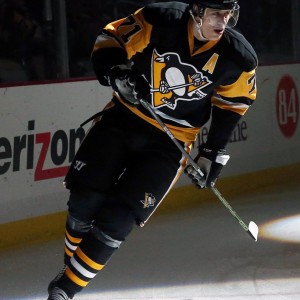 Crosby has been struggling with Kessel on his line. Sure, zero points doesn't look good anyway you discuss it, but it's not like the two haven't been generating chances. They have, Crosby has yet to convert on any of them. However, there's something different about watching him play, Crosby has been becoming a pass-first player over the last few seasons, but he's even further towards that this season. When presented with a chance to shoot or pass to Kessel, Crosby has been deferring to Kessel.
So why not move him "down" a line to play alongside Malkin for a while? Crosby has a 50 goal season under his belt and his shot is more than capable of beating goaltenders, he just needs to start using it again. Malkin looks as determined as ever and maybe Crosby and Kessel haven't developed enough chemistry yet. As much as people want to look at players as X's and O's that are completely interchangeable, they are not. Just look at how well Jarome Iginla played alongside Crosby, sure he was used on his off-wing, but there was no chemistry between the two.
Malkin is playing better without Kessel and Crosby is struggling with him. It's time for head coach Mike Johnston to change up the lines to see if Malkin and Kessel can create some offensive magic and if Crosby and Hornqvist can regain their dominance from last season.
The Penguins have always been a Crosby-first team and Malkin usually plays second fiddle to the captain, but it's time to change up the lines. We've seen Johnston move a few other players around to create the best lineup and Kessel should not be locked onto Crosby's line.
Thanks for reading! Feel free to leave your comments below or tweet me anytime @MPityk