Every 20 games this season, THW will be ranking five players that had the greatest impact on the Anaheim Ducks in that chunk of regular season, which should give observers some sense as to who to watch for throughout the course of the season and into the playoffs. A huge thank you to the excellent work at War On Ice to compile these statistics for the greater good. Without further ado, here are your inaugural top five performers:
5. Frederik Andersen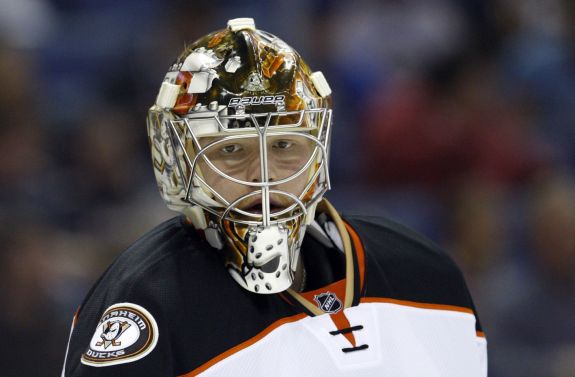 2014-15: GP: 14, Save Pct: .920, GAA: 2.13, W: 7, L + OTL: 6, SO: 1
Andersen's season has been an interesting paradox, as he was on fire early on in the season, posting an incredible .941 save percentage through the month of October while the Ducks got regularly out-shot. In the month of November though, Andersen's game has faltered, and it leaves one wondering whether he could be entering the first "slump" of his short career with a rather pedestrian .893 save percentage. That's a significant drop, and it is worrisome considering that November has included a much more Western Conference-heavy schedule as opposed to October. If observers are to put more stock in "October Andersen", then perhaps he's the elite goaltender the Ducks would like to have to get closer to a Stanley Cup. Yet as the Chicago Blackhawks have proven, an elite-level goaltender isn't an outright requirement to win a Cup, which is good news for Ducks fans.
4. Sami Vatanen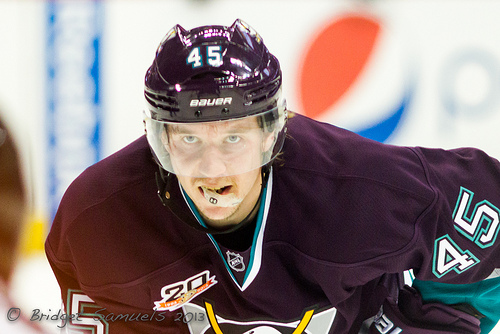 2014-15: G: 5, A: 11, 5v5Corsi%: 48.98, Off ZS%: 51.35, PPP: 10
Sami Vatanen's numbers are anything but great at even strength, but as a young defenseman that figures to improve with experience. He's been absolute dynamite on the power play however, flexing his unique offensive instincts with savvy movement away from the puck, patience with it on his stick, and a cannon of a shot. Pacing the team with 10 power play points (the next closest is Getzlaf with 5), Vatanen is slowly becoming one of the better offensive defensemen in the league. Once he rounds out his game at even strength, he could become a force.
3. Corey Perry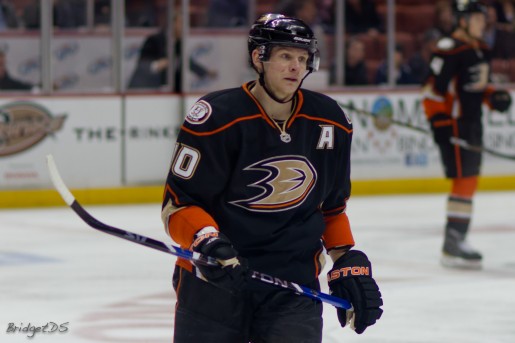 2014-15: GP:15, G:11,  A:4,  S%:25.00,  5v5Corsi%:50.29,  Off ZS%: 53.17
While Perry's possession statistics certainly don't match his immense talent level, the monstrous amount of goals that he's potted in a handful of games easily qualify him to be on this list. What is worrisome however, is that eight of his 11 goals have come against the weaker Eastern Conference, with four of those coming against the pitiful Buffalo Sabres.  On top of that, he's scoring on a fourth of his shots, which is unheard of in the NHL and should probably be expected to level off at some point. However, observers shouldn't put too much stock into these numbers, since Perry has proved in the past that he's capable of maintaining this maniacal level of production, which only means good things for the Ducks moving forward.
2. Ryan Kesler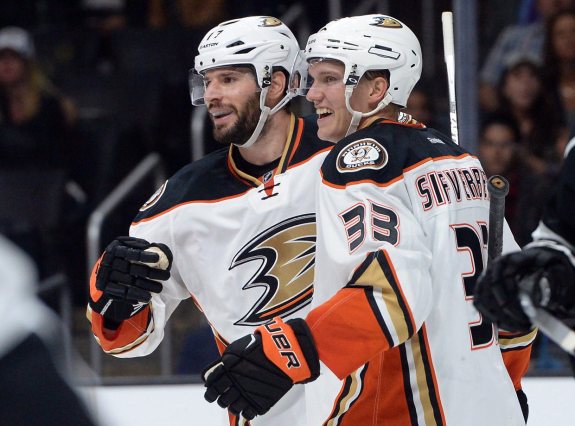 2014-15: G: 6, A: 9, 5v5Corsi%: 52.30, 5v5Off ZS%: 48.09, 5v5FO%: 57.49
Although there's been talk around these parts about whether Ryan Kesler has truly been an upgrade from Nick Bonino, there's no doubt that in a vacuum, Kesler is an elite second line center, which is a requirement to compete in the Western Conference. In just about every Ducks game this season, Kesler's line has at least one or two shifts where they completely control play in the offensive zone. Remarkably, Kesler has actually been starting more than half of his shifts in the defensive zone while still putting up a very respectable possession rating. On top of that, he's winning a mind boggling 57.49% of his draws at even strength. Crunching all of those numbers together, it paints a very interesting picture of him: playing tough minutes and usually starting out in his own end, Kesler has managed to bring the play back into the other zone consistently, all while chipping in a very healthy 15 points.
1. Ryan Getzlaf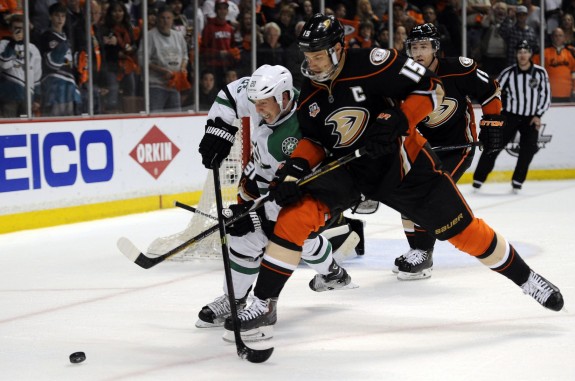 2014-15: G: 5, A: 12, 5v5Corsi%: 52.23, 5v5Off ZS%:49.41, 5v5 FO%: 55.56
Spoiler alert: it's no accident that both of Anaheim's top goal scorer's have played on Getzlaf's line, as he continues to be one of the very best playmakers in the National Hockey League. Whether by design or by sheer circumstance, the two-time gold medalist has started slightly more than half of his shifts in the defensive zone while driving possession at a decent rate, meaning that he's excelled in tough minutes. Just like Kesler, he's been an ace in the faceoff circle, something that any team should want and expect from their top line center. It's almost unfair for the opposition that both the Ducks' first and second line centers are feasting on the draw, and it has to figure as one of the biggest reasons for their success. It all starts with the captain though, and he's looked  every bit himself so far, one magical pass at a time.