Through four games of the Dallas Stars' 2015-16 campaign, it's difficult to put a finger on exactly what this team is. When the men in victory green collapsed in Colorado after a strong opener, early-season overreactions began to surface among a fan base that had been fed nothing but hype coming out of the offseason. However, the Stars have begun to assert their identity within head coach Lindy Ruff's system and put away games that may have turned into disasters in years past, putting Edmonton down at home after two deflections knotted that game at two goals apiece and holding off a Tampa Bay advance in the third period of a game Dallas led 4-1.
While it may come as no surprise to some that the club is trending in the right direction using a commitment to team defense, depth scoring and good goaltending, there have certainly been some surprises through the Stars opening four contests, both good and bad.
Let's count down the top five:
Lehtonen Solid in the Face of Pressure from Niemi
Coming into the 2015-16 season, one of the biggest question marks on the Stars' roster sat squarely above the two goaltenders, Antti Niemi and Kari Lehtonen. After a preseason in which Lehtonen struggled and Niemi did enough to earn the opening night start, Niemi pitched a shutout in the Stars' 3-0 defeat of Pittsburgh.
However, a poor game by the Stars in Colorado and a lackluster performance from Niemi opened the door for Lehtonen to reassert himself, and he's taken advantage.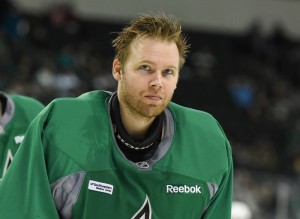 In two games, Lehtonen is 2-0 with a .918 save percentage and an assist. The numbers don't tell the whole story, either; Lehtonen made an incredible save on a Nail Yakupov breakaway in the Edmonton game that turned into the eventual game-winning goal at the other end for the Stars. In Thursday night's tilt in Tampa, Lehtonen made several more key saves, including a point-blank glove stop following a John Klingberg turnover on the doorstep.
Lehtonen, who had an extremely down year last season, can still be an above-average NHL goaltender, especially behind an improved defense. Whether he's responding to the push from Niemi or simply returning to form, a duo of Niemi and Lehtonen playing well between the pipes can mean nothing but good things for a team that longed for solid netminding last season.
Klingberg Shows Signs of Being Human
In 2014-15, defenseman John Klingberg was a revelation for the Stars. He received serious support for the Calder Trophy, and had one of the best seasons a Dallas rookie d-man has ever had. Coming into this season with a brand-new, seven-year contract, hopes were high that he had nowhere to go but up.
While he hasn't been head-scratchingly awful, Klingberg has definitely been human. Playing alongside Alex Goligoski, the young blueliner has chipped in with two assists, but has also had some very shaky moments in his own zone and coughed up some ugly giveaways.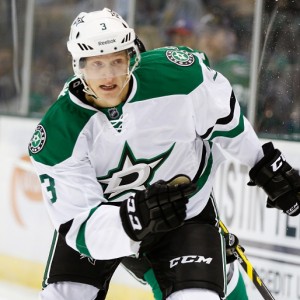 While it isn't time to panic and it's likely these are just signs of a still-young player going through some growing pains, Klingberg needs to kick it into gear and return to playing like the burgeoning superstar Stars fans saw last season. Expectations may be extremely high for a second-year man, but he's proven he has the ability.
Nichushkin Unsteady, Working with Extremely Short Leash
After playing just two games (and recording no points and just five shots), Val Nichushkin has been a healthy scratch in each of the Stars' last two games. He appeared timid, unsteady and slow in his time this season, often taking big hits and seeming a step behind every play.
While it was almost a certainty that the young Russian would have some rust to knock off, not many expected this level on non-production, or the reaction Ruff would have to it. He was patient with Nichushkin during his rookie campaign, but it seems as if the time for patience is over. With a team on the rise and full of offensive talent, players will have to pull their weight or be left behind.
Curtis McKenzie was hurt badly on a hit that caused Nikita Nesterov to be ejected Thursday, so it's likely that Nichushkin will be called on again for the Stars' next game out of necessity. He'll have to get up to speed quickly to work his way back into Ruff's good graces and become an integral part of an offense that's clicking.
Janmark Continues to Impress
While many would argue that this isn't a surprise at all, Mattias Janmark has picked up in the regular season where he left off at the conclusion of Dallas' preseason slate. He's played all four games for the Stars and turned in four points (two goals and two assists). In Thursday's game, he set up Cody Eakin on a beautiful feed into the slot for one of the five Dallas tallies.
The young Swede plays with incredible anticipation, seems to never be behind plays, and has a genuine offensive touch, both when passing the puck and putting it into the net. He's been a valuable contributor for the team since forcing his way onto the opening night roster, and with two forwards already lost to injury, he'll need to continue to be.
Strong Third Periods Outnumber Weak Ones
For Stars fans that kept up with the team last season, the collapse in Colorado told a familiar story; a promising start that quickly became a horrific nightmare on the back of sloppy team defense and a pile of opponent goals.
However, coming off of that defeat, the Stars have responded. At home against Edmonton, the Stars entered the third period tied after two tipped goals evened the game up for the Oilers. Losing to a winless Edmonton team by giving away a third period would have been a classic 2014-15 Stars move, but the team refused to fail to defend their home ice. Lehtonen stood on his head, Roussel fed Jason Spezza for a beautiful go-ahead tally, and the Stars held their lead to put away a game that they needed to win.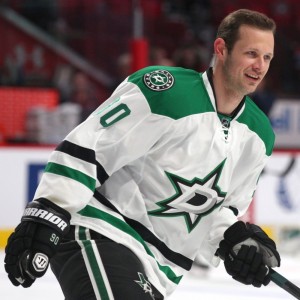 The story was similar Thursday night in Tampa; after a 4-1 lead quickly evaporated into a 4-3 advantage, many a Stars fan leaned back on their couch, shook their head, and muttered, "Here we go again." However, a tightening up of the club's defense and an (admittedly soft) insurance goal sealed the deal, and the Stars left the defending Eastern Conference champion's arena with a full two points.
It's extremely early, but this incarnation of the Stars seems to have the ability that last year's team certainly lacked; the power to hold leads and shut down games when they've played well enough to earn a victory. Sure, there's no denying that a team this offensive-minded and uber-talented on the attack will have its defensive lapses and frustrating defeats, but Ruff and company seem to have taken a step in the right direction.
To Be Determined
The Stars' first four games have shown fans a lot of positives: above-average goaltending, depth scoring, team defense, and a compete level and willingness to battle that should result in far fewer head-shaking losses.
With that being said, it's impossible to overstate how early in the season it is. No team should ever have its identity hung on four games, and there is plenty of season remaining for either more positive steps forward or for the Stars of years past to rear their ugly head.
However, this year's team seems to have what it takes to move further down their path toward being a bonafide contender. Only time will tell, but there's reason for optimism for those in victory green.