The Connor McDavid era has gotten off to a rocky start, and while that isn't uncommon for the Oilers over the past few years, the natives are getting restless. Four losses to start to season, a powerplay that looks out of sorts, and many defensive miscues are causing Oiler fans to push the panic button. McDavid only has one point (a goal) through four games. The team overall has only scored five. Griffin Reinhart has been a healthy scratch already. Andrej Sekera looks like anything but a top-flight defenceman. If you focus on the negatives, it doesn't look great. But let's all take a breath and figure this out.
The Coach
It takes time for a team to adjust to a new coach, and a new system, and it takes time for the coach to get to know his players. Now I've heard the question, isn't that what the preseason is for? To some extent yes, but it's more so to see which players are going to stick with the team, and to allow prospects to get some experience. Todd McLellan didn't have a ton of preparation with the present group. And it shows.
The team looks a little unorganized at times. Some players are trying to do too much, and others are not doing enough. Should there be a concern over the lack of cohesion? Is that something that will come with more time together? I hear the phrase "they need to gel" mentioned a lot. And that's a valid point. There are a lot of new faces throughout the lineup. But obviously, the team can't fall too far behind while they're trying to find their footing. McLellan is going to find the right style for his team. He's still learning who they are just as much as we are. The players are trying, they just aren't making the best decisions. That's something the coach needs to address.
The Inexperience
Even though players like Taylor Hall and Ryan Nugent-Hopkins have been in the league for several years now, they still have never played in a winning environment. They don't know what it takes to get to the next level. They have improved the goaltending, but again, they brought in guys with very little NHL experience. Getting back Jordan Eberle will be a boost. But this group still has a lot to learn. And they will learn it, maybe not as fast as many are hoping.
The Connor McDavid factor had many people around the hockey world dreaming of a magical turnaround in Edmonton. Some were even predicting playoffs. It was tempting to take the bait, but a new coach, a ton of new players, an unproven goalie in Cam Talbot and a young roster spells growing pains, no matter who they drafted in the offseason. The trouble with the Oilers (and I've said this countless times) is that their consecutive first overall picks were misleading. Yes, they got good players. But those guys weren't going to turn this team around on their own. There was still a lot of work to be done.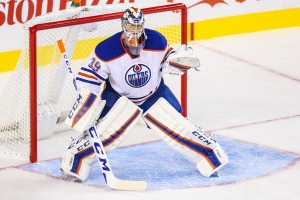 The Expectations
In drafting McDavid, the Oilers got that generational player they needed, and now the building begins. Unfortunately, the building process has seemingly been going on forever, and people are getting impatient. They want to see results. But this team has been such a mess for years. They waited too long to clean house in the management department. I don't want to say they had to start over, but they kind of did. Not to suggest the last few years have been totally wasted. But if you look at this season as a new beginning, it may help temper your expectations a little.
I understand there is excitement. How can there not be after the summer this team had? But there were so many mistakes to be undone and problems to be fixed, and it's going to take more than one training camp to finish the process. I'm not trying to make excuses for the losing. Because I see some of the mistakes, and some of the bad plays and it's frustrating. Watching the Oilers go up against teams like the Blues and Predators, and they look small. They look weaker, and nervous. Can that be fixed over time? Are there still big moves to be made regarding the roster?
Todd McLellan, Peter Chiarelli and the management staff are evaluating this team with every game and every practice. Don't think for a moment that they're going to accept a losing culture. That's been going on too long. But I don't think anyone really understood the magnitude of what had to be done to re-direct this group. The players that are willing to buy in, they'll be here for the long haul. The ones who don't, well they'll be shown the door. This team will be good, just not right now. I know that's not what anyone wants to hear.