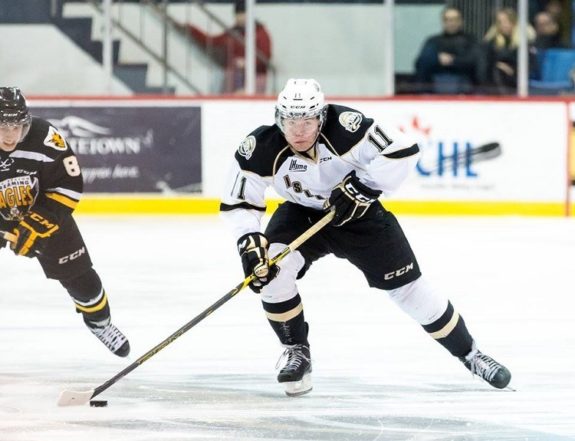 For the first time in over a decade the Philadelphia Flyers have two first round draft picks. As is usually the case, the majority of scouts agree on the top tier of players. Everyone knows that Connor McDavid and Jack Eichel will be picked first and that Mitchell Marner, Noah Hanifin, and Dylan Strome will likely fall in behind them.
Therefore, barring a major shake-up, the Flyers will be left with one of Ivan Provorov, Mikko Rantanen, Matthew Barzal, or Lawson Crouse with the seventh overall pick. What is much harder to project is who will be available with their late first round pick. It will likely be towards the end of the first round.
The players available to them at the 7th spot are all high-quality prospects. Although it is always possible that the player they choose at number 7 becomes a bust, those top tier players are generally easier to project. The key to this draft will be how the Flyers use their late first round pick and all of their picks in the later rounds.
There is no telling what teams will do between picks 7 and 24 (the earliest the Flyers can pick). But I would like to take a look at five players who may be available and who should be on the Flyers radar.
1. Daniel Sprong – RW – 6'0″ – 180lbs
CSS Ranking (NA): 20
Team: Charlottetown Islanders
League: QMJHL
Season Stats: 68GP – 39G, 49A – 88pts
Playoff Stats: 10GP – 7G, 4A – 11pts
THW Scouting Report
Daniel Sprong is a highly skilled forward who could slip to the latter half of the first round. Some have already pegged him as a possible steal in this draft due to his skills, skating, and high hockey IQ. This season was Sprong's second consecutive campaign averaging at least a point per game in juniors, yet he is likely a couple of years from being NHL ready. However, with skills like his, he would be hard to pass up.
Take a look at some of his highlights below:
2. Oliver Kylington – D (left) – 6'0″ – 185lbs
CSS Ranking (EU): 6
Team: Farjestad
League: SHL
Season Stats: 18GP – 2G, 3A – 5pts
THW Scouting Report
Oliver Kylington has seen his stock drop dramatically over the past year. Prior to the 2014-2015 season, Kylington was presumed to be a top-5 pick and he was still the top ranked European skater by the CSS when their midterm rankings were released. However, due to an injury and the exceptional play of others, Kylington has not even been placed in the first round in some recent mock drafts.
Kylington has been playing in the SHL against grown men since he was 16 years old. He is a swift puck mover whose underage SHL point totals mirror those of Erik Karlsson and Victor Hedman. He has flip-flopped between the SHL and Swedish juniors over the past couple of years, but his body of work is still impressive. The skills that earned Kylington such high praise a year ago have not disappeared. Kylington would be a dynamic pick up who could be NHL ready within a year or two.
Here is what the CSS Director of European Scouting, Goran Stubb, had to say about Kylington:
Oliver is a very good skater with first-step quickness and fine balance. He's a two-way defenseman who loves to join the offensive rush. He's smart, with excellent hockey sense and passing skills, and can read situations very well.
3. Paul Bittner – LW – 6'4″ – 204lbs
CSS Ranking (NA): 26
Team: Portland Winterhawks
League: WHL
Season Stats: 66GP – 34G, 37A – 71pts
Playoff Stats: 17GP – 4G, 8A – 12pts
THW Scouting Report
The most obvious trait that Paul Bittner has going for him is his size. At 6'4," 204lbs, he is physically ready for the pro game. What makes Bittner a good prospect is the way in which he "thinks the game well and is able to frustrate opposing players while playing physically." When a prospect is regarded highly based solely upon his size, that should be a red flag. At the NHL level a player needs skills and a high hockey IQ to become a solid player, not just a big body.
Although it may take some time for him to become an impact player at the pro level, Bittner would be a great addition to the Flyers farm system. Not only did he produce at a high clip this season, but he improved significantly as the season progressed. His 41 points in the final 33 games were good for a 1.24 points per game average. Ultimately, Bittner brings a great combination of skill, size, and smarts that would instantly make him one of the organizations top forward prospects.
4. Mitchell Vande Sompel – D (left) – 5'10" – 182lbs
CSS Ranking (NA): 34
Team: Oshawa Generals
League: OHL
Season Stats: 58GP – 12G, 51A – 63pts
Playoff Stats: 18GP – 4G, 9A – 13pts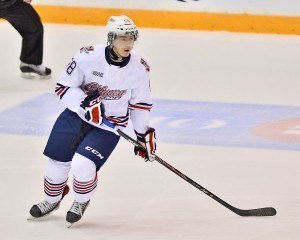 Any defenseman that can average over a point per game as a seventeen-year-old in the OHL deserves to be taken seriously. Sure, he is small and he will never be one to win battles along the boards. But with his skating and puck skills he has all of the tools to become a highlight reel defenseman. Vande Sompel will surely need some time after his draft season to develop, but his high upside could be worth the wait.
Right now, Vande Sompel's Oshawa Generals are taking on Connor McDavid's Erie Otters in the OHL Finals. Although Oshawa plays a solid defensive game as a team, there has to be credit given to their individual defensemen for the way they have shut down McDavid so far in the series. Although Vande Sompel may never be able to be an all around top pair defenseman, he should be able to find a top-4, top PP unit role on some NHL team in the future.
5. Denis Guryanov – RW – 6'2″ – 192lbs
CSS Ranking (EU): 7
Team: Togliatti
League: MHL/KHL
Season Stats: (MHL) 23GP – 15G, 10A – 25pts
(KHL) 8GP – 0G, 1A – 1pt
THW Scouting Report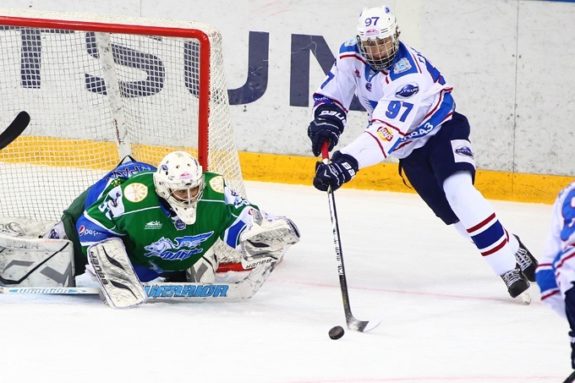 Denis Guryanov (also spelled Gurianov) is a left-handed right winger. His size, skill, and relative obscurity could make him a steal in the 2015 NHL Draft. He averaged over a point per game (.65 goals per game) in Russia's junior league (MHL) and even earned himself eight games in the KHL. As a point of reference, Tampa Bay Lightning winger Nikita Kucherov played eight KHL games during his draft year, going scoreless and earning two assists. Kucherov was also over a point per game player in the MHL during his draft year, though he played more games than Guryanov.
Curtis Joe of Eliteprospects.com had this to say about Guryanov last year:
A highly skilled forward who intimidates with his speed and proficient puckhandling ability, Denis Guryanov may have one of the highest ceilings as a forward prospect for the 2015 NHL Entry Draft.
Yes, he's Russian, so it may be a few years until he decides to play in America. But a player with his speed, shot, and playmaking ability could be able to come over in a few years and make an immediate impact.
Ultimately the Flyers will pick the best player available with their late first round pick. They may already have a nice stable of defensemen prospects, but that should not deter them from drafting a blue-liner if they deem that player to be the best available. No matter who they select, the player will likely take a few years to hit the NHL, if he hits the NHL at all. Buckle up Flyers fans. This draft should be a lot of fun!
I am 23 years old and I've been a Flyers fan since I was six years old. I love to break down the game and take a look at prospects. I always appreciate your thoughts and feedback, so feel free to use the comment section or interact with me on Twitter.