Denis Guryanov THW Close-Up:
Team: #97, Ladia Togliatti, MHL
Date of Birth: 06/07/1997
Place of Birth: Togliatti, Russia
Ht: 6' 2″     Wt:  185 lbs
Shoots: Left
Position: RW
NHL Draft Eligibility: 2015
THW Ranking (The Next Ones; Chris's List): not ranked
Other Rankings:
NHL CS Midterm: 7 Eu Skater
FC Mid term: Not ranked
***
***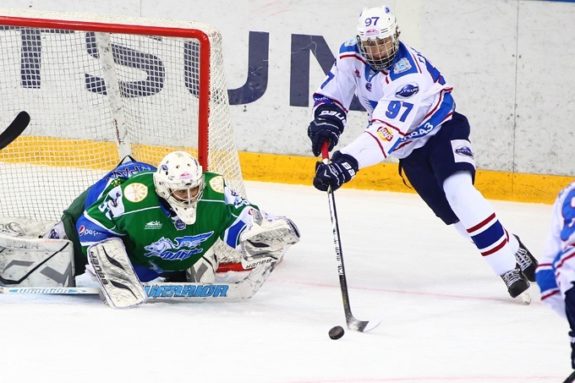 A future Russian Factor victim?
A winger with good size and smooth hands, in other years Guryanov would have been considered a much more valuable prospect. With the Russian Factor, similar players usually get drafted in the lower rounds, especially if they are yet to significantly play in the KHL. A good example of this is Alexey Marchenko, drafted only during the seventh round. Guryanov hails from Togliatti, a Russian city on the Volga with strong hockey traditions, that produced a number of NHL players like Alexey Emelin, Alex Kovalev, Viktor Kozlov, and Ilya Bryzgalov. The 6'2″, 185 lbs. winger spent his whole career playing within the Lada system, and since his early years he earned a good name scoring goals. He is also a regular with Team Russia of '97-born players, where he always played a prominent role, scoring many goals there too.
Guryanov is a natural goal scorer who can crash the net or create goal chances with his technique and skating abily. His quick release allows him to be a real threat whenever is on the ice, and his size allows him to win board battles and have some physical edge on his game. He tries hard on defense, but can improve his own-zone game.
Scout's Honour:
"Pro-style wing whose powerful legs get him to the front. Has shown his superiority, starting in the Five Nations Tourney, by making plays and taking shots while completely covered due to the size and hands. Terrific heavy shot and quick release. Strong board player and and on the cycle. Plays a 200 foot game with strong defensive commitment. Potentially a top end pro-style wing prospect who gets most boxes checked in terms of size, skill, skating, hockey sense, hands and power. His powerful stride makes him almost unstoppable as he goes were he pleases and can release his cannon shots while defenders attempt to drape themselves on him. Strong three zone player who is very responsible on the back check. Owns the wall and his powerful stride lets him bull his way towards the net and unleash the puck while in full-flight. Was the biggest standout in the World Junior A Challenge were he was dangerous on most of his shifts." – Bill Placzek on draftsite.com.
Where He'll End Up In June:
Denis Guryanov is a first round talent, but most likely he will be picked lower. He doesn't have much experience in pro hockey, and he didn't play at the WJC this year. A third round selection would be a reasonable forecast.
Statistics:
NHL ETA:
Risk/Reward Analysis:
Risk: 2.5/5   Reward: 4.00/5
NHL Potential:
Highest: 1st line forward; Realistic: Scoring line player
Strengths:
Puck skills
Excellent scoring touch
Very good shot with a fast release
Size
Skating abilities
Very good acceleration and first step
A very hard worker
His play (and size) should allow a good adaptation to North American hockey
Flaws/Aspects He Needs to Work On:
Can improve his defensive game
Needs to be tested against better competition
Fantasy Potential:
Offensive: 7.0/10    Defensive: 5.5/10
Video(s):
** THW's The Next Ones prospect profile template design architect: Chris Ralph