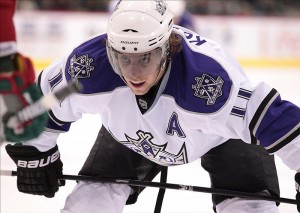 Two games, two losses.
C'mon, we all knew there was no chance the Kings were going to rampage through the playoffs like they did during their historic run last year, right? Hockey, like baseball, is a game of inches, and if not for a post here or glove save (or lack thereof) there, this could be an entirely different series. Statistically speaking, the bounces and breaks between two evenly-matched squads should even out over time. St. Louis has arguably taken advantage of theirs better than L.A., at least so far during these playoffs. There is no reason to think the tide won't turn with a little home cooking.
So why are we long-time Kings fans beginning to feel that familiar, palpable sense of dread?
History is not on the Kings' side
Since 1941, teams have gone down 0-2 in a playoff series 291 times. Only 37 times has the team who fell behind come back to win the series (12.7%), the most recent being 2010 when the Flyers defeated the Bruins 4-3 in the Eastern conference semifinals. The Kings can take slight solace in the fact that they were one of those teams, beating the Detroit Red Wings 4-2 in 2001. However, thanks to holding serve in St. Louis, the math indicates that the Blues now enjoy an 87.3% probability of winning this series. The hill the Kings will need to climb is pretty much sloped at the same angle.
Los Angeles' playoff history is even bleaker. Not counting last season, the Kings were 11-25 in previous playoff series. Heck, even counting 2011-12 still gives them a rather pathetic 15-25 overall playoff mark. Sure, the momentum turned in quantum fashion last year, but here we are, one year later — and the hairs on the backs of our necks are beginning to tingle once more.
So what needs to happen in order to get back into this series? A few things come to mind:
Anze Kopitar needs to be Anze Kopitar
Once upon a time, there was this Slovenian wunderkind named Anze Kopitar, who seemed to not only enjoy setting up his teammates, but scoring goals as well. He wasn't ever going to be Alex Ovechkin, Brett Hull or Paul Kariya and shoot the puck on net over 400 times in a single season (Ovie's personal high is 528 in 2008-09, the second-most in league history), but he could still record around 250 and tally 34 goals as he did in 2009-10. He reached 30 in one other season and has produced at least 25 every year since his rookie campaign — until this one.
Where did that guy go?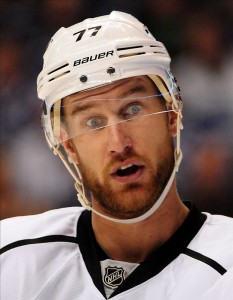 He's been hanging around Joe Thornton too much, that's where he went. Kopitar has gone from averaging around three shots per game to two, tanking his offensive production in the process. Sure, he's still setting up his teammates with aplomb — just like Thornton — but his wicked wrister only resulted in 10 goals this year on just 98 shots. The Kings need him to be more of a direct threat to score, that's for sure. They can't rely upon Justin Williams and Dustin Brown to produce all the offense in this series.
Jeff Carter is making our THW panel look bad
In Jeff Ponder's piece previewing this series, three out of four of us predicted Jeff Carter would be series MVP. With no points and a -2 so far in two games, he's been anything but that. It's early, of course, and Carter deserves all the credit for a strong regular season (26 goals), but the Kings need him to step up in a big way. Now.
Jonathan Quick must recapture his 2011-12 playoff magic
Statistically-speaking, Quick has been excellent, with a 1.81/.940 stat line over the first two games. It appears his back is fully healed and he's regaining his unofficial nickname "the spider" for his low, hunched scrabbling about in the crease. Alas, he's also regaining his penchant for poor puckhandling, as evidenced here:
Quick hasn't ever been known to excel in this facet of the game, and his indecision cost the Kings dearly in game one. In game two, he was great once again, but it's still tough to see Barret Jackman (with just 23 goals in ten NHL seasons) rifle one cleanly past Quick's glove. It's probably sour grapes talking, but the 2011-12 version of Quick makes that save.
Drew Doughty must be a difference-maker
He's eating up minutes at the pace of 30:42 per game, and playing the best defense of his career. I'll admit that I questioned the wisdom of signing him to that huge 8-year, $56 million contract in 2011, and although he's never approached his monster 2009-10 season in terms of productivity, he's worth every penny of that contract today. Only an elite few defensemen in the NHL have his combination of speed, size, strength and puck-moving ability, not to mention a cannon shot from the point.
However, in a low-scoring series where the big guns must stand tall, Los Angeles needs Doughty to generate more than one assist and three shots in two games. Last year, he made a difference. The story has yet to be fully written for these playoffs.
Dustin Brown must knock some heads together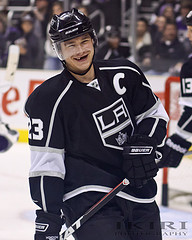 You know those old Three Stooges films where Moe grabs Larry and Curly's heads and clonks them together like coconuts? That's what Dustin Brown must do to David Backes and Alexander Steen. He might as well steamroll T.J. Oshie, Chris Stewart and David Perron while he's at it. The Kings won the Cup last year in large part due to Brown's game-changing physicality. He's not been tiptoeing out there this series, but he's got to raise it up a couple of notches.
Let Kopitar take the shots. Please. Stand by the net, smash any Blues player who comes within five feet of you, and bat in the ugly goals, Dustin.
Tonight's game
To paraphrase Bill Murray's line from Groundhog Day: It's going to be cold, it's going to be a fray, and it's going to last the rest of the evening. Expect exactly what you've already seen in this series, only more of it. More hitting, more scrums, more fights and more battles for the puck. It will be intense, no doubt about it.
Now, if we Kings fans could only see more from Kopitar, Carter, Quick, Doughty and Brown, maybe that nagging feeling would go away for at least one more day.
Walter McLaughlin is a Los Angeles Kings correspondent for The Hockey Writers. He is an avid sports fan, having followed the Kings since living in L.A. in the mid-1970's, as well as suffering through Seattle sports teams' general futility. He has a Bachelor's degree in Finance and has worked in community banking for over 25 years, specializing in SBA loans. He is married and has two daughters.