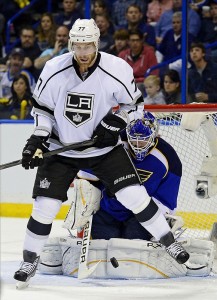 In a rematch of their Semifinal Series in 2012, the St. Louis Blues and Los Angeles Kings will meet up in the Quarterfinals to kick off the 2013 playoffs.  After losing to the Kings in a four-game sweep one year ago, the Blues will look to get revenge on the reigning Stanley Cup Champions.
Both teams have a slightly different makeup from last season, so it will take a panel of writers to decipher what may happen in the coming series.  Before we get into the people behind the panel, here are some important factors to consider about the Blues and Kings' matchup in the 2012-13 NHL regular season:
Regular Season Series Winner
Los Angeles Kings (3-0-0)
Regular Season Series Top Offensive Performers
Jeff Carter (3G-1A–4P; +3, 10 SOG)
Regular Season Series Top Goaltender
Jonathan Bernier (.867 save percentage, 4.43 GAA; stopped 24 of 30 shots)
The esteemed panel includes different views from TheHockeyWriters.com, ranging from team correspondents to team editors.  This collaboration of hockey minds include:
Walter McLaughlin, Team Editor for the Los Angeles Kings
Meesh Shanmugam, Team Editor for the Pittsburgh Penguins and former Los Angeles Kings Correspondent
Bill Sunshine, St. Louis Blues Team Correspondent
Jeff Ponder, Team Editor for the St. Louis Blues
The questions posed about the impending series were not answered quickly.  Each writer took many factors into account and have plenty of evidence to support each answer.  So without further ado, I present to you the five important questions posed to each writer, including their answers.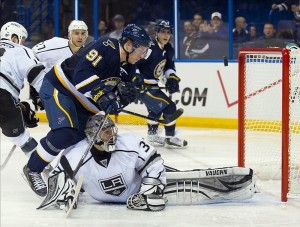 Which team gets the nod in goaltending?
McLaughlin:  It is the widely-held belief that this will be a low-scoring, hard-hitting series. With the way both teams play the game, most pundits just can't picture one team blowing the doors off the other – including yours truly. Thus, with the limiting of shots (both teams finished in the top five in shots against) and thus scoring chances, goaltending will likely be excellent on both sides. Both goaltenders will be up to the challenge, no doubt about it.
With the teams this close defensively, the edge probably has to go to Quick, if only because the lingering issues with his offseason back surgery seem to have finally disappeared and he has the larger body of previous success to draw upon. But it's a close nod, no doubt about it.
Shanmugam:  When the Western Conference Semifinals began a year ago, the running joke was that these two teams would take seven games and score a combined seven goals in the series.  The same joke will not be used this year as both Brian Elliott and Jonathan Quick have had their struggles throughout the season.  Both have played much better entering the playoffs though, especially Elliott who went on an absolute tear to end the season as he won six out of his last seven games.  Elliott deserves a nod for his hot streak.  Quick deserves a nod for what he did last year. Expect a lot of 3-2 and 2-1 games and some brilliant saves from both goaltenders.  After last year's results, I'm still picking Quick over Elliott.
Sunshine:  While Brian Elliott has been hot of late and Jaroslav Halak has a history of carrying teams, the Kings still roster the reigning Conn Smythe winner. It's Jonathan Quick. You know, that guy that posted a 1.41 GAA in 20 playoff games last year? Any time you can do that, you get the nod as the better 'tender in my opinion.
Ponder:  In the regular season series, every goaltender for each team was used (with the exception of Blues rookie Jake Allen).  With 21 total goals scored in just three games played, it's apparent that the top defensive play for which each team is known was nowhere to be seen.  The playoffs should bring a more familiar element for both the teams, as both were tied for 7th overall in goals-against this season (2.38).  The series could come down to which goaltender comes up with the big save late in games.  If Jonathan Quick can return to form and Brian Elliott and continue his outstanding performance (which landed him the NHL's second star of the month in April), one-goal games will likely be the theme throughout this series.
The nod has to go to Quick, who proved last year that he was a big-time goaltender.
In a series known for grinders, which team's bottom two lines will prevail?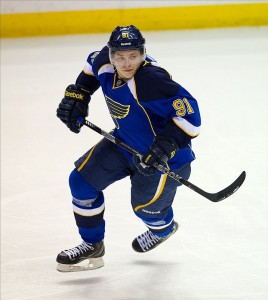 McLaughlin:  While in many ways Los Angeles plays like an entire team of grinders, so do the Blues. With respect to the lower lines, I like the combination of Perron/Berglund/Tarasenko over the Kings' Penner/Stoll/Lewis, as I think it's more likely to produce offense without sacrificing the defensive work that line needs to put in.
The fourth lines aren't that far apart, but in a close series, the ability to score when the skill players are being neutralized can be a difference-maker, and the Blues have it over the Kings in this area.
Shanmugam:  The reigning Stanley Cup Champions won their title a year ago not only through goaltending, but also because of their versatile depth at forward.  Guys like Jarret Stoll, Trevor Lewis, and Dwight King are not only capable of getting into a grinding type of game, but they can also find a clutch goal when necessary to boost the team.  Add in the big physical presence of Jordan Nolan and Dustin Penner, and the grinding lines of the Kings can pretty much do it all.  The Blues also boast forward depth but have specified roles with a more offensively talented third line and a more physical, gritty fourth line.  The versatility of the Kings' grinders will be an asset, but I do not believe they can completely keep up with the offensive depth of the Blues.
Sunshine:  It all really depends on the Blues lines, aka, what Ken Hitchcock does with Oshie, Schwartz, and the Blues' 4th line. I'm not very impressed with the Kings' bottom-six and I've pegged the Blues fourth line as a big key to the series. But the Blues really need to find a way to neutralize the Kings top two lines. The Blues had trouble containing them last year and if it happens again this year, they can kiss their playoff hopes goodbye.
Ponder:  The St. Louis Blues have rolled out one of the best fourth lines in hockey the past few weeks.  Grinders Ryan Reaves, Chris Porter and Adam Cracknell have posted 7 points (3G, 4A) in the last five games of the regular season.  The return of forward T.J. Oshie may break this line up, as Cracknell is believed to be the odd-man out while a slew of forwards could move to the fourth line (including Vladimir Sobotka, Jaden Schwartz or Patrik Berglund).  Although the Kings are known for their tremendous depth, the Blues' focus on building top-notch third and fourth lines could prove to be their edge in tough games late in the series.
Who are your picks for being a top breakout candidate in this series?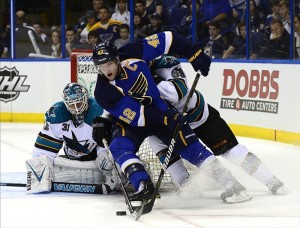 McLaughlin:  For Los Angeles, keep a close eye on the previously unheralded Jake Muzzin. With so much attention about to be paid to guys like Carter, Kopitar, Richards, Brown and Doughty, a guy like Muzzin, who led the defense in goals (7), +/- (+16) and was third in both shots and PIMs, may be able to capitalize if he can get time and space.
My Blues' candidate is not going to be an unknown name, but he's vital to their chances this year: David Backes. He only scored six goals this year and shot a career-low 6%, but don't think for a second that he can't be a difference-maker, both offensively and with his hard-hitting style. St. Louis is well aware that the Kings' Dustin Brown put an exclamation point on their playoff run last year and they hope Backes can do the same for them this post-season.
Shanmugam:  For the Kings, rookie defenseman Jake Muzzin has shown an impressive level of poise throughout this season and could be a big factor against the Blues.  As the Kings look to get their big bodies in front of Elliott, watch for plenty of screens and shots from the point.  I will not be surprised at all if Muzzin gets a few shots on net that beat Elliott through screens or deflections.
For the Blues, leading scorer Chris Stewart should be a huge thorn in the side of the Kings all series.  It may seem odd to consider Stewart as a breakout candidate after a solid season with 36 points in 48 games, but it will be his time to shine and get the spotlight if the Blues can pull off a series win over the Kings.  His physical presence will be a huge key against a Kings defense that plays smaller than last year's version.  He will also almost certainly get into the head of Jonathan Quick, who has an underrated temper.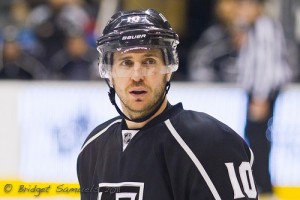 Sunshine:  Jaden Schwartz and Mike Richards. I really liked what I saw from the Schwartz-Backes-Steen line towards the end of the season. Based on recent lines at practice, it looks like Hitchcock liked what he saw too. Schwartz has nice skill, good puck possession abilities, and he's not afraid to drive the net. Those are my favorite types of players and are always breakout candidates.
Mike Richards. That's all the really needs to be said. He's a gamer; a playoff dominator. He has 17 power play points this year; he's going to find his name on the score-sheet this series.
Ponder:  For the Blues, Jay Bouwmeester will be playing in his first career playoff game Tuesday night.  Although he is already known around the league as a strong-skating defenseman with good hands, he still has to prove that his game will translate to the playoffs.  If he can get in a groove early, he could be the Blues' diamond in the rough in tight-defensive games.
As I mentioned in the answer to the last question, the Kings are one of the deepest teams in the league.  Some players to watch out for may not even be on the team's top two lines.  Tyler Toffoli, a second round draft selection in 2010, has played in just 10 games this season but has fit the team's mold quite nicely.  Although he is not likely to play in game one, he may be used if the Kings fall behind in the series at any point.  Dwight King is always a solid choice; he was instrumental in the Kings' four-game sweep of the Blues last post-season.  It was his hit that knocked out Blues top-defenseman Alex Pietrangelo in game one of the series.  He also posted eight hits in the last two games of the four-game sweep.
Who is your top candidate for Series MVP?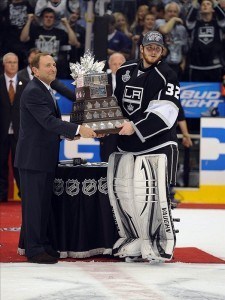 McLaughlin:  Jeff Carter. Carter has clearly returned to dominating form this year after disappearing much of last season, and I believe his inexorable roll continues during the upcoming playoffs. Quick will be very good and may get some votes, but so will Elliott, and in the end I can see a few overtime games in the offing, where 4-on-4 skating will give Carter the chance to play the hero. He's pretty good at delivering on those types of opportunities.
Shanmugam:  My prediction for series MVP is going to be Jeff Carter.  Carter has led the way for the Kings with plenty of clutch goals, including 8 game winners this season.  In what should amount to be a defensive battle, Carter's wrist shot will prove to be lethal against Elliott and the Blues.  If the Blues do win the series, my bet is on Chris Stewart.
Sunshine:  If I want my series prediction to be correct, it better be Brian Elliott and the entire Blues power play.
Ponder:  Jeff Carter.  After lighting the lamp 26 times in the regular season, Carter has proven that he still has that scoring magic that he possessed in Philadelphia.  If he finds the back of the net early in the series, he will continue to do so as he knows how to keep himself motivated.  Jonathan Quick could make a case for the MVP, but his tight defense in front of him will help him stay out of the spotlight for most of the series.
What is your final prediction in the seven-game series?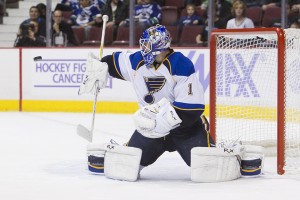 McLaughlin:  As I said at the start, there is little chance one team steamrolls the other in this series. On the strength of a superior offense alone (defenses and special teams are virtually identical), I am giving the edge to Los Angeles in this series, despite the fact that the Blues have the home ice advantage. But it isn't going to be easy, that's for damn sure. Kings in seven.
Shanmugam:  Kings in five.  The Blues are better equipped to handle the Kings than last year, but it still will not be enough.  The Kings were 3-0 against St. Louis in the regular season and they will continue that dominance in the playoffs.  This is just an unfortunate first-round matchup for a very talented Blues team.
Sunshine:  Blues in seven. Let the fun begin.
Ponder:  Kings in five.  Despite the Blues posting an amazing 12-3-0 record in April, their ineffectiveness against a solid Kings lineup will continue through the 2013 playoffs.  The Kings have won the past eight meetings with the Blues (including the regular season and playoffs) and will continue to punish the Blues in the corners and around both nets.  The glimmering hope for St. Louis is that the new-look defense has been one of the league's stingiest in April (allowing just 22 goals in 15 games), but their inability to penetrate Head Coach Darryl Sutter's system has proven to be an annoyance in the past and will continue to be troublesome this series.