The Vancouver Canucks set two new club records on their 7-2 drubbing by the lowly Edmonton Oilers who are already thinking about golf season.
1. To keep his ironman streak intact, Henrik Sedin played only 22 seconds and left the game.
2. After being kept in net for the entire slaughter, Roberto Luongo hit the showers, slicked his hair back, slipped into this suit, and left the visiting dressing room in only 12 minutes.
http://youtu.be/MX-3gs-KUi4
Season Over – Let's Move On
Since the end of last night's game, the social media was fluttering with so much speculation. The droned commentary from every fan of the game was endless. Questions were being bantered around since the 7-2 slaughter in Edmonton.
Why did Henrik last a minute and should he have helped out the entire game?
Why did Coach Alain Vigneault not dress his regular players for a playoff tune-up?
How serious is Cory Schneider's "injury?"
How is Lou's psyche after getting hung out to dry by Coach Vigneault?
What's going to happen if Luongo has to start Game One against the San Jose Sharks?
The more important question is: How far can Vancouver go, despite Luongo's humiliating end?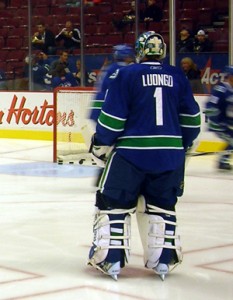 First Round Scenarios
Now that the Canucks will face the San Jose Sharks in the first round, many fans are still left wondering what's going to happen next. The Canucks' record against the Sharks hasn't been exactly great, losing all three games against them this year. They have been close, but a loss is still a loss.
When San Jose doesn't play Vancouver, they haven't been a stellar team. Their short record ended up being 25-16-7, just one win short of the Canucks' 26-15-7 record. In reality, a contest between these two isn't going to be very one-sided.
San Jose has the proven personnel and the strategy to beat Vancouver. With the likes of Joe Thornton, Joe Pavelski, Logan Couture and the streaky Patrick Marleau, the Sharks overall offense could easily overwhelm the Canucks young D-line. San Jose's defense led by Brad Stuart and Scott Hannan might be enough to frustrate Vancouver's fading offensive powerhouse. Without active participation from the likes of Ryan Kesler, Mason Raymond or the newly-acquired Derek Roy, the Canucks may only have the Sedin Line to contribute all series long, if the Twins or Alex Burrows don't get into a postseason funk themselves.
You could also say that Antti Niemi has the overall experience to outmatch the inexperienced Cory Schneider and very streaky Roberto Luongo. But he doesn't have the stacked & talented roster like the 2013 or the 2010 edition of the Chicago Blackhawks in front of him. Niemi can be beaten if the Canucks can learn to frustrate the Sharks defence and disrupt Niemi just like they did in the 2011 Conference Final. The Canucks must realize that winning ugly does and still mean winning, period.
Look forward to a grueling and grinding series on the West Coast.
You can be sure that regardless of which team makes it past the first round, there's going to be monumental and fundamental changes to the team that falters.
Luongo is All Class
If Luongo goes at the end of this year's playoffs, Vancouver is going to miss a class act, whether you agree or disagree with his legacy. He says he "had a moment" to be by himself and re-group. Lou took it upon himself to pull away from the media, re-focus and move past the 7-2 blowout, and perhaps avoid a near blow-up with the team and the media.
Wherever Lou ends up, he will always have my sincere respect.
My Prediction: Vancouver in seven tough games.
A former novice/atom player, timekeeper and fan of the game, Peter has lived and breathed hockey throughout his life, covering hockey happenings in Edmonton, Vancouver, and currently in Saskatchewan. He is now a contributing writer for the Hockey Writers.