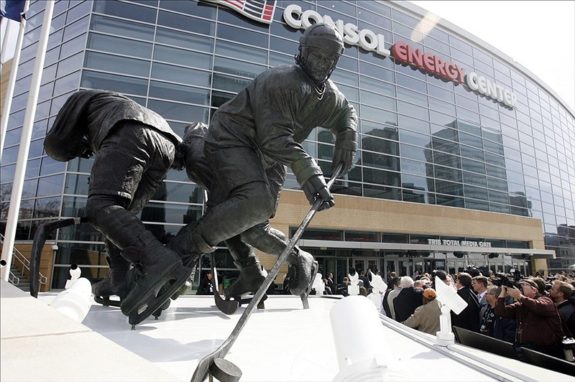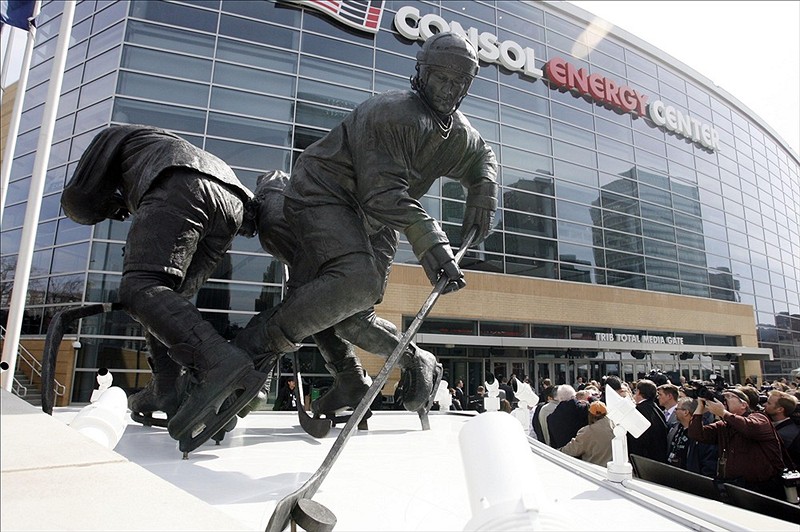 After splitting two games in Pittsburgh, the Penguins and New York Islanders head to Long Island with very different goals in mind.
Coach Jack Capuano and his Islanders will be looking to duplicate their effort from Game 2, a surprising 4-3 comeback victory.
"Our gameplan was to play the way we know how to play," Capuano said. "I think you saw a little different team than you saw in Game 1. I thought that, for the most part, we did a lot of good things tonight from a structural standpoint. Our work ethic was there tonight. Our physicality was there tonight. Our battle level was there tonight."
In Game 1, the Penguins limited the Islanders scoring chances by keeping them to the outside and forcing bad-angle shots.  Frankly, New York looked like an inexperienced team that didn't know how to handle the Pittsburgh onslaught.  They let the Penguins dictate the play physically and it carried over to the scoreboard.
Friday night was a bit of a different story.
The Islanders adjusted in Game 2 and found a way to get more traffic in front of Penguins goaltender Marc-Andre Fleury. They took every opportunity to throw shots at the goal. Their shoot and crash the net mentality created chaos for Fleury and resulted in a handful of fortunate bounces.
Even despite the lucky bounces, the Islanders had far more prime scoring opportunities than they did in Game 1 and Pittsburgh was lucky that Fleury came up with a few critical saves.
Penguins players had a tough time coming to a consensus on what went wrong and what needed to be done to regain control of the series: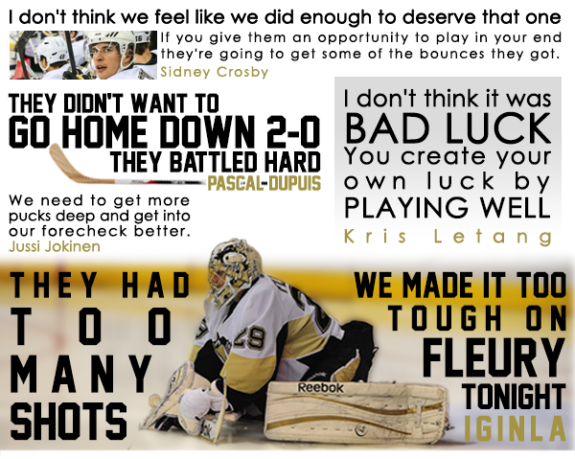 On one hand, Pittsburgh still has the more talented team.
On the other hand, the Islanders can't help heading back to Long Island with the confidence they can outwork, outplay, and beat the powerhouse Penguins.
I asked followers on Twitter what they thought the biggest concern was for the Penguins heading into Game 3 on Sunday afternoon.  There wasn't much consensus there either, but the responses did shed light on a few key developments:
@jrrdo1999: Islanders quickness to pucks
@Meigsaveli: Pens need to impose their will.  There is enough skill on the team but they need to wear down NYI
@Space_Steve: Penguins took many stupid penalties
@ZarleyZalapski1: defensive gap control and aggressiveness
@Bernardi2717: turnovers
@maburach: How can it not be Fleury?
@misterjamo: Played like they thought they couldn't lose
@BKeketsian: Sid playing more minutes than Malkin, despite missing a month
@williamzuri: Inability to manage the puck was biggest concern for me
@_danno: lack of forecheck
@joederouin: 42 shots against
@mal68au: mindset, def not Fleury
@tommy_anthony39: Fleury letting in bad goals again
@leergreene: Can the Penguins adapt to the speed game the Islanders played tonight?
@johnjscan: Will Fleury bounce back from a game of bad bounces?
@RabidMutant: motivation/desire hands down
@bmainou: bouncing back, especially after last year's debacle
@MattComo3557: Defensive pressure on the PK
@danny_wing: playing their game, team defense turns into offense
@JimMFinBoris: coaching
@PittsburghSport: arrogance
@gingEER13: Defense and officiating
@CaseyR82: the board battles were pretty bad
@peteabbate: d-men not named Letang and Martin
@Ozman51: to not keep playing like they did in the Flyers series last year
@ajk111221: puck management and powerplay
@TheSockMonkey14: Defensive pairings and their decisions
@NHLOnTheIceAmes: no question defense
@87_taylorP: defense…Orpik is missed
@SgtNickBrody: Offensive zone entries for the Islanders. Waaay too easy.
Naturally, a few readers drew comparisons to Pittsburgh's first-round losses the past three seasons.  The Penguins lost Game 2 on home ice in each series.
Penguins forward Pascal Dupuis disagreed.
"Different faces, different mentality, different leadership, different guys in this locker room," Dupuis said.  "Previous years don't mean much right now."
Craig Adams was a little more blunt when he was asked about a possible Game 2 letdown trend.
"It wasn't because it was Game 2.  It was because we didn't play well."
To me, this series does have the look of Pittsburgh's 2011 first-round matchup with an inexperienced Tampa Bay Lightning team.  Pittsburgh won Game 1 on home ice 3-0 that year, but Tampa gathered themselves, won the next game 5-1, and eventually took the series.
But the biggest difference between the 2011 and 2013 Pittsburgh Penguins is talent.  Two years ago, Sidney Crosby and Evgeni Malkin were out of the lineup with injuries.  The Penguins are stockpiled with skill this year.
But in some respects, that abundance of talent became an issue on Friday night.
The Penguins and head coach Dan Bylsma have done an excellent job staying focused this season.  They've scored goals by the boatload, steamrolled opponents, and never looked beyond the next game on the schedule.  Yet after cruising to a lopsided victory in Game 1 and jumping out to an early 3-1 lead in Game 2, the Penguins lost focus.
Players started skating out of position to finish hits.
Evgeni Malkin quickly transformed from dominant to arrogant and careless.   Blind passes behind his back.  Ovechkin'esque efforts on the backcheck.
Pittsburgh wasn't content just beating the Islanders and taking a 2-0 lead in the series.  They wanted to put up 5, 8, maybe even 10 goals in the process and secure a few spots on the highlight reel.
The easiest way to notice the shift in mentality is by watching the Penguins forwards on the offensive forecheck.  In all situations, particularly with a lead, one forward should be high in the offensive zone.  This eliminates long cross-ice passes on the breakout and protects against odd-man rushes in transition.
The Islanders have a ton of speed.  Their defensemen skate well and often join the rush on turnovers.  A few Penguins talked about the importance of limiting turnovers, but I think over-aggressiveness on offense was just as much to blame.  Multiple times in the third period I saw three forwards below the Islanders goal line.
Matt Martin's tying goal was a result of a quick turnover and three Penguins forwards caught deep.
Initially, Jarome Iginla dug in and backchecked hard. Then he quit on the play. He swung his stick around, didn't pick up any Islanders players, and Martin beat Kris Letang to the rebound. Friday night was Iginla's worst game in a Penguins uniform.
The goal also reminded me of a related problem mentioned above by @SgtNickBrody.
Look at the space between the Islanders and the Penguins defensemen on the transition. Granted, Letang and Deryk Engelland were just coming onto the ice after a change, but they allowed Josh Bailey to have easy entry into the zone.
This was an issue most of the night.
The Islanders forwards were taking off up the ice after any turnover and driving slower defensemen like Engelland and Douglas Murray back to their own blueline. With three Penguins forwards caught deep, the Islanders had a ton of room to break the puck out of their end with ease and turn it into offensive opportunities.
New York still doesn't have the talent to beat the Penguins three more times, but the vulnerability is a concern for Pittsburgh if they move on in the playoffs.
Perhaps it just requires a refocused effort from the Penguins? Maybe a system tweak or roster shakeup is in order?
Either way, the playoffs are all about adjustments.
"They obviously made some adjustments after Game 1 and they took it to us," Niskanen said after the game. "Now it's our turn to adjust."
___________________________________________