Some Good News For Coyote Fans?
The Phoenix Coyotes ownership situation could finally succeed thanks to the NHL lockout this season.   The lockout was probably a necessary evil that had to happen for the NHL to be a healthier thirty team league.  I'm not going to quote all the pros and cons of the new CBA but I will say that for the Phoenix Coyotes it is better than the previous deal for small market teams.  The new CBA should give a new ownership group a fighting chance to make a go of it in Arizona.
New Phoenix Coyotes Ownership Group On The Horizon?
There is not a new owner at the time of this article but there has been a buzz about a hybrid group called Renaissance Sports and Entertainment.  This is the company formed by George Gosbee, Anthony LeBlanc and their two partners, Daryl Jones and Avik Dey.  The Renaissance groups long-term plan is purchasing the team with the intent of  keeping the team in Arizona.  On Saturday night, CBC's HNIC was confirming Fox Sports Arizona's report about this group along with Gary Bettman and Bill Daly meeting with City of Glendale officials on Tuesday.  The Renaissance group has been reported to have  a business plan that focuses on getting the organization back on solid financial ground in the short-term and hopefully this stability can transfer to success on and off the ice.  The Phoenix Coyotes ownership situation could  be a little clearer by Tuesday.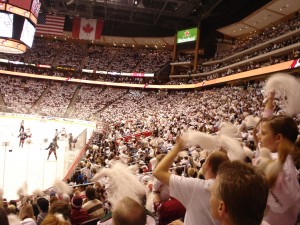 The Unfortunate Ramifications Of The Lockout
The unfortunate thing about the lockout was that the Phoenix Coyotes did not have much of a chance to capitalize on their long playoff run last spring.  The 2011-12 playoff run was the most successful showing in franchise history and should have been a marketing dream.  If they would have had new ownership last summer, they could have really used that run to the Western Conference Finals as a major marketing tool.
Revenue Increased
Even though fan apathy was at an all-time high during the lockout,  the Coyotes attendance was up this year even with increased ticket prices.  It has also been reported the Fox Sports Arizona's Phoenix Coyotes broadcasts had a 127% increase.  Not bad for a lockout year!  Hopefully, this is a trend that continues to go upwards making the Coyotes a viable franchise for many years.
My name is Mitch and like most Canadian kids I was introduced to hockey at a very young age and fell in love with the game. I have played, I have coached, I even scouted in WHL for 15 years. I spend half my time in Winnipeg, MB and the other half in San Tan Valley, AZ. I am a season ticket holder for The Winnipeg Jets and my wife and I attend the Phoenix Coyotes games. I am involved in 3 or 4 fantasy leagues, I enjoy hockey shows on radio or TV, TSN or Sportsnet, ESPN or NBC Sports and Fox Sports Arizona. You get the picture, hockey is a big part of my life. Admin/Writer at http://phoenixhockeytalk.com