Jim Neveau, Managing Editor/Coyotes Correspondent
The Phoenix Coyotes came into Game 3 of the Western Conference Final looking to wash away the rotten taste that Game 2 had left in their mouths. They had come unglued as the game wore on, and their lack of discipline coupled with the Los Angeles Kings' relentless attacking had tossed them into an 0-2 series hole heading out to LA for Thursday's tilt.
The game started out better for the Coyotes, who looked like they were playing with more jump despite missing the services of Martin Hanzal, who was serving a one game suspension. The play didn't result in any goals, but they did grab the lead early in the second period on a breakaway goal by Daymond Langkow. The lead didn't hold for them, as Anze Kopitar returned the breakaway favor and potted one between Mike Smith's legs to tie the game at 1-1.
The third period started out tied, but things went downhill for the Coyotes once again as they wore more ruts into the sin bin. Some of the calls were borderline, but what mattered was that the Kings found their speed yet again and showed some great pressure in the offensive zone, culminating in Dwight King scoring a top shelf goal to give the Kings their ultimate margin of victory by a 2-1 score.
Now, the Coyotes find themselves with their backs against the wall in a 3-0 hole heading into Sunday's mad dash day at the Staples Center. Before they prepare to fight for their playoff lives, here are five quick reactions to the action on the ice during Game 3:
Coyotes Looked More aggressive on Forecheck and in Physicality Departments
During the first two games of the series, one thing that just about every NHL pundit covering this series could agree on was that the Kings were trouncing the Coyotes in a key area for any team that prides itself on a gritty physical approach to the game: the forecheck. They were winning just about every battle in the corners, were controlling the offensive zone to a suffocating degree, and generally just making life a living hell for Phoenix.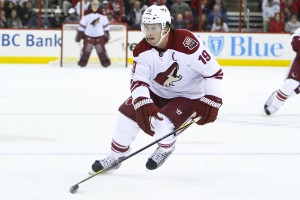 In this game, the Coyotes started to show some life in this department. Especially early on, they were jumping into board battles with a zeal that had been sorely missing in the first two games in Glendale, and they were maintaining possession of the puck perhaps better than they have all series long.
Their physical play as a whole was good throughout the game as well. Shane Doan was hitting just about everyone in sight, racking up a team-high 10 hits in the game, and even though the hits statistic tends to favor the home team, the Coyotes kept it remarkably close, getting outhit 40-39 in the game.
These things may not have paid off by adding a victory to the win column, and ultimately that is the barometer for measuring playoff performances, but the fact of the matter is that the Coyotes gave themselves a chance to win thanks to their success in these two areas, and if they are going to have a chance to extend this series on Sunday, then they will need to do it again.
Radim Vrbaba: Where Art Thou?
It is always said that the crucible of playoff pressure either reveals the true superstars of the game or it exposes them for being frauds. Guys like Sidney Crosby and Pavel Datsyuk have made their names by stepping up on the biggest stage in the game, and as their team's best player, it was almost expected that they would do so.
Unfortunately for the Coyotes, their prime offensive weapons have been woefully silent against the Kings. Even though they had the advantage of last change in the first two games of the series, the Coyotes' two offensive dynamos have both been shut down completely by the Kings, and Thursday night was no exception.
Radim Vrbata, who scored 35 goals and was instrumental in getting the team to its first ever Pacific Division title, was held shotless despite playing 18 minutes in the game, and he has now gone six consecutive games without a goal, having not scored since Game 2 against Nashville. Overall in the series, he has six shots and really has been a complete non-factor for a team that could desperately use his scoring punch.
Ray Whitney hasn't been a lot better in the series, having gone pointless in five consecutive games and only managing one shot on Thursday. He has now passed the century mark in postseason games played with his performance this year, but he hasn't been anywhere to be found as the offense continues to flounder.
Teams that are blessed with immense scoring depth can survive the shutting down of their top offensive players, but in the case of the Phoenix Coyotes, they really aren't afforded that luxury. Vrbata and Whitney have failed to deliver, and they have got to turn it around if they have any shot at winning Sunday.
First Period Jump Encouraging
The lifeless Coyotes that we saw leave the ice after Game 2 were nowhere to be found when Game 3 started. They were aggressive in getting traffic to the net, were peppering Jonathan Quick with shots, and just in general looked like they were the more desperate team, which was good considering the predicament they found themselves in.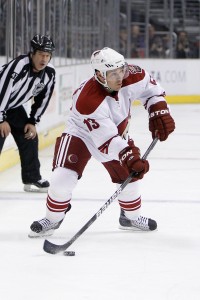 Smith also looked very relaxed in that period, moving well around his crease and not showing the difficulty in tracking the puck that he had in Game 2. Him being on top of his game is an obvious component to success for the Coyotes, so they needed to see that out of him.
They even outshot the Kings in the period, which was an unusual event in of itself. The Coyotes are more about minimizing the quality of chances rather than outshooting an opponent, so when they do manage to best them in that category, it's pretty indicative of a very good performance.
Third Period Lapse Discouraging
As encouraging as it was to see the Coyotes get such a great jump out of the gate, it was equally disappointing to see them get steamrolled by the Kings late in the game. Their goal was scored on their 12th shot of the contest, and they were only able to manage SEVEN more shots in the remaining 39 minutes of the game.
Granted, this was due in part to some bad puck luck in terms of hitting off bodies in front of the net, and they did get a couple of decent chances that barely went wide of the cage, but the fact of the matter is that when LA put their defensive clamps down, the Coyotes were stymied yet again.
It is possible to overcome that kind of pressure, but it involves putting forth a full 60 minute all-out desperate effort, and also to be able to rely on Smith to be able to carry the load on the other side when inevitable odd man rushes occur.
That leads us directly into the final thought coming out of tonight:
Can the Coyotes Win Game 4?
Just about everyone and their mother has already put the Western Conference Champion t-shirts on sale , but they are missing a couple of key things about the Coyotes that need to be noted.
Yes, it is nearly impossible for a team down 3-0 in a series to come back and win, but if anyone is capable of taking the "one game at a time" mentality that is required to pull off the feat, it would be the Coyotes. They are a team that, while showing a lack of discipline in this series, is still very committed to their game plan, and Dave Tippett is almost certainly going to make sure that they stick to the script no matter what the Kings throw at them in what will certainly be a raucous Sunday matinee tilt on NBC.
In addition to that, you'd have to imagine that a guy like Doan will be playing his heart out knowing that it may be one of his last chances to get this far in the playoffs, and his teammates will likely feed off of that desperation. There are few things more motivating than being able to play for a cagey veteran that has been your leader through thick and thin, and to be frank, there has been a lot of thin times in the desert over the past few years.
While it is going to be tempting to just sit back and accept the inevitable and focus on issues like ownership again, the product on the ice is still going to be in action on Sunday, and the possibility of the Coyotes rolling over and dying are pretty much nonexistent. The Kings, of course, will know that, so Sunday's battle is going to be one of attrition, and it will be fascinating to see if the Coyotes can turn the tables a bit and put a scare into the juggernaut that the Kings have become.
To sum up: don't book your charter flight to New York quite yet, Nation of the Crown. There's still a game to play, and don't look for this team to go quietly.