After four consecutive years of missing the playoffs, it's safe to say that the Dallas Stars are a rebuilding team.
However, the Stars have still had middling success during the regular season in those years, finishing just outside the playoff picture, preventing them from having many high draft picks that are normally key in a successful rebuild.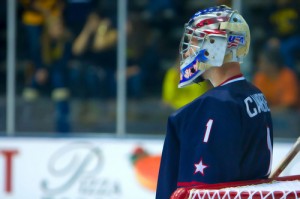 Despite having only one Top 10 draft pick in the last ten years (Scott Glennie, 8th overall in 2009), the Stars have still managed to stock the cupboards full of talented, capable prospects thanks to savvy drafting, meticulous player development, and clever signings of undrafted free agents.

Here now is a detailed, ranked rundown of the team's ten most impressive up-and-comers.
10) RW Austin Smith (5th round, 2007)
Although undersized by NHL standards, Smith's speed, shooting and determination more than make up for his lack of size. He put up remarkable numbers in his senior season with Colgate University, scoring an NCAA-leading 36 goals in 39 games, along with 21 assists, enough to help him finish as a Top 3 finalist for the Hobey Baker. His fantastic season faded out near the end, going goalless and only registering 3 assists after being called up to the Texas Stars for 12 games, but Smith's headstrong motivation will surely help him turn those numbers around next AHL season. If Smith eventually cracks the Dallas roster, he'll become the first Dallas born and raised player to be drafted by the team and then take to the ice for them.
9) D Brenden Dillon (undrafted)
Big, strong, and ultra competitive, Dillon's unsuspecting climb to an NHL career is becoming more and more impressive every season. After a mediocre start to his WHL career, Dillon signed with the Dallas Stars after posting 59 points in 72 games for the Seattle Thunderbirds as an undrafted 19 year old. He didn't slow down at all in his rookie season in the AHL, scoring 29 points and seizing a role as one of the team's top defencemen by the end of the year. He capped the season off with a strong one-game call up to Dallas, registering six shots on net in over 19 minutes of ice time, enough to raise a few eyebrows of Stars brass. Not the flashiest player, but can do everything that a team needs out of a defenceman. Though there are other blueliners in the system with a higher pedigree, none can match Dillon's drive.
8 ) RW Alex Chiasson (2nd round, 2009)
At 6'4″, Chiasson has no shortage of size, but has better skating and hands than most would assume. He hasn't garnered the same attention as other Stars prospects, but has quietly improved season after season, scoring a team-high 46 points in 38 games with Boston University before finishing with 5 points in 9 games for the Texas Stars. Might not see much NHL time, if any at all, next season, but has all the raw materials needed to eventually refine himself into a solid Top 6 power forward.
7) RW Matej Stransky (6th round, 2011)
No Stars prospect took as big of a leap in his development last year as much as Stransky did. He improved his point totals by 55 (26 to 81) and proved himself as one of the offensive leaders for the Saskatoon Blades in only his second season in North America. Plays a similar style to fellow Stars Czech draft pick Tomas Vincour, that of winning puck battles down low and driving hard to the net to generate offense, but has better overall offensive instincts than Vincour. Still has a long way to go to be considered a lock for NHL duty since he's only 18, but if he can repeat or improve upon the success he had this season then Dallas might have found one of the biggest steals of the 2011 draft in the 6th round.
6) C/RW Scott Glennie (1st round, 2009)
Things certainly haven't gone according to plan for the Dallas Stars after drafting Glennie 8th overall in 2009. Even though he scored over 300 points in his time in the WHL and 37 points in his rookie AHL season, Glennie has been consistently struck by the injury bug and hasn't produced at as high of a level as the organization was expecting for such a high draft pick. However, even though the offensive production has been lacking, he's developing a more well-rounded game and is reliable and comfortable in his own end. Might never develop into a superstar at the NHL level, but could certainly parlay his speed, puck control and above average on-ice vision into a career role as a support player.
5) LW Matt Fraser (undrafted)
Fraser's career has been taking off like a runaway freight train the past two seasons, and shows no signs of slowing down any time soon. After scoring 36 goals and 74 points as a 20 year old at the WHL level, Fraser carried his Kootenay Ice team to a surprise victory as WHL Champions with 17 goals in 27 playoff games. The Stars were expecting a strong AHL rookie season out of Fraser, but nobody expected the eye-popping 37 goals that he scored, good enough for second in the league. Fraser has size (6'2″) and speed, making him tough to knock off the puck, and possesses an accurate shot and a great nose for finding loose pucks around the net, making him a scoring threat in multiple situations. His defensive awareness and stickhandling are still very raw, but Fraser is way ahead of the curve in terms of his development. His past two seasons might be a fluke, but if he can continue to develop at this pace he could become a serious goal scorer and one of the NHL's premier undrafted success stories.
4) LW/RW Reilly Smith (3rd round, 2009)
Easily the flashiest prospect currently in Dallas' system, Smith has all the offensive tools needed to succeed in the NHL level: great shot, smart passing, smooth and fast skating, and skilled puck control. Smith was the heart and soul for Miama University (Ohio) last year in the NCAA, scoring 30 goals (the next highest scoring player had 12) and finishing in the final 10 finalists for the Hobey Baker. The highlight of his year was skipping the AHL and heading straight to Dallas when his NCAA season was over, suiting up in 3 games for the Stars. Even though he was held scoreless and finished a -3 in limited ice time, Smith's straight jump to the NHL level showed just how highly Stars management thinks of him. Though he will likely start next season in the AHL to further bulk up his 6'0″, 185 pound frame and get it ready for the rigors of the pro leagues, Smith will likely see some more time at the NHL level, and might even get a long, hard look at Top 6 minutes in his rookie campaign.
3) D Patrik Nemeth (2nd round, 2010)
A defensive defenceman with size and poise, Nemeth is about as safe as you can get for Dallas prospects. Playing for AIK in Sweden, Nemeth got his first taste of action playing against men at the age of 16 and has been playing against them every year since, not looking out of place. Nemeth has great defensive positioning, can clear the front of his net, and is capable of leading the rush out of his own zone and making a crisp breakout pass. Though known primarily for his defensive prowess, Nemeth led all blueliners on the Gold-winning Swedish team at this year's World Junior Championships, with 5 assists in 6 games, and looked great as one of the best defencemen in the tournament. Though he will start the next season with the Texas Stars, Nemeth's experience playing against top competition in Sweden will mean that NHL duty is not far away. If he continues his steady development, he could become a player of similar skill and role to Karl Alzner of the Washington Capitals.
2) G Jack Campbell (1st round, 2010)
One of the most renowned young goaltending prospects in the league, Campbell's development has been all over the map. He made a name for himself at the World Juniors, winning Gold as a then-undrafted netminder in 2010 and then winning Bronze and Best Goaltender honours in 2011, but struggled in his two seasons in the OHL, posting totals of 3.50 G.A.A. and .894 save percentage, before making a strong statement in a 12-game tryout in Texas, recording a .912 save percentage. Campbell will start the season in the AHL as Texas' number 1 goalie, and will hold that role until he's ready for NHL duty, which could happen at any time depending on his play. Though his spotty OHL numbers signal that Campbell is by no means a perfect goalie and could disappoint at the NHL level, his track record of stunning performances under pressure and his unbroken commitment to success could also help him become one of hockey's elite netminder for years to come.
 1) D Jamie Oleksiak (1st round, 2011)
At 6'7″, 240 pounds, Oleksiak would likely crack an NHL roster based on his size alone. But Oleksiak is more than just a big body: he skates incredibly well for his size, has top notch defensive instincts, and can put the puck in the net (12 goals in his first OHL season). Though he doesn't have the crushing hits or nasty streak of players of similar size, and isn't a lock to develop the offensive capabilities of a player like Zdeno Chara or Tyler Myers, he plays a safe, smart, low risk defensive game that will make him an excellent shutdown defender and penalty killer at the NHL level. He bested some stiff competition and made Team Canada at this year's World Juniors, and will likely be a returnee next year. Since he played NCAA hockey before jumping to the OHL, Oleksiak is eligible to play in the AHL next season and will be one of the key components of the Texas Stars' blueline at just 19 years of age. Although he is already physically ready to play in the NHL, Oleksiak will get at least a season or two to hone his game in the AHL, guaranteeing that Dallas will have an impressive, polished player ready to be a key part of their defensive core for years to come.
Derek Neumeier primarily covers the Dallas Stars, but also other various topics related to the sport of hockey. A Journalism graduate of Mount Royal University, Derek also writes for Defending Big D, and has done previous work with the Edmonton Oilers as a communications intern and Hockey Canada as a freelance writer. You can follow him on Twitter at @Derek_N_NHL