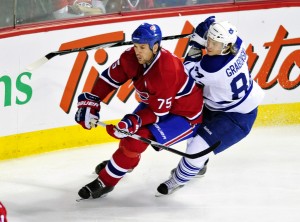 It's seemed like the Toronto Maple Leafs have lacked a "true" first line centre for ever now, although it has really only been about four years. That is, of course, when legendary Leafs captain Mats Sundin left the team to join the Vancouver Canucks for half a season, which was infamously followed by his retirement from hockey.
During those four years people have cried and cried over and over again for the Leafs─no matter who the general manager at the time─to scour the trade and free agent markets for the Leafs' next great top line centre until their brain fell out of their head. The rationale behind this is obvious and makes sense to a certain extent, but what people don't realize is that a forward to centre a trio that now consists of Joffrey Lupul and Phil Kessel shouldn't actually be the Leafs' top priority.
True, Tyler Bozak has shown to be inconsistent and doesn't put up 80+ points each season, Mikhail Grabovski isn't the type of player who will lead a team's forward group and set up the Leafs' top players with success 100 percent of the time and Tim Connolly went from being a play making wonder to a third line checker. But none of that means the Leafs need to spend upwards of six million dollars on someone better than all three of those players.
Why? Well the answer is simple.
For starters, what Bozak has shown to be is a two-way centreman who will surely be able to reach the 50-point plateau in 2012-2013 following a 47-point output. He spent much of the season between Kessel and Lupul, who each had career years. For the record, Kessel finished with 37 goals and 80 points while Lupul notched 25 goals and 67 points in just 66 games.
Let's not forget Mikhail Grabovski, either. Although he didn't play a first line role very much last season, he did show that he can take over the spot if something happens to Bozak that affects him or the team negatively.
It doesn't end with those four, though.
Perhaps where the form you can find the most clear reasoning comes in terms of goals for to goals against. On a team that doesn't have a "true number one centre" as many people would say, scoring the tenth most goals in the league isn't too shabby. Now compare that to the 259 goals they allowed, which was the second most allowed by any of the 30 teams this past season.
Further strengthening the point that the Leafs shouldn't invest their money in a number one centre this summer is that they had scored the eighth most amount of goals prior to the all-star break. At that point the team owned a 24-19-5 record and sat in a tie for eighth in the Eastern Conference, a place that they would eventually lose out on and fall all the way down to 13th, 12 points out of the post-season. It's clear the team can play successfully and score goals at a nice pace without an 80-point centreman on the top line.
A number one centre has become nothing but a dream for Leaf fans as general manager Brian Burke and his staff appear to be content with the position they're in when it comes to their top line. One would have to believe that if they weren't so happy, we would have seen some relatively major changes to the team's roster in mid to late February as the trade deadline approached.
That's good news for Leaf fans as it's time for money to be spent a little more wisely on the team's defence corps. Perhaps one way to do that is to send Luke Schenn to a different team alongside a draft pick, prospect or current Maple Leaf for a more stable and reliable defender, something the Leafs lacked last season despite the presence of Dion Phaneuf and Carl Gunnarsson. That goes with no disrespect toward Schenn, but it goes without saying that he doesn't fit on the Leafs' current roster.
In a salary cap world there is nothing more important when it comes to the business of a sports team than the management of the team's payroll. And since the Leafs aren't exactly in the world's best position when it comes to salary cap space, the team must spend its money carefully.
If you follow this team at all, you should know that a first line centre should not be the Leafs' top priority heading into the 2012 off-season. Rather it's the perfect time to focus on what's really needed: stable and reliable defence.
Twitter: @LukasHardonk | Email: lukas.hardonk@gmail.com | Lukas' archive
For every Leafs article on THW, follow @THW_MapleLeafs on Twitter.