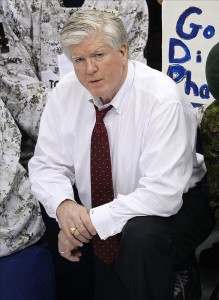 Brian Burke has never been the shy type. For some, that made him an ideal candidate for the general manager's job with the Toronto Maple Leafs — a no-nonsense guy who could handle the media and the fans' expectations. Being a Harvard-trained lawyer, former player agent, a general manager in Hartford, Vancouver and Anaheim, and former Director of Hockey Operations in the NHL front office meant he was knowledgeable and well-connected. Yet, 42 months after his hiring, Burke is drawing the ire of some of LeafsNation during another summer without NHL playoff hockey. Some speculate this season could be Burke's final chance – if he is not successful in crafting a playoff team, his job could be on the line.
How did it come to this? Is it fair? Was too much expected, are the fans too impatient? Or is Burke the master of his own demise, should it come to that. It's not just that his team hasn't made the playoffs. It has as much to do with Burke's personality, his penchant for bold statements, his reluctance to admit he may have erred. He's provided more than enough in statements, many of which have been immortalized as Twitter handles, blog titles, column headlines. Some of these 'Burke-isms'…
"We require, as a team, proper levels of pugnacity, testosterone, truculence and belligerence. That's how our teams play."
"I am not interested… in a five year rebuild like some these teams have done. Maybe because of my age, maybe just because I know it doesn't have to be five years because it wasn't in Anaheim. And I am not interested in a five year rebuild here."
"The most important decision a GM makes is who coaches the team. I'm fortunate that we had a great coach in place here. That's truly where it all begins and ends. It doesn't matter how many good players you give the guy if he can't coach. Then my philosophy is real simple, which is build from the net out … if you don't have goaltending you can't win."
""The second most important position is defence. I've always spent more money and more effort on defence than any other position."
"We want to play an entertaining style. We don't trap. We pursue the puck in all three zones. We hit in all three zones. We fight. And we try to score a lot of goals. We're not afraid to trade chances because our D is good because our goaltending is good, we're not afraid to trade chances, which leads to an entertaining hockey game."
"Championship is the goal. Not to get in the 8th spot and get your ass kicked."
"What's the Pittsburgh model? They got a lottery. They won a goddamn lottery and they got the best player in the game (Sidney Crosby). Is that available to me? Should we do that? Should we ask the league to have a lottery this year, and maybe we pick first? Pittsburgh model, my ass. I mean, they got the best player in the game in the lottery. Ray Shero's done a good job. He's an excellent GM and he's a friend of mine. But I love when people talk about the Pittsburgh model."
… more than enough fodder for the bloggers and columnists. Other topics include his belief that signing undrafted free agents is like finding a wallet (because you give up no assets to acquire the player), and his own holiday trading freeze (and possible earlier trade deadline) designed to ease the pressure on his own players. He was quite vocal about an unabashed (and unrealized) plan to move up in the 2009 draft to acquire John Tavares.
Now, let's be fair. Quotes can be taken out of context, often to promote an agenda. Still, Burke's own words may have him backed into a corner, because while he's talked a good game, the team is not appreciably better on the ice over a consistent period. Perhaps over a selected period of time, say from January 1, 2011 until December 31, 2011 when they went 42-30-12, it seemed the team was on the right track. But bottom line, the Leafs have not qualified for the playoffs at any time during Burke's tenure.
There are some positives about Brian Burke's time in Toronto. He's made some very good trades. He upgraded in net by acquiring JS Giguere, unloading Vesa Toskala and Jason Blake. He turned Francois Beauchemin into Jake Gardiner and Joffrey Lupul. Dion Phaneuf may not be all everyone hoped for and Keith Aulie and Fred Sjostrom are gone, but the Leafs are better for the loss of Ian White, Matt Stajan, Jamal Mayers and Nik Hagman. While they may not be blue-chip prospects, Nazem Kadri, Joe Colborne, Jerry D'Amigo, Ben Scrivens, Brad Ross, Stu Percy and Tyler Biggs could have decent NHL careers. Add that the Marlies have made the conference finals in the AHL playoffs and it's true that Burke has done some good things for the franchise.
The issue is not "has he done anything good?", but "taking everything into account, has he done what he said he would do?" Obviously he hasn't.
In November 2012, Burke will enter his fifth season with Toronto. If they do qualify for the playoffs in April 2013, it will have been a 5-year rebuild just to make the playoffs. In Anaheim the team won a Stanley Cup within Burke's first 5 years. Granted, the Ducks had a much better depth of talent than Toronto, but Burke himself is the one who compared the situations. "I know it doesn't have to be five years because it wasn't in Anaheim. And I am not interested in a five year rebuild here." That's his words, not someone saying "we expect you to do here what you did in Anaheim." It's easy to suggest that in 2008, after John Ferguson Jr.'s tenure, Leaf fans were ready to accept a complete rebuild by an experienced hockey man. Perhaps that's a revisionist view of the story. But Brian Burke began his time in Toronto by stating flat out that he did not believe a full-scale, top-to-bottom rebuild was in order if the team was to be successful. He defined the expectation.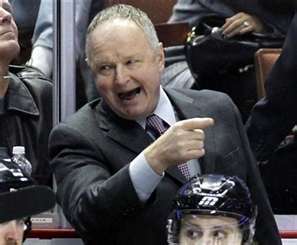 And he outlined his blueprint. "The most important decision a GM makes is who coaches the team." Ron Wilson was in place, which many felt made sense – as though hiring Wilson was a precursor to Burke's arrival. Wilson has detractors and supporters. He's had some success in the NHL as a coach, but little of it in Toronto. Brian Burke maintained Wilson was the right coach. Burke assumed blame himself at times, saying he hadn't provided his coach with enough good players. The fact remains that Wilson coached the franchise to a combined 130-135-45 record, a 0.492 point percentage. Wilson had the team playing a run-and-gun style, a team that traded chances and was entertaining to watch, until a horrific slump where the team fell out of playoff contention and could not turn things around. When Burke fired Wilson to start March 2012, he stated he felt the team had tuned the coach out. He hired Randy Carlyle, known as a tough, defense-minded coach –  a departure from Ron Wilson's style. Further, Burke stated "I like a coach to be hard on players. (Carlyle) is not a guy that you're going to have on the bench who's going to be friendly, warm and fuzzy… Randy's demanding on players… There's one philosophical difference, I like a rough team. That's the way I want it." That suggests Wilson was not completely in step with Burke's philosophy. Burke prefers a rough style, yet Wilson restricted Colton Orr and Jay Rosehill, arguably the team 'tough guys', to just a handful of games, preferring to make them healthy scratches. In fact, Burke publicly lamented sending Orr to the AHL. Did Burke and Wilson truly have philosophial differences, and if so, why then did Burke not make the change earlier, seeing as he feels choosing the coach is his more important decision?
If we cobble together Burke's quotes on team building, it'd be fair to say his preference is for a team with strong goaltending, with a solid, reliable defence corps in front of that goalie, some size and skill up front, and overall, a team that punishes opponents with a physical, hard-checking style. But the Leafs have rarely been that team.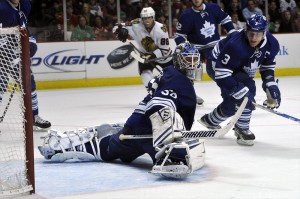 The Leafs goaltending situation has not been stable. JS Giguere provided some veteran savvy, but unfortunately was injured often, and left via free agency. For the most part over the last 2 seasons, Burke has used Jonas Gustavsson and James Reimer to carry the team. Overall, the results have not been great. Gustavsson, a goalie Burke vigorously pursued, has been mediocre. In 107 appearances, he's 39-45-15, with a 2.98GAA and .900sv%. Reimer, who burst on the scene unexpectedly, is not yet an established NHL goalie. He may evolve into that, but in 71 appearances, he is 34-24-9, with a 2.83GAA and .911sv%. Those numbers are hardly elite in the NHL. And in the organization, Burke has Jussi Rynnas, Mark Owuya, Ben Scrivens and Garret Sparks, who have a combined 14 games of NHL experience. Is coach Francois Allaire and his system, which some claim runs counter to the natural abilities of the Leaf netminders, really the issue? Perhaps, but if that's the case, then why would Brian Burke continually defend Allaire and maintain him as the goalie consultant? Whatever the answer, the bottom line is that while Burke espouses strength in net as a cornerstone of his teams, all he has done is acquire a wealth of goalie prospects, but little in the way of established NHL goaltending.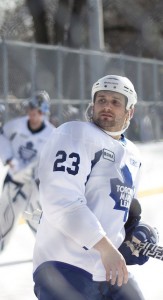 His second pillar, a strong defence, is also lacking. Burke seems to have made a number of major mistakes in building his blueline. Since arriving, he's traded for Garnet Exelby and Brett Lebda – both were often scratched, both were less than spectacular when they did play, both were moved from the organization fairly quickly. He signed Mike Komisarek to a contract that Komi has been unable to live up to in terms of expectation. He traded for Dion Phaneuf who has at times looked like he might fulfill the early promise of his career, but who has also been prone to mistakes. Luke Schenn, still young and developing, seemed to have regressed. Cody Franson, acquired for Lebda, was often a scratch under coach Wilson, despite Burke's assertion Franson was a key acquisition. John-Michael Liles had a difficult second half of the season after suffering a concussion, and being extended another 4 years. In essence, the Leaf blueline looks good on paper, but on the ice, it has been mistake-prone, weak and unable to insulate the young goalies Burke chose to go with.
Up front, Burke was unsuccessful in acquiring John Tavares, or any true front-line centre, or an NHL-calibre power forward. There are some pieces… a mix of players Burke acquired and others who were in place already. But Kessel, Lupul, Grabovski, MacArthur, Brown, Bozak and Frattin are only the beginnings of a solid forward corps. Brian Burke has has less luck with players like Wayne Primeau, Rickard Wallin, Fred Sjostrom, Philippe Dupuis, Tim Connolly, Kris Versteeg, and a number of others who simply could not help the Leafs climb the standings. Going into 2012-13, the matter is made worse in that Connolly, Lombardi and Armstrong have been largely ineffective though they chew up a huge chunk of cap space, and that seems a familiar problem under Burke's reign. Note also, Burke swung the Kessel trade by sending high draft picks to Boston. While Phil Kessel has lived up to his billing, the question is that while Burke may claim Pittsburgh's success is predicated on a single lottery win, could the Leafs have been better now by holding on to the 2 first-round and one second-round draft choices?
So, 42 months after the GM took the reins, is Toronto a franchise reborn? Well, no, it isn't. Can Burke turn it all around? Certainly, LeafsNation is hopeful. Burke has addressed the coaching issue in hiring Randy Carlyle, but there are some who wonder if players like Kessel and others will adapt to the hard-nosed defensive coach. Team defence may improve under the new coach. Burke has pledged to address the goaltending issues, and the need for size and skill up front through trade. Another statement from Burke on how he intends to craft a team that will see playoff action. But this time, he had better come through. There won't be any more patience for further promises and course corrections. Burke put the timeline for success out there, the time is now for reaching that goal. Anything less will result in another rebuilding period, under a new GM, before an ever more restless fan base.
A graphic designer and production artist by trade, Mark is a long-time hockey fan. He was a Maple Leafs contributor to TheHockeyWriters.com for over 2 years, and has written for other websites. You can follow him on Twitter @MarkAscione