At the upcoming 2023 NHL Entry Draft, the Calgary Flames will have the 16th overall selection. This draft has been said to be one of the deepest in recent memory and the team will have a plethora of talent to choose from. The Flames of course did not have a first-round selection in last year's event, but in the years prior they chose Matt Coronato (13th overall), Connor Zary (24th overall), and Jakob Pelletier (26th overall). All three players already have or will be making impacts shortly, meaning this pick should hopefully follow suit.
Related: THW's 2023 NHL Draft Guide
---
Latest News & Highlights
---
While big names like Connor Bedard and Adam Fantilli stand as the cream of the proverbial crop, the rest of the top ten is also pretty cemented. However, drafts are still unpredictable and anything can happen. The Flames may benefit from other teams going off the board leaving them players that they may not have previously anticipated to be available at 16th overall. New general manager (GM) Craig Conroy and co. will of course have a professionally developed plan going in, but he will likely want to make a splash in his first draft. Two solid players that should probably still be on the board at the time of the Flames' first selection are Calum Ritchie and Lukas Dragicevic, both gifted young men that warrant closer looks.
Calum Ritchie, Center, Oshawa Generals
The first player in our sights is Calum Ritchie of the Ontario Hockey League's (OHL) Oshawa Generals. NHL Central Scouting has him pegged as the 13th-ranked skater among North American draft-eligible players after a strong sophomore season in junior. He had his first point-per-game season as in 59 games he recorded a career-high 24 goals and 35 assists. This was after an impressive rookie year where he put up 19 goals and 45 points in 65 games. In addition to these totals he recently had a commanding performance at the IIHF U18 World Championship with nine points in seven games as Team Canada finished with the bronze medal. At 18 years of age and listed at 6-foot-2 and 187 pounds, he brings a solid amount of size and will get bigger and even better after a few more seasons in the OHL.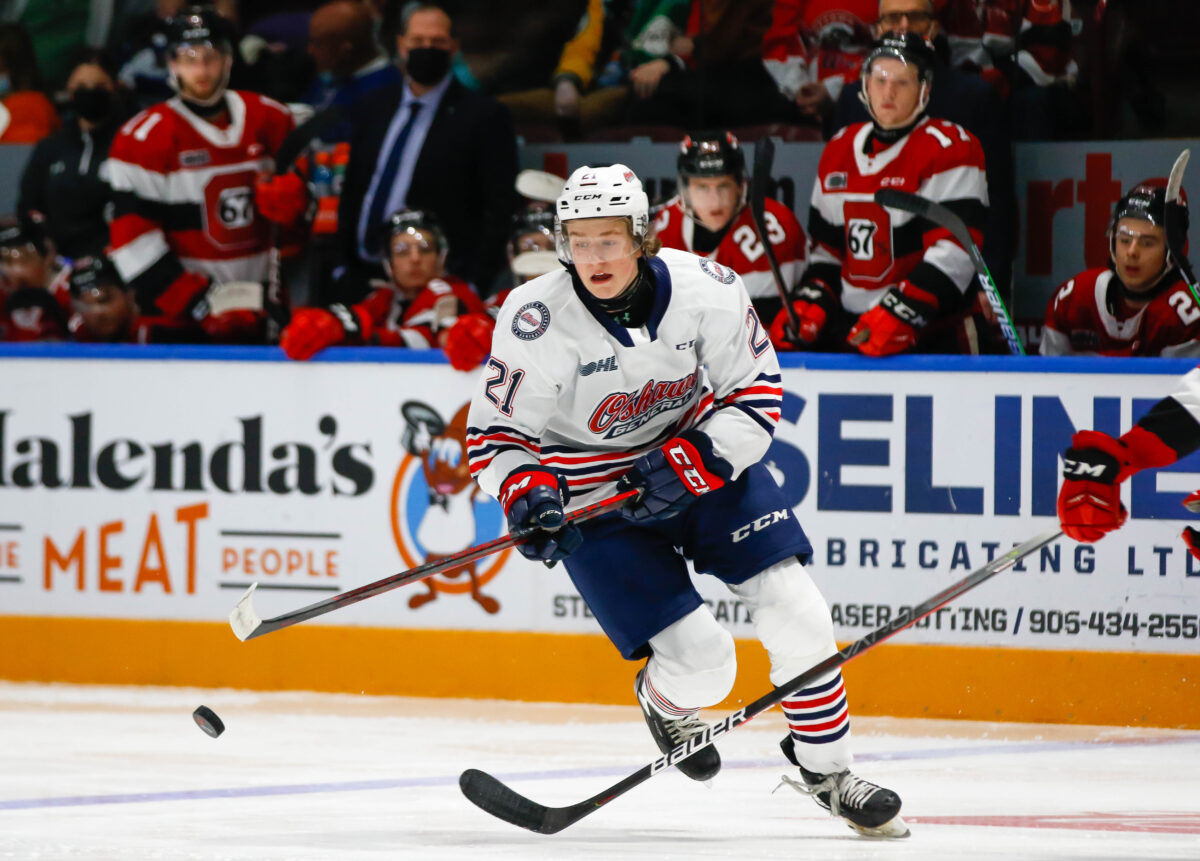 Unfortunately for him, his Generals haven't made it past the first round in his two years with the team. However, this isn't for a lack of trying on Ritchie's part. In both years he was able to take his play to an even higher level, scoring a combined 13 points in 11 games. His size and speed will of course be craved by teams, but his impressive shot and puck-handling skills should not be overlooked; he has a deceptively quick release that is seemingly NHL-ready and can weave through the offensive zone with relative ease. Another positive of his game is his discipline, as he was only on the hook for 35 total penalty minutes in 2022-23 and 12 in 2021-22. Many have Ritchie pegged as a mid-to-late first-round pick so ideally the Flames could snag him at 16 and help develop him into an effective NHLer.
Lukas Dragicevic, Defence, Tri-City Americans
Our second recommendation for the 16th overall pick is defenceman Lukas Dragicevic of the Western Hockey League's (WHL) Tri-City Americans. He is listed five spots below Ritchie as the 18th-ranked North American skater but is the highest-ranked draft-eligible defenseman in the WHL. While European rearguards such as David Reinbacher and Axel Sandin Pelikka find themselves as more highly touted prospects available for selection, Dragicevic is unequivocally no slouch and should also be a first-round pick. The Richmond, British Columbia native is coming off of a season in which he led his team in scoring with a whopping 75 points in 68 games. That point total also put him fourth amongst all defenders in the WHL. He seemingly exploded after an impressive rookie season in 2021-22 where he scored a very respectable 32 points in 62 games.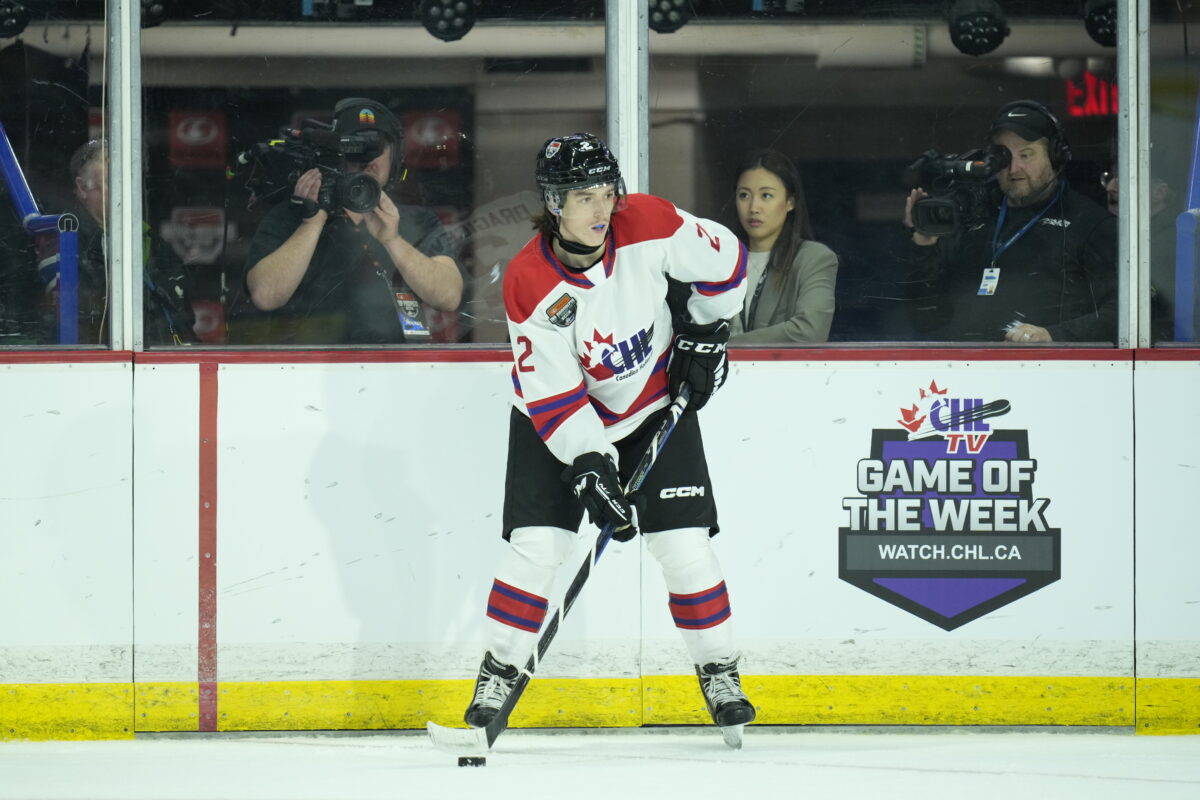 The 18-year-old is not just an offensive defenceman either, as he is quite adept in his own end and can shut down opposing forwards at a higher rate than most. Dragicevic offers decent size at 6-foot-2 and 181 pounds but remains immensely quick and agile. He also happens to be a coveted right-shot defenceman, one of the hotter commodities in the NHL. Another notable feat of his craft is that he does not rely on the power play for his offense: he scored 41 of his 75 points at even-strength and even chipped in with an impressive two shorthanded goals.
For his efforts this year, the young blueliner was boosted from a B-rated prospect to an A-rated one by NHL Central Scouting while also being named to Team Canada's U18 team and winning bronze alongside Ritchie. Dragicevic could be a big part of the future of the Flames' defence as the team really doesn't have any blue-chippers in that area apart from Jérémie Poirer.
When all is said and done, Conroy and the wonderfully talented Flames scouting department will surely select a player they feel is both the best available and that can also mesh well with team culture, systems, and need. They could do no wrong by utilizing the 16th overall pick to acquire the services of either Ritchie or Dragicevic.
---
---