With the 24th Pick in the 2020 NHL Entry Draft, the Calgary Flames Have Selected Connor Zary From the Kamloops Blazers of the Western Hockey League
About Connor Zary
While Connor Zary has been ranked all over the place by numerous scouts, there was little doubt he would be chosen in the first round. In such a deep draft, Zary has immense talent and in a weaker year, would have been drafted closer to the top half of the draft.
A 6-foot-0 and 181-pound center, Zary has the chance to become a top-six player down the line. He will not play in the NHL next season, but will be a solid contributor in the near future.
THW Prospect Profile Excerpt
"Boosting his strong offensive instincts is Zary's hockey IQ and work ethic. It's helped him develop into a prospect with no real weaknesses to his game. He often plays in high-danger situations, using his playmaking abilities to set up easy goals with perfect passes, or digging out his own rebound to pop it into the net. He also possesses a strong defensive game, making him an effective two-way player and a mainstay on the Blazers' penalty kill. He's modeled his style after Bo Horvat and become one of the most balanced players in the WHL in 2019-20.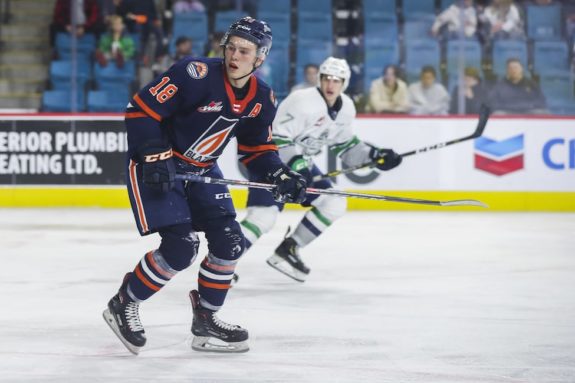 There is some concern that his age may be boosting his stats, though. Zary missed the 2019 draft by just 10 days and thus is one of the oldest first-year eligible players in 2020. An additional season in junior can go a long way, giving him a potentially unfair advantage compared to his peers. Age is especially important in the Canadian Hockey Leagues like the WHL, and 19- and 20-year-old players are expected to lead their teams, whether in ice time, points, or another aspect. Seeing Zary perform better than other draft-eligible players, like Seth Jarvis, is somewhat expected
Finally, others have looked to his skating as an aspect that could hurt his draft stock, but it's unlikely it causes any real drop. He still possesses above-average speed with a powerful, albeit choppy stride, and kept up with other top prospects at the CHL Top Prospects Game in January. As mentioned before, he has an incredible work ethic that one former coach referred to as 'infectious,' and young players have shown that once they gain a bit more strength in their lower body, the issue will likely be never mentioned again."
Full player profile can be found here
How This Affects the Flames' Plans
The Flames added another solid player to their pipeline in Zary. With solid prospects such as Jakob Pelletier, Juuso Valimaki and Dmitri Zavgorodniy, the future is definitely bright for the Flames.
Related: THW Draft Guide
With Zary, the team is getting a really solid player. While he will need to develop his all-around game before he makes the jump, he has the potential to make a real impact the NHL level. He will be well-known in Calgary for a long time to come.
---
---