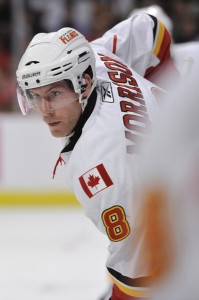 Three roster moves over three days will result in the Calgary Flames getting a whole lot younger, just in time for back-to-back games with conference opponents.
On Wednesday, the Flames announced that defender Anton Babchuk was placed on injured reserve due to a hand injury suffered in Tuesday night's loss to the Minnesota Wild. To fill Babchuk's roster spot, the team recalled T.J. Brodie from the Abbotsford Heat of the AHL. Calgary's fourth round selection in the 2008 entry draft, Brodie played three games with the Flames to begin the 2010-11 season before finishing the year out in the AHL. A skilled offensive defenseman, Brodie gradually added some defensive prowess to his game, and has impressed in his play with the Heat since last season.
On Thursday, the Flames announced that Brendan Morrison had been placed on injured reserve due to complications related to a knee injury that sidelined him back in March. To fill Morrison's roster spot, the team recalled Paul Byron from the AHL. Meanwhile, the team also placed forward Niklas Hagman on waivers, presumably with the intention of re-assigning him to the AHL. Byron was acquired, along with defenseman Chris Butler, in the trade that sent long-time Flame Robyn Regehr to the Buffalo Sabres at the 2011 NHL Entry Draft back in June. A native of Ottawa, Byron was selected by Buffalo in the sixth round of the 2007 draft and spent eight games with the Sabres last season.
On Friday, presuming that Hagman is either claimed or clears waivers and is sent to Abbotsford, the Flames will likely activate centre Mikael Backlund off of the injured reserve. The Flames' first round choice back in 2007, Backlund has played 97 games with the team over the past three seasons.
In terms of age, each transaction gained the Flames a great amount of youth.
IN: D T.J. Brodie (21), C Paul Byron (22), C Mikael Backlund (22)
OUT: D Anton Babchuk (27), C Brendan Morrison (36), LW Niklas Hagman (31)
The Flames visit the United Center to face the Chicago Blackhawks on Friday night, then face the Colorado Avalanche for the third time this season on Saturday night in Denver.
Ryan Pike has covered the Calgary Flames and the NHL Draft extensively since 2010 as a Senior Writer for The Hockey Writers and Senior Contributing Editor of FlamesNation.ca. A member of the Professional Hockey Writers Association, he lives in Calgary.